An army of "Swiftie Dads" are redefining what it means to be a loving father, one Taylor Swift song at a time.
Rob Scharbach, 42, had no idea who Taylor Swift was when his stepdaughter, Sophia, came into his life.
"I met her when she was 5," Scharbach, who lives in Minnesota with his wife and five children, tells TODAY.com. "Sophia became obsessed with Taylor Swift, I would say, at about 6 years old."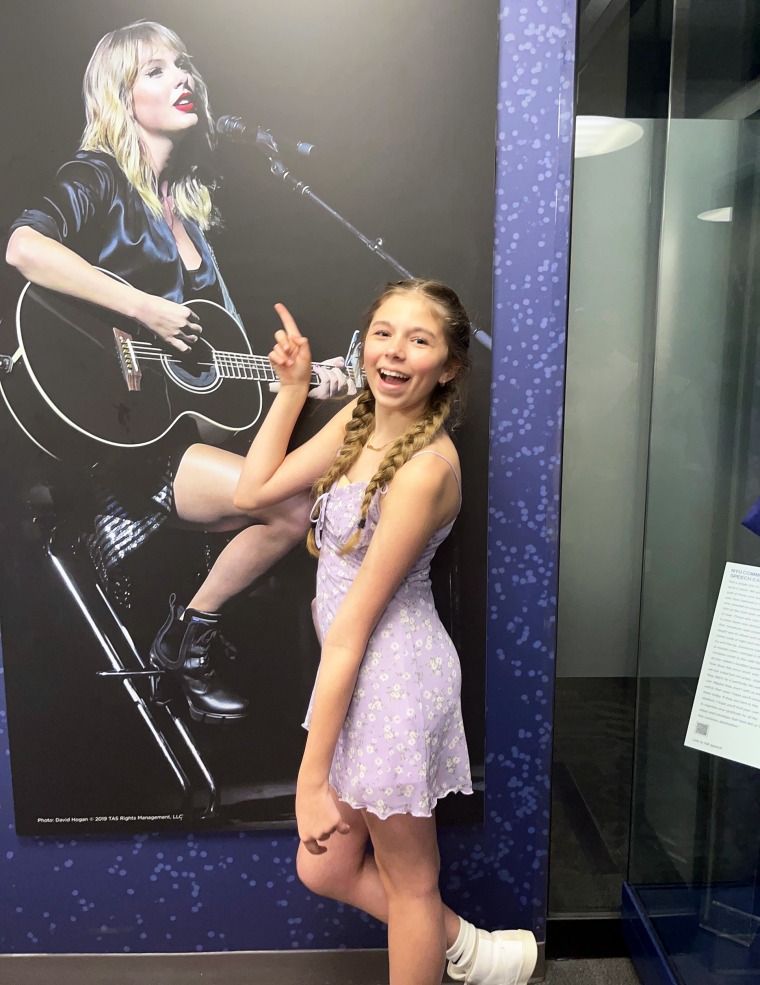 Now that Sophia is 13, Scharbach says his stepdaughter has "taken over the household," which means Taylor Swift's music is "playing all over the place."
"She's constantly dancing and singing, so I thought: 'I should learn a little bit about Taylor,'" he says. "It's all pretty new to me, so I joined a Taylor Swift subreddit, trying to learn as much as I can.
"It started to be kind of fun for me," the proud dad adds. "It gave us a lot more to relate to and talk with each other about."
Recently, Scharbach posted to the same subreddit, thanking the many fans who gave him a crash course in all things Taylor Swift.
"I just want to extend a thank you to all you die-hard fans for all the topics and talking points you've provided," Scahrbach wrote. "My daughter's face lights up like you wouldn't believe when I start dropping knowledge or asking if she's heard the same rumors, etc. I've always had a very close relationship with her, but this has just enhanced that connection so much and I love it."
'He is such a good dad'
Taylor Swift's global success and her current Eras Tour has created a new movement of Swiftie Dads — fathers who are ride-or-die for Swift in support of their daughter's (or son's) fandom.
The hashtag #SwiftieDad has over 36.9 million views on TikTok, and Scharbach's own Reddit post has garnished more than 200 comments and has been upvoted more than 5,000 times.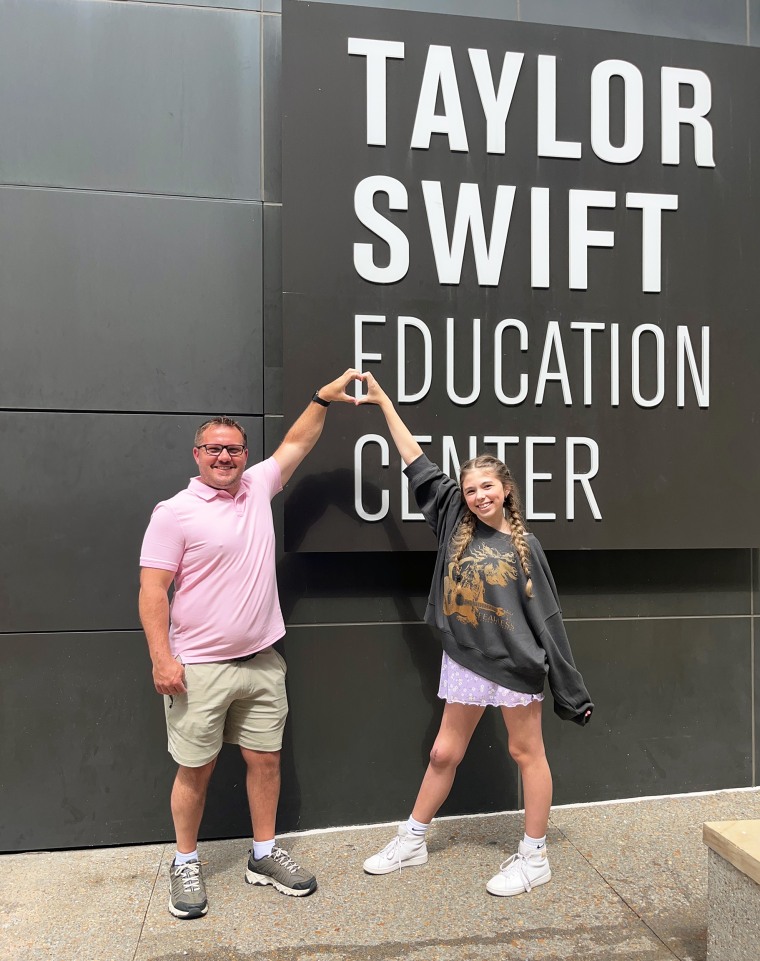 Sophia says she wasn't shocked at all that her dad became a Taylor Swift fan on her behalf.
"I was definitely not surprised, because he is such a good dad," the 13-year-old tells TODAY.com. "He's a very caring person and he's always putting other people before themselves and making sure everyone else is happy before him.
"I could picture him doing this," she adds of his internet research.
Sophia frequently picks out Taylor Swift emblazoned T-shirts and other "Swift-appropriate" outfits for her father. (The most recent selection was a pink collared shirt.) She also selects specific songs she thinks he'll like.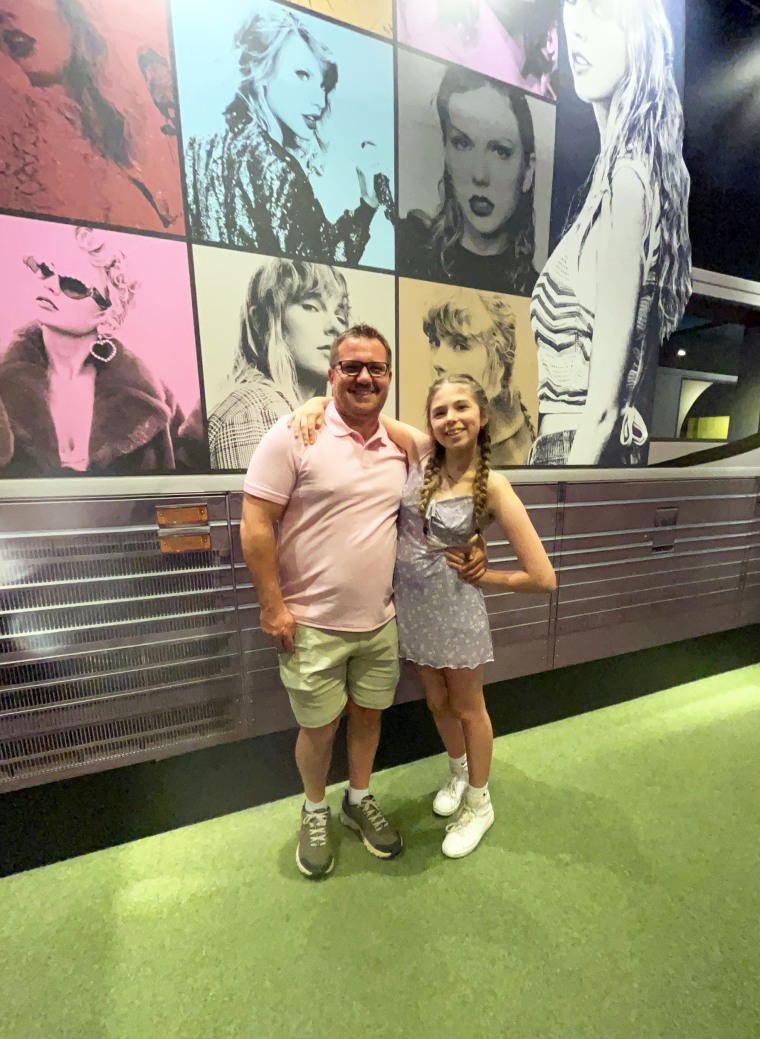 "Her favorite song is 'Mary's Song' from the debut album. I like 'Gold Rush,'" Scharbach says. "Her favorite album is 'Fearless,' mine is 'Folklore.' So we've definitely got our differences, and it's kind of funny because as I've been learning as much about Taylor as I can, Sophia is there learning which specific (songs) I like the most as well.
"If I asked her, 'Hey, play me a Taylor song' she would find one — I know she would," he adds. "It's a fun dynamic."
'I'll remember the effort that was put in'
For the Minnesota-based dad, learning all he can about Taylor Swift is about so much more than simply being a supportive parent.
"Yes, it's about being able to relate to her and the stuff that she's into, but it's also about keeping communication open between us now that she's a teenager," Scharbach says. "She'll be going through a lot more as she gets older, so having that communication channel open is something that's very important to me — she can come to me with anything, even if it's not something fun like Taylor Swift."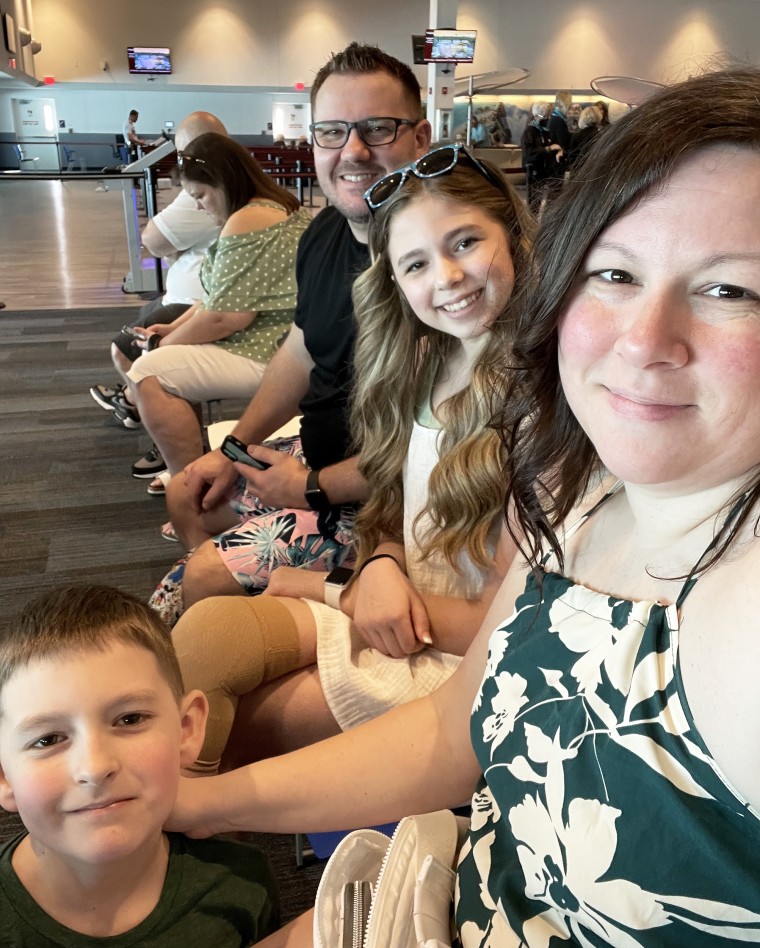 Scharbach also wanted to embrace what he knows will continue to be an escape for his daughter, especially when she's experiencing "stress at school."
The more involved he is in the things that bring his stepdaughter joy, he says, the more his child is able to just be a carefree kid.
"With the life challenges being a kid today brings, this has taught me the importance of simple things," Scharbach says. "She can be as excited as she wants in our house about anything. Right now, it's all Taylor."
Scharbach says he looks forward to one day attending a Swift concert with Sophia — his daughter attended a concert during the artist's Reputation Tour and has tickets to see the Eras Tour with her mom in July.
"I've seen videos of her shows," he says. "Even if you're not a fan, she's an incredible artist and really knows how to get the crowd going. I think it would be a spectacular experience."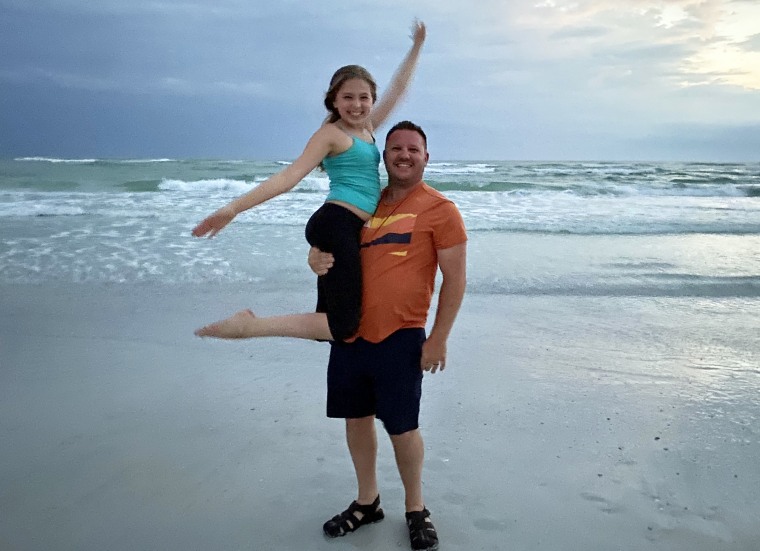 Both Sophia and her dad hope they'll one day have the opportunity to thank Taylor Swift for the gift they say she has given them, both as individuals and as father and daughter.
"She's given me so many amazing memories with my family and my friends," Sophia says. "We have recordings of us singing and dancing and they make me so happy, and her music did help me through a lot of stuff, especially in middle school."
"When you look at Taylor Swift interviews, and I've watched quite a few now, she's very loving and just very kind-hearted," Scharbach adds. "If my daughter (is going) going to emulate someone, I would want her to emulate someone (like that)."
And while the pair are looking forward to many more years of Swiftie fandom, Sophia says she already knows wha she will cherish the most about this time spent with her stepdad.
"What I'll remember is the time and the effort he put in to be able to spend time together," she says. "I'll remember the effort that was put in to even have a memory to take back."