Sir Rod Stewart is greatly enjoying one of his many titles these days: "granddad."
The 78-year-old rock legend, who was knighted at Buckingham Palace by Prince William in 2016, posted a sweet photo of his two newest grandchildren to his Instagram Story on July 23.
In the photo, Stewart is flanked by the most junior members of his expansive family, Otis and Louie, who seemed perfectly content to sit on their grandfather's knees as they posed for the camera.
"Louie on the right wing — Otis on the left wing — granddad down the middle," Stewart wrote on the picture.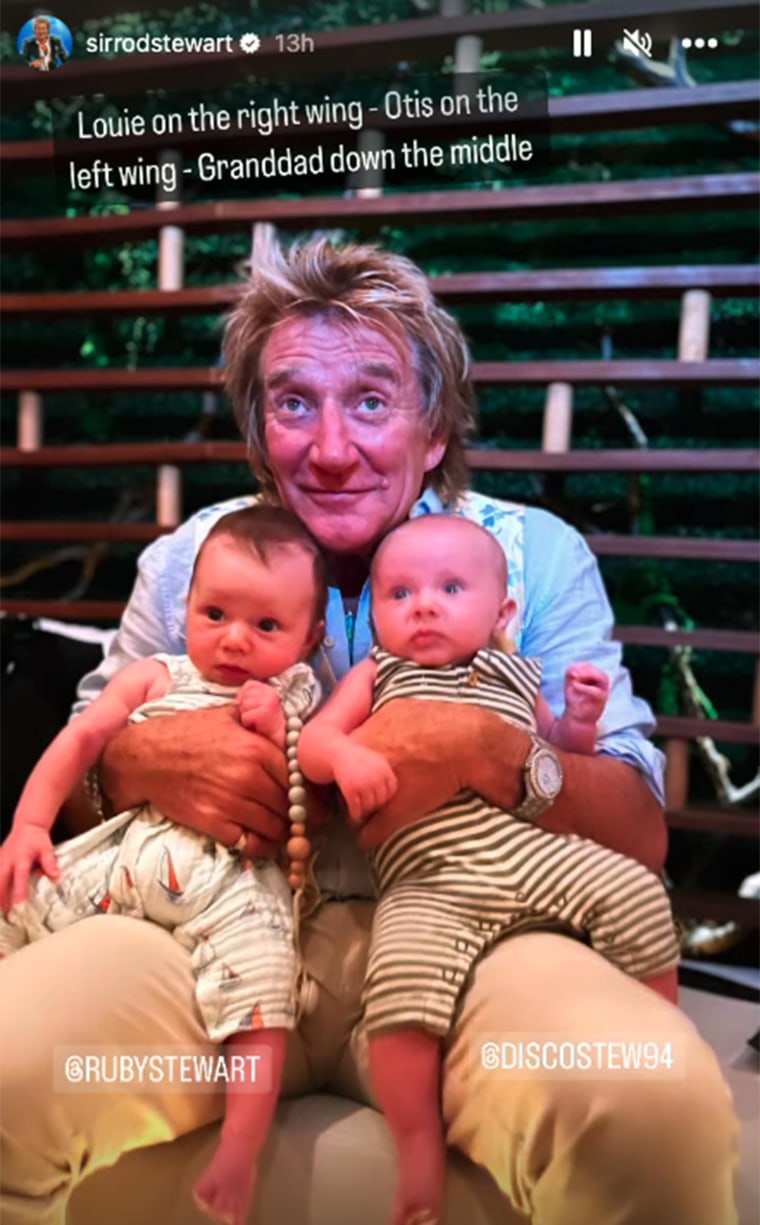 Stewart's daughter Ruby shares Otis with her fiancé, Jake Kalic. The pair welcomed their son, who is their first child, on May 9.
"This love … unlike any other love I've ever known," Ruby captioned an Instagram photo of her newborn son, announcing his arrival. "I am only a mirror of what I feel from you. I can't remember what life was like before you. But nothing else matters now that you're here. Your arrival into the world marks the beginning of our family."
Stewart's son Liam and his fiancée, Nicole Artukovich, welcomed Louie, also their first, three days after Otis was born on May 12.
"Welcome lad, you American, British, Croatian, Kiwi," Liam Stewart captioned an Instagram photo, announcing his new addition. "Louie Mark Roderick Stewart 5.12.23."
Stewart is also grandfather of Delilah Genoveva Stewart, Kimberly Stewart and actor Benicio Del Toro's daughter, who was born in 2011.
Kimberly Stewart recently shared a photo of Rod Stewart's growing family on her Instagram account, showing the musician posing with seven of his eight children and two of his three grandchildren during a family vacation in Spain.
"La familia," Kimberly Stewart captioned the photo.
In it, Rod Stewart poses with his wife, model Penny Lancaster, and their sons, Alastair, 17, and Aiden, 12. His daughter Kimberly, 43, and son Sean, 42, whom he shares with his ex-wife Alana Stewart, are also part of the crew. His daughter Renee, 31, and son Liam, 28, whom he shares with Rachel Hunter, join the entourage alongside his daughter Ruby, 36, who he shares with his former partner Kelly Emberg. 
Rod Stewart's eldest daughter, Sarah Streeter, 59, was not pictured in the photo. Rod Stewart had Streeter when he was 17 and she was raised by adoptive parents, but later reconnected with her biological father.
In a 2021 interview with People, Rod Stewart shared that being the father of eight children has meant that he has had to adapt his parenting style to meet the unique needs of each one of his children and at various points throughout their — and his — lives.
"I have to be several different fathers because of the different age groups of my kids," Stewart told the publication at the time. "You really have to treat all of them as individuals with individual problems."