Robert De Niro says it "feels great" to be the dad of a newborn again.
The actor, 79, who recently welcomed his seventh child, reflected on fatherhood during a visit to TODAY on June 1. 
The "Godfather" star explained that his approach to parenting has changed over the years.
"Well, I have certain awareness," he said. "When you're older, you have awareness of certain things in life, dynamics, everything, family dynamics. It's just, you can't avoid learning some things, and then how you can deal with those, manage them."
De Niro revealed last month that he had welcomed a baby daughter, Gia.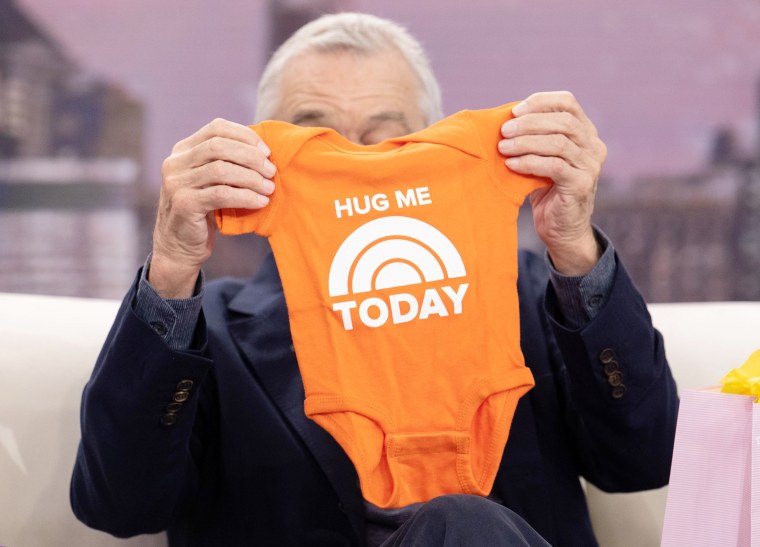 He has six other children as well: Drena, 51, and Raphael, 46, from his previous marriage to Diahnne Abbott, and twin sons Aaron and Julian, 27, from his previous relationship with Toukie Smith. 
De Niro also shares two children, Elliot, 25, and Helen, 11, with ex-wife Grace Hightower.
As for his newest addition, De Niro said baby Gia has been sleeping "great" and added he is "very happy."
He also had a sweet reaction when Hoda Kotb gave him a TODAY show-branded onesie, holding it up to the camera and saying, "Gia, this is for you, honey."
The "Raging Bull" star reflected on his parenting style in a recent interview with "Entertainment Tonight Canada," saying he would never call himself a "cool dad."
"I'm OK," he said. "You know, my kids disagree with me at times, and they're respectful."
"My daughter, she's 11, she gives me grief sometimes and I argue with her," he added. "I adore her, but, you know. And my youngest now, that'll be more to come. But, that's what it is."
He also talked about the "mystery" of fatherhood in an interview with "Access Hollywood" in May.
"It's a lot of excitement, but scary," he said. "And you do your best."