Paul Rudd's seemingly ageless face has been a familiar sight for moviegoers since his breakout film, "Clueless," hit theaters 28 years ago.
But as far as the youngest members of the actor's family are concerned, he's far better known as dad.
In fact, according to the 53-year-old father of two, his kids were completely oblivious about his big-screen fame for years, until his son finally figured it out for himself. 
"I'm not gonna, you know, sit my kids down when they're 3 and say, 'Hold on. I've got some DVDs to show you,'" the "Ant-Man" star said with a laugh during a chat with Sunday TODAY's Willie Geist. "I didn't really even explain what I did."
However, Rudd, who shares son Jack and daughter Darby with his wife of 20 years, Julie Yaeger, recalled exactly when Jack got his first hint about dad's day job. 
"I think that my son, when he was about 4 or 5, went to a movie theater to see a movie with his friends," he explained. "And there was a movie poster that I was on — it was in the lobby."
Still, despite that evidence, Jack and his pals didn't immediately make the leap from thinking of Rudd as a mild-mannered dad to a major movie star.
"They all just thought that I worked at the movie theater," Rudd remembered. "Which I thought was very cute."
But that adorable misunderstanding only lasted so long.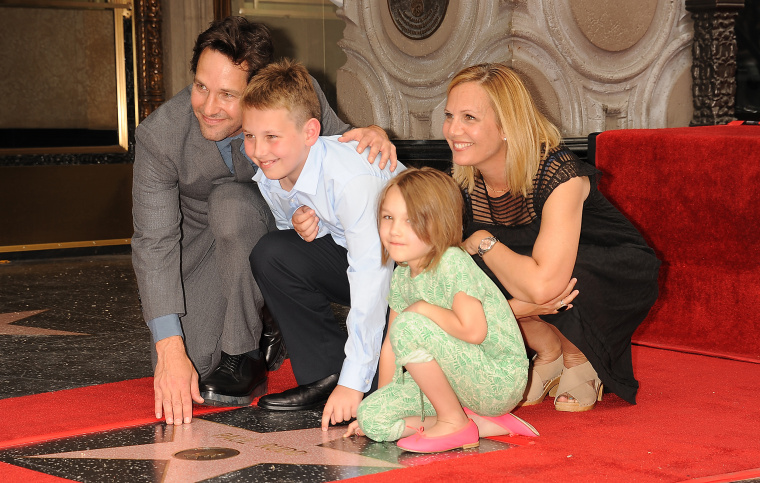 "Then, yes, a few years later, I think when he was 15, he finally put it all together," he added, joking, "(Until then), I never corrected him. I said, 'No, I work at the AMC Loews.'"
The truth is that Jack, and Darby, too, likely learned at least a little bit about their father's career sometime before that. After all, the kids accompanied Rudd when he accepted his star on the Hollywood Walk of Fame in 2015.
See more from Rudd's chat with Willie Feb. 12 on Sunday TODAY.