If you have a preteen daughter these days, you need to learn how to take great pictures — even if you're Jay-Z.
The legendary rapper and his oldest daughter, Blue Ivy, 11, attended the Super Bowl together on Sunday, Feb. 12 and Jay-Z was ready to preserve the memory with a mini photo shoot on the field.
The moment was captured in a side-by-side video posted on the Fox Sports Instagram account, showing Blue posing on the field and her dad squatting down low to get the angle just right. They were both wearing sunglasses and all-black Roc Nation gear, repping Jay-Z's company that provides musical entertainment for the NFL.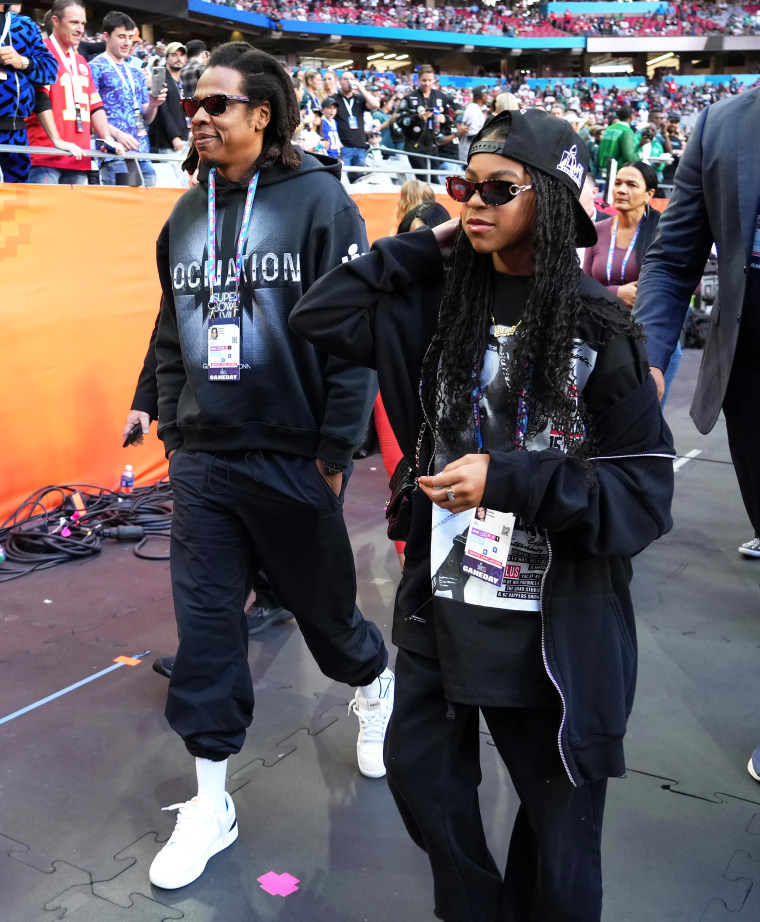 "Not Blue giving Aaliyah vibes," someone tweeted about the preteen's sleek style.
"Now we know who takes Beyoncé Instagram pictures," another person said, referring to Jay-Z's photography chops. "He kneeling and everything. (He's) committed."
"Blue wasn't impressed with the effort and angles," someone else tweeted referring to Blue's nonchalant face during the photo shoot.
"He's being a dad. You love to see it," another tweeted.
"That's blue??!!!!?? She growing up so quick," another noticed.
This isn't Blue's first time attending the Super Bowl, appearing in photos alongside her dad in recent years since the rapper and his company partnered with the league on producing and booking musical performances. This year, Rihanna provided the halftime entertainment and was joined by Chris Stapleton, Babyface and Sheryl Lee Ralph, who opened the game with three of the nation's most patriotic songs.
The 11-year-old has also been making memories (and music) with her mom, Beyoncé. The mother-daughter duo recently performed in Dubai together and she joined her onstage at the Oscars in 2022.