Jason Sudeikis and his 9-year-old son, Otis, scored courtside seats to a high-stakes basketball game.
The father and son duo were joined by actor Jason Bateman and his daughter Maple, 11.
For the showdown between the L.A. Lakers and the Denver Nuggets on May 22, Sudeikis, 47, wore his signature newsboy cap, a hooded sweatshirt and navy blue chinos. Otis also kept it casual in a tracksuit and sneakers.
The Nuggets beat the Lakers 113-111 and swept the playoff series 4-0, and are now headed to the NBA Finals, which will start June 1.
Sudeikis and his ex- fiancée, Olivia Wilde, are parents of Otis and 6-year-old daughter, Daisy. The "Ted Lasso" star told GQ they ended their engagement of more than seven years in 2020.
The former couple are frequently photographed cheering on Otis at his soccer matches.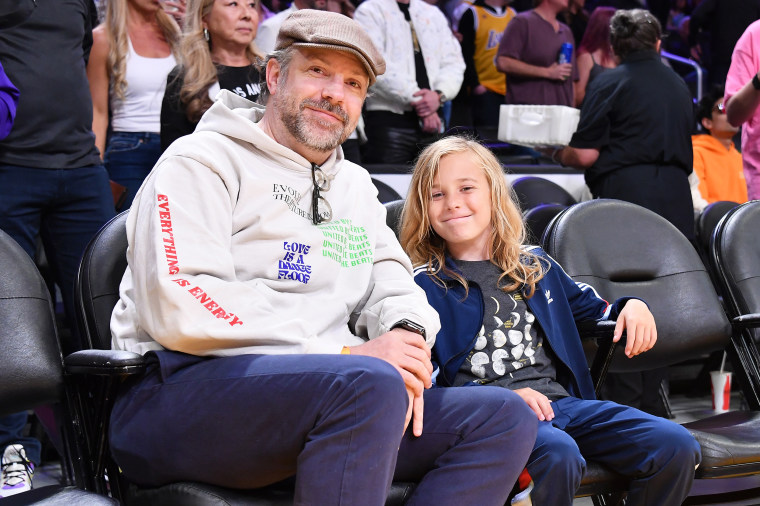 Earlier this year, Sudeikis said he brings his own parental experience to the title role of "Ted Lasso." Ted is a dad on the Emmy-nominated show.
"It does help, yeah," Sudeikis said during a March 15 appearance on TODAY with Hoda & Jenna. "I'm not learning about parenting on Wikipedia." 
"It's method. I went full method. My training," he added.
Sudeikis said that both of his children watch the Apple TV+ series. It helps them to understand what their father is doing when he's away on location. Sudeikis acknowledged that some of the language on the show is questionable.
"I'm like, 'You can hear it, but you can't say it,'" he explained on TODAY. 
Last year, Wilde, 39, opened up on the "Kelly Clarkson Show" about navigating life as a single parent. During the interview, she shared that "reshaping a family is tricky," but said there is a silver lining.
"The one benefit is it's allowed for some really deep conversations with my kids about emotions, and about happiness, and about what family means, and love, and it's actually allowed me to get to know them in a different way," she revealed.
"As long as they're happy and they're healthy then, my ex and I, we agree on that," Wilde continued. "They are everything to us."