As praises for Rihanna's Super Bowl performance continued to roll in, actor Ethan Hawke realized he owes his son an apology.
The "Diamonds" singer was the halftime performer at the big game on Sunday and the next day, the Academy Award-nominated actor posted two pictures on Instagram of him and his son sitting next to Rihanna at the 2015 NBA All-Star game.
In the first picture, his son, Levon Roan Thurman-Hawke, now 21, is sitting next to Rihanna. But in the following photos, he's been ousted and is covering his face with his hand as his dad smiles and chats with the "Work" singer.
"After Rihanna's brilliant half time performance, I'm hoping my son can find it in his heart to forgive a dad for taking his moment," Hawke captioned the photos.
Thurman-Hawke commented on his dad's post, "Iconic content."
Rihanna's halftime performance was a 13-minute medley of some of her biggest hits, including "Umbrella," "Only Girl In The World" and "Wild Thoughts."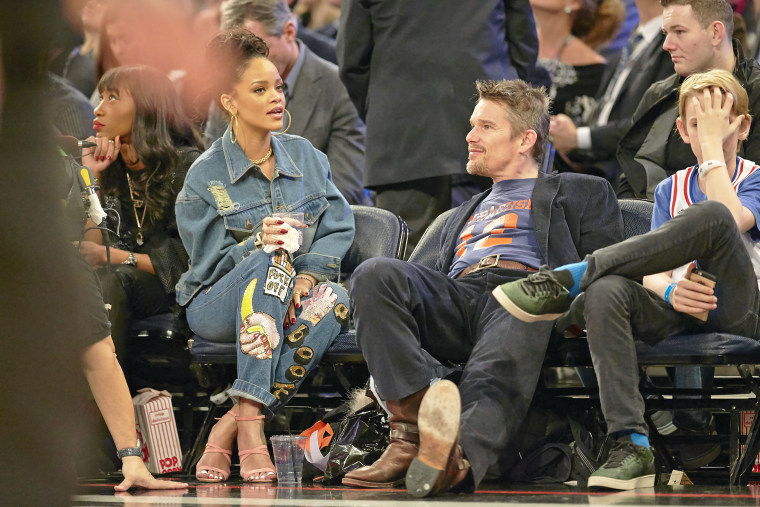 The performance also doubled as a pregnancy announcement of her second child with her partner, rapper A$AP Rocky. Their first child was born in May 2022 and the couple has not publicly shared his name yet.
It was the 34-year-old singer's first live performance in seven years. Rihanna said during a press conference with Apple Music on Feb. 9 that motherhood inspired her to return to the stage during the biggest night in football.
"It feels like it could have only been now," she said, according to Variety. "When I first got the call to do it again this year, I was like, 'You sure? I'm three months postpartum. Should I be making major decisions like this right now? I might regret this.'"