A father got the school pickup line chattering when he rode up on a horse.
Oklahoma dad Mike Moorman swapped his car for two horses to pick up his 8-year-old son, Cale, from Rose Union Elementary School in Edmond on the last day of classes.
The elaborate pickup was a continuation of Moorman's childhood tradition. "On the last day of school, I rode my horses to school," he tells TODAY.com. "A lot of the kids did it."
Last week, it was Cale's turn.
The little boy has been riding horses since he was 2 or 3, says Moorman, even participating in youth rodeos. Cale loves "everything" about riding and he wanted to be just like his dad.
On May 18, Moorman made the two-and-a-half mile journey from home to school riding his 3-year-old appaloosa horse, Nova, and leading his 12-year-old quarter horse, Grady. "Traffic doesn't bother these horses," he says.
The school was more than happy to accommodate Moorman's plan — and captured the pick up in a video shared on the district's Facebook page.
"The school's principal agreed as a way to celebrate the last day of the school year," a spokesperson from the Deer Creek School District tells TODAY.com via email. "She knew it would be a memorable experience for not only Cale but for his classmates too."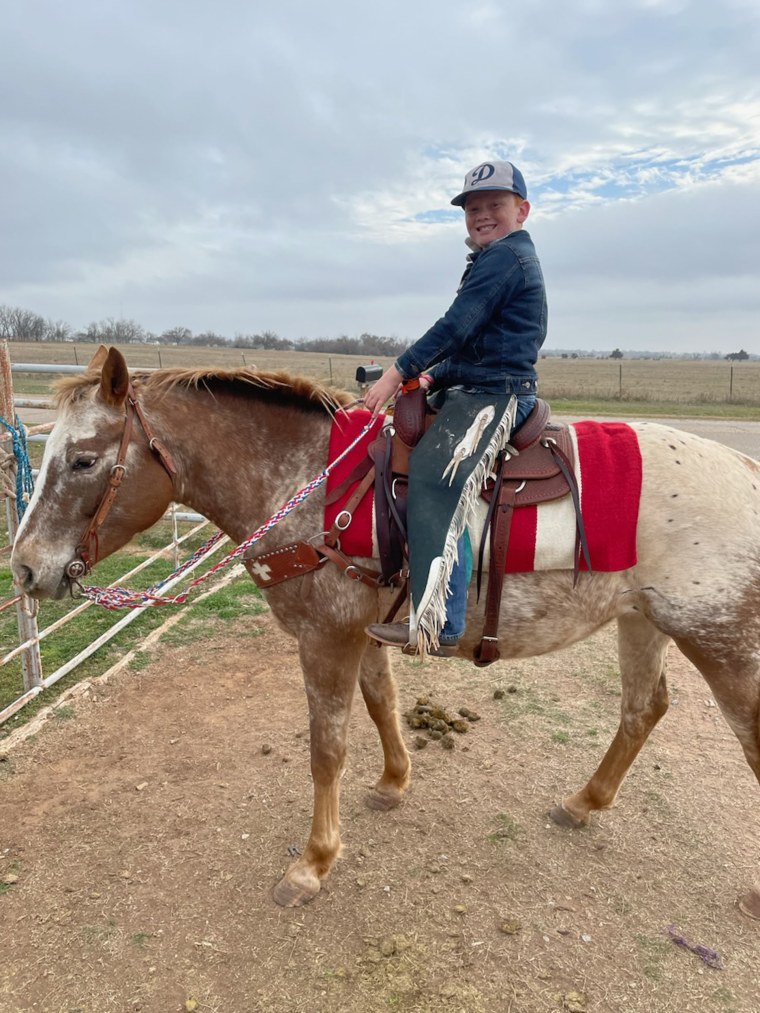 "Mr. Moorman came prepared!" adds the spokesperson. "His son's horse was wearing Cale's car rider pick-up tag, a security protocol required for all students being picked up from school. They adhered to our strict safety rules that all students must load or unload from the right side, and Cale put on a cowboy hat helmet before they left to ensure his safety while riding."
Moorman said Cale had already told his friends about the event so cameras were poised at pickup.
Cale tells TODAY that his friends were impressed with his departure.
"People got to pet the horses," says Moorman. "I was as happy as the kids."