Omari Maynard should be starting every day with his partner, Shamony Gibson, in their Brooklyn, New York, home. They should be growing their small business, Art-fulliving, as they grow as artists.
They should be raising their two children, ages 6 and 3, together, navigating the temper tantrums, school activities and milestones as a team.
Maynard says they should have more children by now — at least one more, maybe two.
"Days after Shamony gave birth she was talking about what we were going to do with the third child and the fourth," Maynard tells TODAY.com.
Instead, Maynard navigates the world as a single father of two, without his partner by his side.
"I will never get a chance to meet them," he says of the additional children Gibson planned on having. "And the children I do have don't have a mother."
In October, 2019, just 13 days after Gibson gave birth to her second child via C-section, she died of a pulmonary embolism — a blood clot that travels to the lungs. She was 30.
One of the many risks having a C-section is the development of blood clots in the legs, pelvic organs and lungs, according to The American College of Obstetricians and Gynecologists (ACOG).
"It's so important for other families to make sure that they know the signs and symptoms (of pregnancy and birth complications)," Maynard says, "so that they know what to do and how to move forward."
'She wasn't being heard'
Maynard says a few days after Gibson was discharged from the hospital, she started to complain of chest pain and shortness of breath.
"It was difficult for her to have a conversation or talk for a certain amount of time," he explains.
Gibson went back to the hospital twice, seeking care. Both times, Maynard says, she was turned away, her symptoms and fears dismissed. On multiple occasions, Maynard says Gibson was asked if she was on drugs.
"She wasn't being heard," Maynard says.
On the night of Oct. 5, 2019, Gibson went into cardiac arrest. She passed away the next morning.
"I didn't know what to do, how to feel or how to process," Maynard says. "Days later, I was giving my daughter a bath and she was crying for her mother. In that moment, I thought: 'What are the next steps?
Maynard credits his tight knit community of friends and family for seeing him through the initial heartache of Gibson's passing.
"Shamony's mother, brother and sister stayed with me for almost two months," he explains. "We figured it out together — I wasn't alone. That was the only way that I could start deliberately putting the pieces back together."
'I try to raise as much awareness as I can'
After Gibson's passing, Maynard and Gibson's mother, Shawnee Gibson, decided to hold a celebration of life in honor of Shamony on her birthday. The pair named the celebration "Aftershock."
Filmmakers Paula Eiselt and Tonya Lewis Lee filmed the event. They went on to film the aftermath of Gibson's death for a documentary on the Black maternal mortality crisis, aptly titled "Aftershock."
The film follows Maynard, Gibson's mother and Bruce McIntyre, who lost his partner, Amber Rose Isaac, after she gave birth in April, 2020. She was 26.
"We don't know what we don't know," Gibson says of his ongoing advocacy work to educate people on the maternal mortality rate in the United States, especially as it impacts Black, brown and Indigenous communities.
Currently, the United States has the highest maternal mortality rate of any developed country. Black women living in the U.S. are nearly three times more likely to die from pregnancy- and birth-related complications than white women.
In New York City, Black women are eight times more likely to die from pregnancy-related complications than their white counterparts.
"Our community needs to know," Maynard says. "They need to know that there are options, there is support and that when they're going into a hospital they don't have to do it alone."
In addition to participating in the documentary, Maynard has established the ARIAH Foundation, a non profit organization focused on educating, supporting and advocating for those who have been impacted by systemic racism.
He has also created a support group for Black men who he says have lost their partners to the maternal mortality crisis, have experienced a stillbirth or have "just dealt with traumas of being Black in America."
"In this maternal health space, men haven't had a voice," Maynard says. "When you lose your partner and you still have children to raise — it's a lot and it's a heavy lift. It's not going to be easy, but it's easier to do it all in the support of others, but specifically in the support of other men.
"I am just trying to share as much knowledge as I have to help somebody else," he adds, "because when it all comes down to it, nobody wants to be a Gibson."
'We need as many people to scream as loud as possible'
As a painter, Maynard has also found a way to use his art to honor the mother of his children.
"A week went by after (Shamony passed), and I started just painting," he explained. "I was able to really process what I was going through, and thankfully it wasn't all cerebral — it was more spiritual."
For two months, Maynard "painted with a purpose," he says, adding that the pieces were displayed during Gibson's "Aftershock" celebration of life for people to "see and process."
Now, he paints Black women from all across the country who have also lost their lives to the maternal mortality crisis in a series he calls "In Her Honor."
"The first six or seven pieces that I did, I could really feel them coming through," Maynard says of the portraits. "It's sad, because it's the first and only interaction that I have with them. I know that I can't move (the women) into the physical. So being able to create a piece, bring it into a physical realm and give it to their partners is super emotional."
The portraits, Maynard says, are also a way for him to get to know the women who he believes are with his partner in what he calls the "ancestral realm."
"I think that she'd be happy to know that we are creating relationships with women she has been able to meet with on the ancestral side, knowing that I'm reciprocating it on the physical side," he explains.
In addition to knowing his partner would be proud of his art and advocacy work, if Gibson was here Maynard says she would certainly tell him to "clean the bathroom" and praise him for the relationship he's building with his children, who he says are "drama queens and kings," just like her.
"She's ever-present and loud," Maynard says of his partner. "My daughter is learning to read and write now. The other day she wrote: 'My body has love.' That has to do with the ancestral and physical relationship that we build with her mother."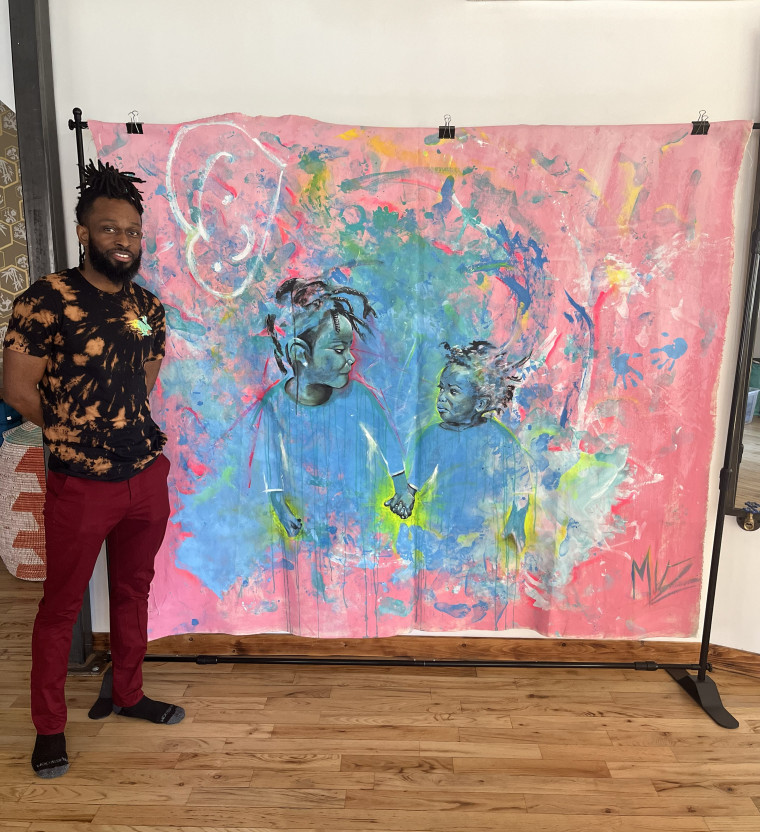 With his children by his side, armed with his art and as he's uplifted by his community, Maynard says he will continue his advocacy work to make the Black maternal mortality rate a thing of the past.
"It's a fight," Maynard says. "The army has been created. Now it's really just about: How can we support each other and be more empathetic? Once that process starts, we can talk about steering and turning the ship.
"Until then, we need as many people to scream as loud as possible," the father of two adds, "so that people who have influence and power can start moving this needle."
Related video: