Elyssa Kim and her dad, Edward Kim, have one special tradition — seeing Taylor Swift in concert together.
The father-daughter duo from Orange County, California, have seen Swift in concert multiple times, including the singer's "1989 World Tour" in 2015 and "Reputation Stadium Tour" in 2018.
Most recently, the Kims attended opening night of Swift's "Eras Tour" at State Farm Stadium in Glendale, Arizona, March 17.
The duo went viral on social media for their themed ensembles for the evening, and Elyssa Kim tells TODAY.com that she has her dad, who she says has always been her "fashion guru," to thank.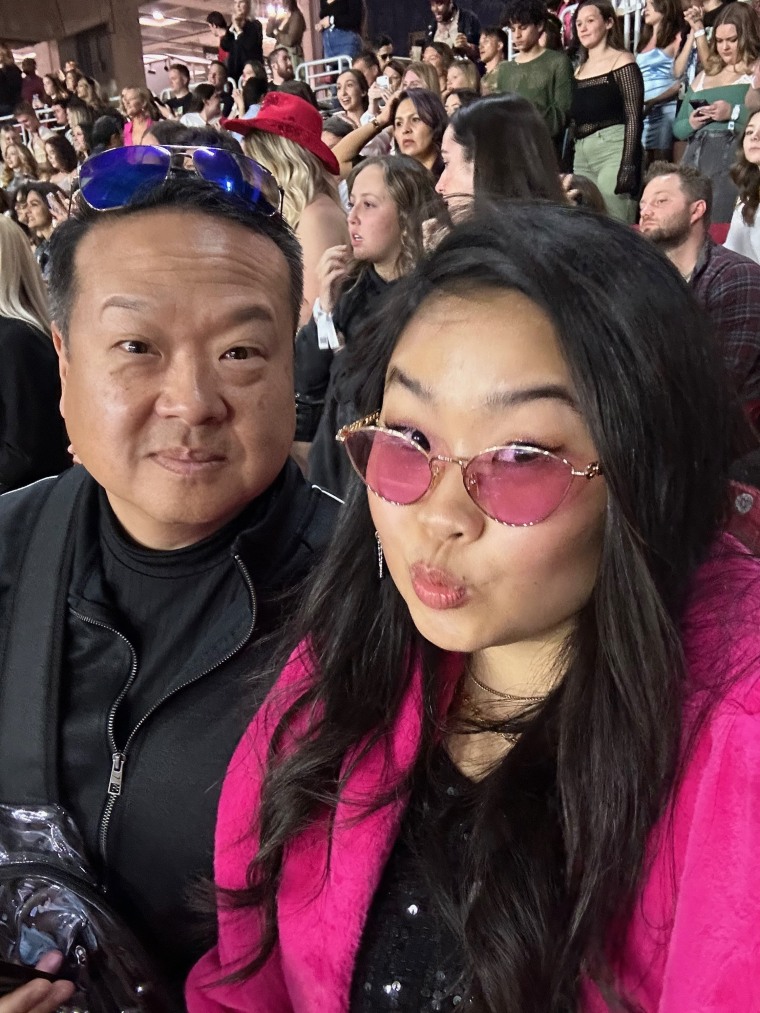 On TikTok, the 22-year-old shared a short clip that showed off their looks for the concert.
To start the video, the two sat side-by-side on the airplane before the show, acting out part of Swift's song "Look What You Made Me Do." When the beat dropped, the video transitioned to the Kims in their outfits, which aligned with two of Swift's "eras."
For her ensemble, Elyssa Kim donned a pink furry jacket over a black sequin dress. She accessorized with a pair of black platform boots and pink sunglasses with bejeweled hearts. Edward Kim opted for a monochromatic black tracksuit and a pair of reflective aviator shades.
The father-daughter duo were hyped up in the comments for their outfits, with one TikTok user writing, "Ur dad slays so hard."
"first we had the Harry dad's, now we're getting the swifty dad's!" another commenter wrote, referring to the father-daughter fit checks from Harry Styles' 2022 sold-out Love On Tour shows.
One person wrote in the comments, "WHY AM I CRYING this is the sweetest thing. also you guys look fierce."
"Best dad award," another TikTok user commented.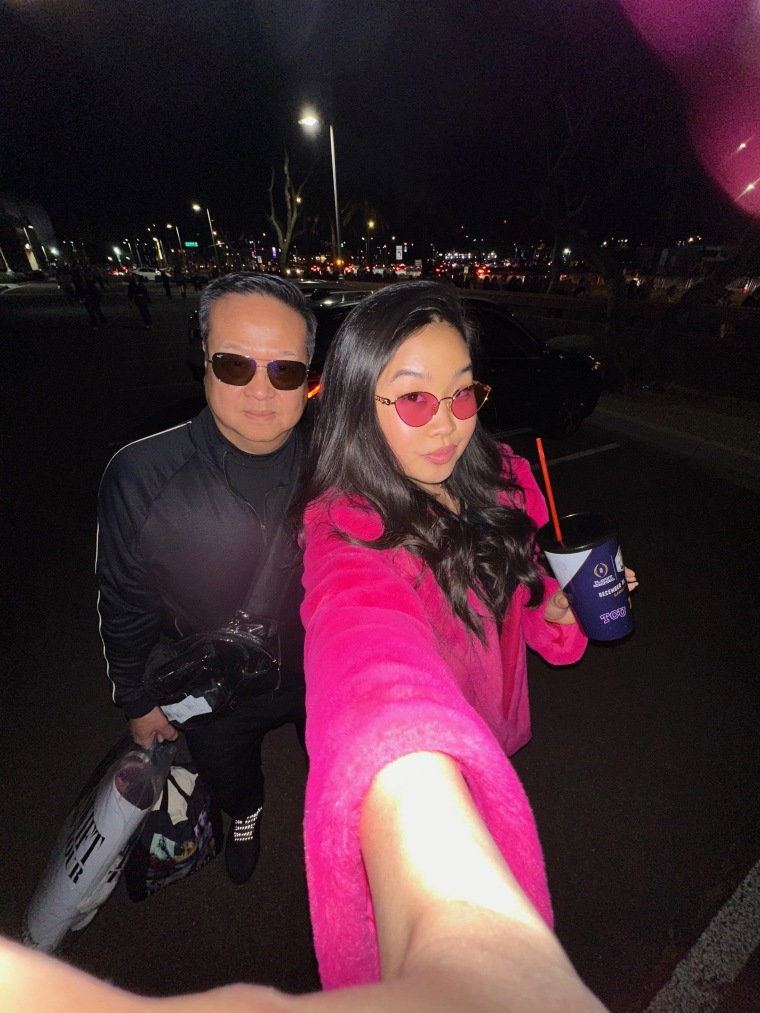 Elyssa Kim tells TODAY.com in an interview over the phone that she sought out her father's advice as she picked her concert outfit.
"People think I go to my mom, but oftentimes I go to my dad. He picked out my prom dress!" she explains. "Even here, I was trying to go for different eras, so we ended up going with the 'Lover' theme, and he was like, 'You have to wear the pink jacket.'"
Edward Kim also went to his daughter for advice when it came time to decide what he would wear.
She recalls him asking, "What do I wear as a dad to a concert?"
She says she replied with, "Dad, you have to go with the iconic tracksuit. If you wear a black tracksuit, that's big 'Reputation.'"
When it came time to film their outfit reveals for TikTok, the 22-year-old shares that her dad didn't need any direction and was a natural in front of the camera.
"I was like, 'Dad, let's do this thing together!' as I was on the plane because I thought it would be fun," she explains. "Even before we left, I was trying to get a good spot and he said, 'I'll put my bag down so we can stand up the phone!"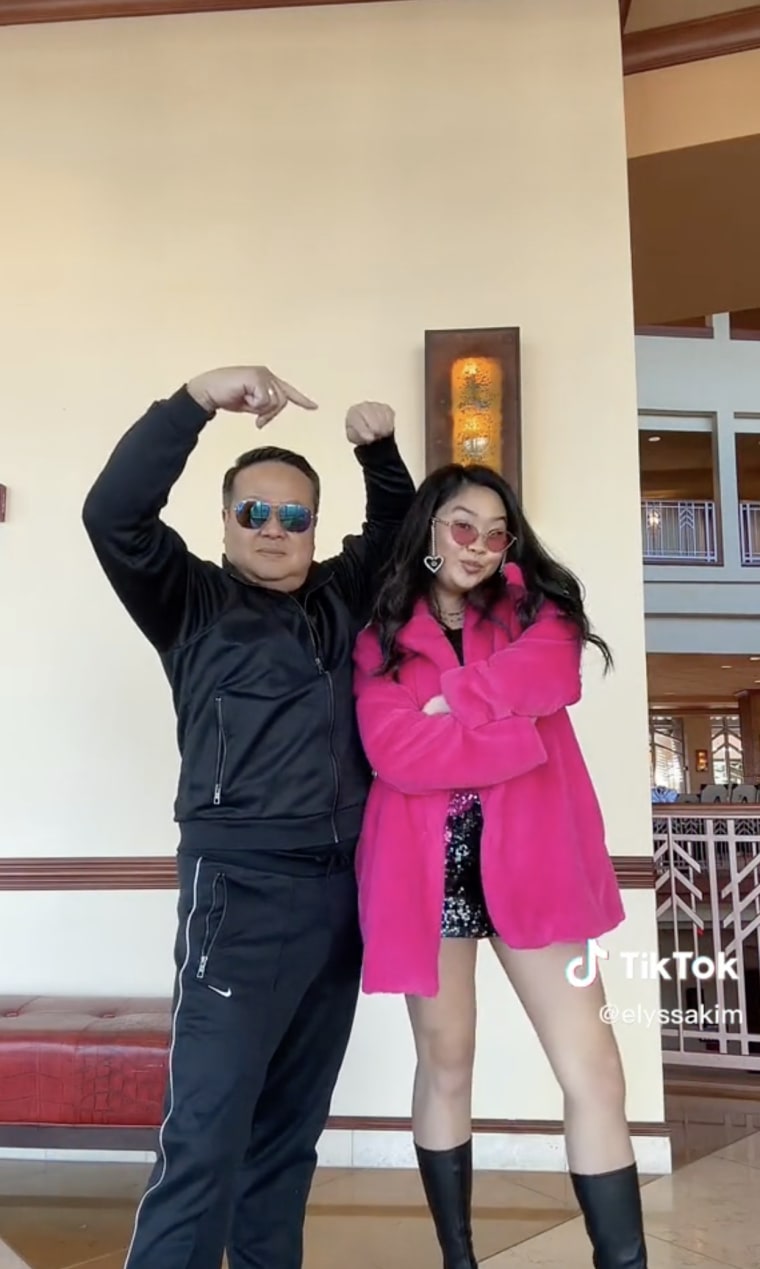 Seeing concerts together has become somewhat of a tradition for the Kims. But Elyssa says that she considers herself "lucky" to have even gotten tickets for Swift's latest tour, which made headlines back in November when ticket sales crashed Ticketmaster's website and the public ticket sale was canceled due to "extraordinarily high demands."
Even though she made it off of Ticketmaster's waitlist, she says that landing tickets to see Swift and Paramore — who were one of the opening acts — was still a "whole day affair" and a "family effort."
The duo had planned to see Swift in July 2020 for her "Lover Fest" shows, but the tour was canceled due to the COVID-19 pandemic.
This year, they are more than making up for it. After the opening night concert in Glendale — temporarily renamed Swift City — they will see the "Anti-Hero" singer again in June at one of Swift's shows in Chicago.
But getting two pairs of tickets wasn't the plan, Elyssa Kim says.
"When I was trying to surprise him with tickets, he was trying to surprise me," she explains. "And so he ended up getting us two tickets for Chicago."
The struggle to get tickets was ultimately worth it in the end though, Elyssa Kim says.
"It's been such a special bond to get to experience the show with my dad," she says. "I'm so fortunate to have such a supportive figure and also be getting to be around Taylor's presence. She's such an empowering woman."
She says she's loved seeing all of the positive support for their special father-daughter relationship on social media, too.
"He's aways been my number one supporter," she explains. "He's always pushing me and I love that about him. He's always been a good role model for female empowerment as well, and telling me I can do whatever. You can just tell his support through that video and I'm glad other people see that too."