"Dad's making plays!"
Sports announcers had a field day, pun absolutely intended, after one father made a solid catch during a recent Dodgers game.
On April 30, Steve Pettit had his daughter strapped to his chest in a carrier, beer in one hand, when he saw a foul ball headed his way. The Glendale Fire Department engineer and father of two surprisingly caught it.
The moment was captured and shared on the Los Angeles Dodgers' Twitter, with announcers adding, "A beverage, a baby and a baseball."
"The ball just kind of came up, and it was kind of like slow motion," Pettit told NBC Los Angeles. "It was sort of like, 'Boop!' It just like came right to my hand."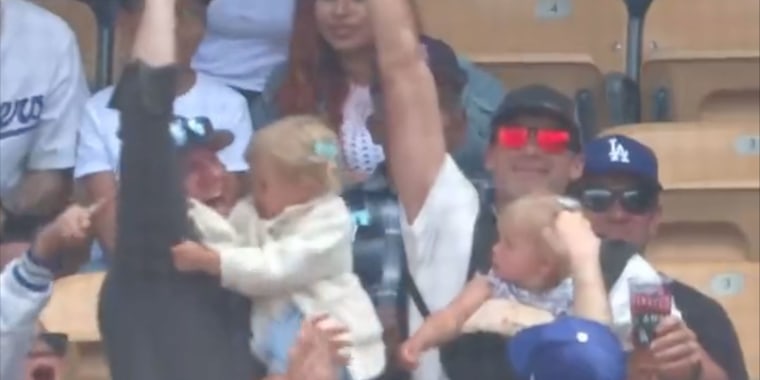 Pettit drew applause from MLB fans around him as he held the ball. up in the air.
"Dad power at dodger stadium is insane," one Twitter user replied on the Dodgers' video, with another adding, "He's MVP!!!"
One person tweeted, "Not all heroes wear capes!"
"This guy is gonna be an internet sensation/legend. This is like the 100th time I've seen this vid since it happened IRL today! LOVE IT!" another added.
"What a catch!!! This should make the top 10 plays of the week!" one person suggested on Twitter.
Pettit's wife, Misty, told the outlet that she was sitting next to her husband in disbelief when he caught the ball.
"I pulled my camera out and started to record the reaction because the crowd was going wild, which was really fun to see," she said.
The team's Twitter also shared a smiling close up of the proud dad with his baseball, beer and baby in tow.
"Dad power," reads the playful caption.
The Los Angeles Dodgers were also victorious and had a win of their own that day. The team would go on to defeat the St. Louis Cardinals, 6-3, completing the series sweep.