A 9-year-old Massachusetts boy is giving the world the wholesome material it needs.
On March 26, Aaron Gouveia, a father of three, shared a TikTok video of his son Sam gifting him with a shirt that he created in an after-school sewing class. 
The clip, which has already been viewed more than 9 million times, begins with a hesitant Sam entering his dad's bedroom. In his hands, he's clutching the blue floral shirt. 
"You made that?" Gouveia asks, impressed. 
"I did the buttons and I did the button holes," Sam tells him. He later adds, "I got some help, but I did most of it by myself."
Next, viewers see Gouveia, 43, modeling Sam's design. 
"Yeah! Look at this!" Gouveia exclaims as he admires his reflection in a full-length mirror. The camera then pans to Sam, who is positively beaming. 
Gouveia marvels over the oversized '70s-style collar, and the box pleat detail on the back of the shirt. He also peppers Sam with thoughtful questions, such as "Can I wear this out to dinner?" (Yes!) and "Why did you choose the pattern?"
"Why I chose the pattern is, it just looks cool to me. It stands out to me," Sam explains. "And it goes with jeans like you usually wear."
Gouveia isn't the only one who thinks Sam has serious sewing skills.
"I have a degree in fashion design. That there is raw, natural talent. That kid is going places if he pursues sewing!" one person wrote in the comments.
Added another, "THE WAY HE WAS STANDING THERE SMILING. I cannot. He is precious."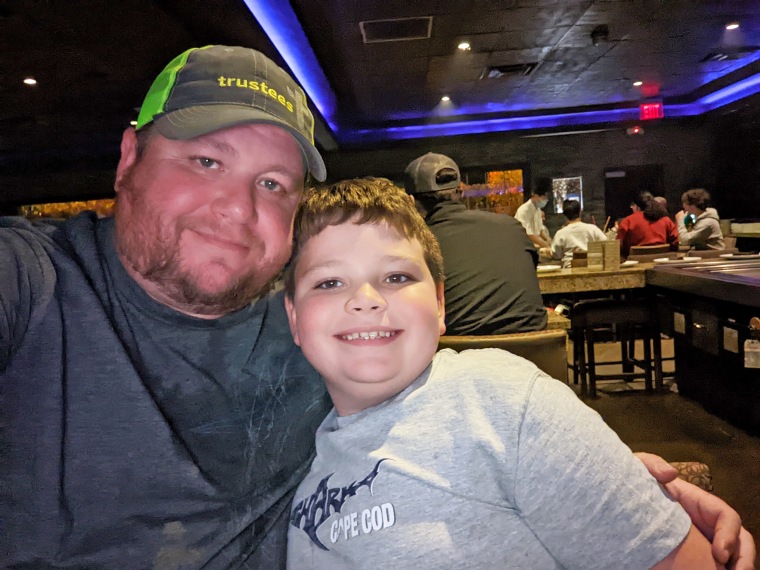 Sam, a neurodivergent fourth-grader, started taking sewing classes last year, according to Gouveia.
"He's an old soul. He's always connected way more with adults than he does with kids," Gouveia tells TODAY.com. At school, Sam is teased by his peers who Gouveia says "don't understand him or interests."
Gouveia notes that Sam is also teased for wearing nail polish.
"When I showed Sam the comments on TikTok, he lit up. It completely brightened him. He's so happy to get that validation from people," Gouveia says. 
On March 27, Gouveia shared footage of himself interviewing Sam about his internet fame as they walked to the bus stop. In the clip, Sam thanks fans for their support and then announces he's happy to take orders. 
"That caught me off guard," Gouveia says. "He hasn't wanted to make things for people. You can even see in my first video, he's nervous. He has a lot of anxiety and doesn't want to disappoint anyone. But after reading all the positive comments, he was like, 'Well, I can do it!'"
Related video: