Anderson Cooper lives the good life with sons Wyatt and Sebastian.
"I love getting them ready for their afternoon nap and sitting with them and reading and then having them fall asleep in my arms," the CNN anchor told People on September 13. "There's nothing better."
Cooper, 56, who is raising his boys with ex-partner Benjamin Maisani, explained how their blended family splits time between New York City and Connecticut.
During the week, Cooper works nights while Maisani is on dad duty.
"And we both wake up right before they wake up, get them their milk and spend the first couple of hours of the day just us with them," Cooper told People. "And Benjamin speaks French to them. I have no idea what they're saying. I think they're plotting against me."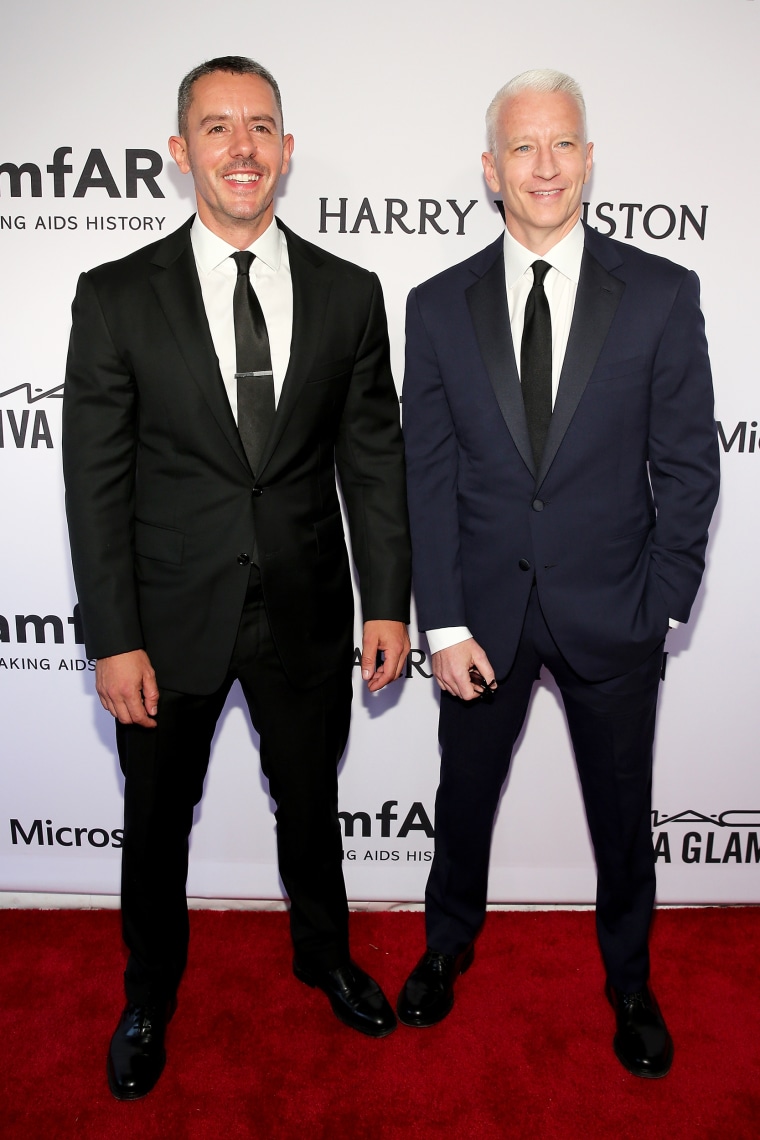 Cooper added that the boys have an "incredible" relationship and love playing with his own toys from childhood.
"It's lovely to see this cycle of life and of love and how all these things sort of repeat," he told People.
Here's everything else to know about Anderson Cooper's children.
Wyatt Morgan Maisani-Cooper, 3
Wyatt, born on April 27, 2020, was named after Cooper's father, who died of a heart attack in 1978 when the future journalist was 10 years old.
Three days after Wyatt's birth, Cooper announced the "joyful news" on-air.
"On Monday I became a father. I've never actually said that before out loud and it still kind of astonishes me," he said. "I'm a dad, I have a son and I want you to meet him."
Cooper revealed a bit more about the little boy's name.
"My son's middle name is Morgan which is a family name on my mom's side," referring to his fashion designer mom Gloria Vanderbilt, who died in 2019 at age 95.
"As a gay kid, I never thought it would be possible to have a child," Cooper continued in his announcement. "And I'm so grateful for all those who paved the way and for the doctors and nurses and everyone involved in my son's birth." Cooper added special thanks to his "remarkable surrogate."
Cooper and Maisani agreed to co-parent their son together.
"Even though (Benjamin and I are) not together anymore but, you know, he's my family and I want him to be Wyatt's family as well," Cooper said during "The Late Show with Stephen Colbert" in 2020.
When Wyatt was almost 5 months old, Cooper posted a family update.
"He is such a happy baby even though he has started teething," he wrote on their Instagram selfie. "He loves being read to and so far Dr. Seuss is his favorite, particularly One Fish, Two Fish, Red Fish, Blue Fish. Ok, that's my favorite, but he does seem to like it a lot."
On Wyatt's first birthday, Cooper shared that his son was "sweet and funny, happy and kind, and I love him more than I ever thought possible."
A few months later, Cooper shared his plan for raising Wyatt as a humble and ambitious person. Despite his own success, said Cooper, Wyatt will need to work hard for what he wants in life.
"I'm not that interested in money, but I don't intend to have some sort of pot of gold for my son," Cooper said during Air Mail's "Morning Meeting" podcast. "I'll go with what my parents said, which is, 'College will be paid for, and then you gotta get on it.'"
Sebastian Luke Maisani-Cooper, 1
In February 2022, when Wyatt was almost 22 months old, Cooper announced that his second son Sebastian was born, also through surrogacy.
"He was 6.8 pounds at birth and he is healthy and happy. Even his occasional hiccups are, to me, adorable," he said during his "AC360" broadcast. "He mostly just sleeps and eats, and he certainly poops, but he already seems like a wise and thoughtful little chap."
"Wyatt calls me Daddy and Benjamin is Papa," Cooper added.
He shared that Wyatt was calling his little brother by his middle name, Luke because "'Sebastian' is a mouthful for a 22-month-old."
Sebastian is adored by his big brother, who climbs into his crib in the morning, Cooper shared on "The Late Show with Stephen Colbert" in September 2022.
"I wake up Wyatt first and then he wants to come with me to wake up Sebastian," Cooper told Colbert. "And he likes to get in Sebastian's crib and he has this thing now — I don't know where it came from — he's like, 'I want to smell Sebastian, I want to smell the baby.'"
"So I'm like, 'OK, smell the baby,' and he smells the baby's head and every time he says the same thing which is, 'He smells like an angel.' I'm like, 'Are you from a Christmas special?'" said Cooper.
In February 2023, Cooper posted an Instagram video of his youngest child while he was fascinated by a music box.
"Sebastian just celebrated his 1st birthday!" Cooper wrote on the post. "He loves listening to an old music box that belonged to my mom. Sebastian is sweet and strong and smart and loves his big brother Wyatt a lot. They fill my heart with joy and love in a way I never imagined possible. Happy Birthday Sebastian!"