Adam Sandler's kids have scored their most authentic Hollywood role yet: Playing his on-screen daughters in the new Netflix comedy, "You Are So Not Invited To My Bat Mitzvah."
Adam and his wife Jackie Sandler (who plays a school mother in the film) share daughters Sadie, 17, and Sunny, 14, both of whom have starring roles in the film, which is based on the 2005 Fiona Rosenbloom novel of the same name.
The trailer, which Netflix released on August 10, follows Stacy Friedman (played by Sunny) who is planning her "kick a**" bat mitzvah — that is, until a boy comes between her and her best friend, played by Samantha Lorraine, triggering a series of revenge schemes. Stacy's sister, played by real-life sister Sadie, and her dad, played by real-life dad Adam Sandler are there to help. Idina Menzel plays Stacy's mom. The film is produced by Sandler's company, Happy Madison Productions.  
The family drama that ensues will resonate with any parent who has planned a bat or bar mitzvah celebration (a Jewish coming-of-age milestone).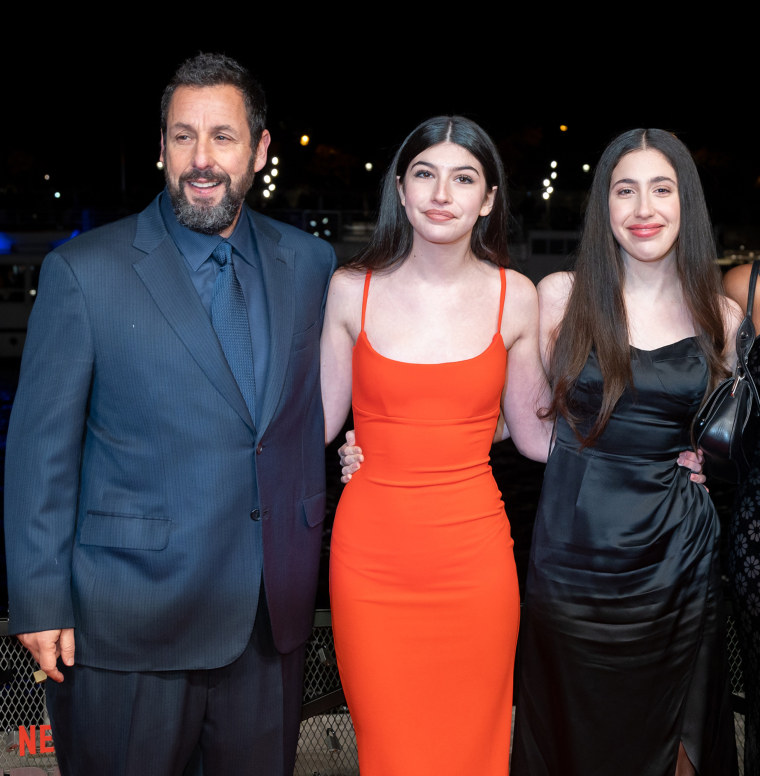 "You Are So Not Invited To My Bat Mitzvah" will be the latest Sandler family project. Both daughters had roles in their dad's films "Pixels" (2015), "Jack and Jill" (2011), "Grown Ups" (2010) and "Grown Ups 2" (2013).
Sammi Cohen, who directed "Bat Mitzvah," told "The Hollywood Reporter" that Sadie and Sunny "work harder than most adults I know," adding of Sandler, "He's wearing multiple hats — producing, acting, being an actual dad. It's almost inhuman."
Cohen also addressed whether Sander's latest film followed the "nepo babies" plot, when children of celebrities have a career advantage, due to their parents' success.
"Sandler has a reputation for making movies with his friends, and that's something we all want to do. What I say is, he's still making movies with his friends, but they're his kids. He is the kind of dad who's also your best friend. When it comes to the sort of chatter we're hearing online, I don't really think twice about it because I'm going like, "Yeah, he's doing the same thing he's always done."
Here's more to know about Adam Sandler's two daughters.
Sadie Sandler, 17
Adam Sandler had dad jitters when his firstborn arrived.
"You know what was funny? When my kid was born, I was so nervous, I didn't know what I felt," he told "Access Hollywood" in 2006. "Five minutes later, maybe 10 minutes later, it was me and the kid and a nurse. We walked down alone to just check the vital signs and all that stuff, and I had a chemical reaction in my body, where I loved the kid so much, and I was so nervous for her, and that's when I lost my mind for the kid."
"So, it took 10 minutes to become a good dad," he added. "For the first 10 minutes, I was just lost."
Adam was "dying" to become a father, he told reporters in 2006, in part because it allowed him to nurture someone else.
"I feel a little more relief that I don't have to just think about myself too much anymore," he said. "I don't have to talk about how great I am."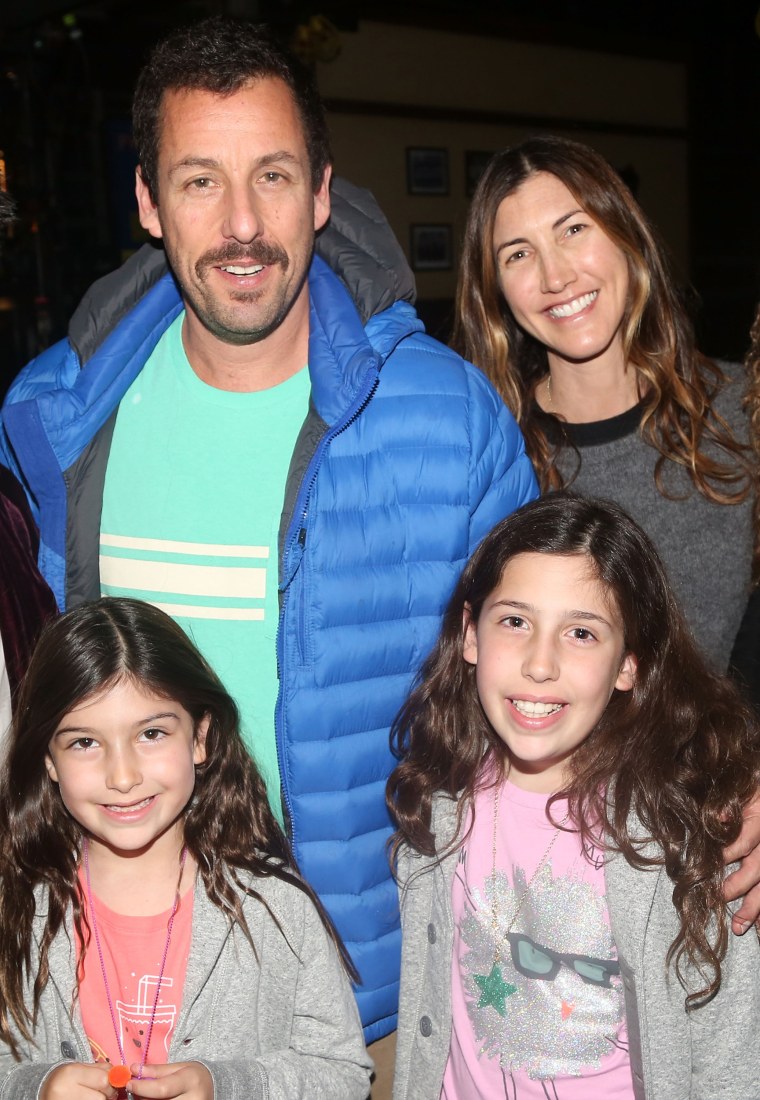 Did he change diapers?
"I get up with the wife while she's doing the stuff," he told "Access Hollywood" later in the interview. "Try to help her. If she asks me to go get that ointment, I run out and get it, but that's about it." 
At the time, Adam was eager to share his work with Sadie when she reached a certain age.
Sadie's real-life bat mitzvah (a star-studded party with guests Conan O'Brien, Chris Rock and more) was a rite of passage for her dad, too.
"She's doing great," he told Ellen DeGeneres in 2012 of his eldest daughter. Although his little girl was growing up, she — and her dad — weren't ready to date, he made clear.
"You know, I drive around with her (and her) friends and I hear them talking about boys now. It's amazing, the feelings I had about the same boys. Five years ago, when they would mention the kid's name, I would be like, 'I love that kid.' Now, I get very jumpy."
"They got little tiny mustaches and they're all a little tall and their bodies aren't making much sense," he added. "And I see them make eye contact with my kid. It's very weird to see your kid lock eyes with a boy while they're talking. Just like, 'Whoa, you lock with daddy's eyes, man.'"
Sunny Sandler, 14
Sunny Sandler's real-life bat mitzvah in May 2022 was just as sparkly as her sister's, with Jennifer Aniston, David Spade and Taylor Lautner attending, reported Entertainment Tonight.
Guest of honor Sunny was also treated to a musical performance by Adam Levine, Adam Sandler told Jimmy Kimmel.
Sunny has joined her parents on several red carpets, including for the June 26 premiere of "The Out-Laws" (co-produced by her dad) and joining sister Sadie for the "Murder Mystery 2" photo call in Paris.
Sunny also crashed her dad's Jimmy Kimmel interview at home in 2020 — which seemed fair, considering she helped groom her dad before he went on TV.
"I had a hair coming out of my ear, apparently, and Sunny told me about it," the "Uncut Gems" star told Kimmel. "She said I looked goofy, so I went and shaved ... and then I came downstairs and said, 'How is that Sunny?' and she said, 'You're bleeding.'"
Sunny didn't stay long in the remote TV appearance, kissing her dad goodbye before going to do her homework.
When Kimmel asked whether Sandler was any help in that department, he was honest: "A little bit — not really," explaining that he had to tiptoe around his home to not disturb his children's remote classes.
"I peek my head in on occasion and say hi to the teachers," he said.