On TODAY Moms, we like to give Dads a voice, too! Bob Trott is a writer and editor who lives in Seattle with his wife and their adorable 2-year-old daughter. Here, he wonders whether reluctance to get a sitter is a mom thing. What do you think? Let him know in the comments!
I fondly remember
the last time my wife and I had dinner outtogether: We went to one of our favorite restaurants, I ate oxtail for the first time, and my wifelet me sit facing the table of 20-something hotties who were celebrating a birthday. Without me asking, without rolling her eyes. Sure, I've forgotten what those women look like, but I haven't forgotten my wife's empathy and kindness toward a sad old married man.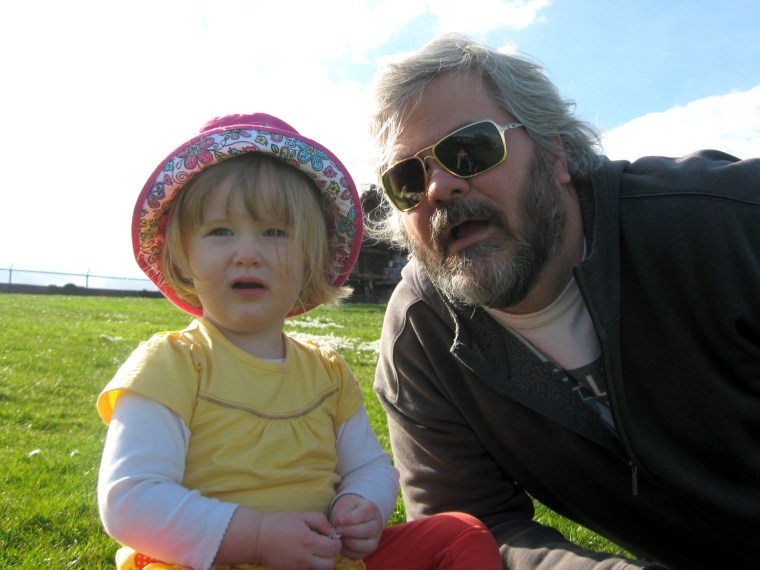 Of course, it's been easy to forget what those women looked like because that dinner out occurred more than a year ago. Some fifteen months ago, to be exact. Yes, the heady days of June 2010 -- when Al and Tipper Gore separated
and  Kim Kardashian had no idea who Kris Humphries was. At home, our beloved NJ sprouted teeth Nos. 1 and 2.
In short: It was a long time ago
, because I can't talk this wife of mine into getting a babysitter and leaving NJ at home. Our anniversary, a new job and/or a salary bonus celebration, Valentine's Day, our birthdays, New Year's Eve, Saint Crispin's Day -- all of these milestones passed with us at home, feeding ourselves and the kid instead of watching with gleeful anticipation as bartender mixes us exotic cocktails before a waiter brings oxtail tureen to the table.
"I don't leave her with a babysitter because I don't want her waking up to strangers," my wife says as NJ thrashes in her lap. "I think it would be terrifying for her to be consoled by a stranger when she woke up in the middle of the night when were gone."
A valid point. But obviously there are remedies to that possibility. Remedies we once used but have gone by the wayside. 
It wasn't always this way. For a while there we took advantage of NJ's good sleep habits and had, on a monthly basis, a babysitting round-robin set up with others in a newborn support group we joined. The kid went down at 7:45 p.m., a fellow parent showed up at 7:50 p.m., and by 8:15 p.m. I was holding the door open at a nice eatery downtown. When we got home two hours later, the refrain was always the same: The kid slept like an adorable log.
Our next move was to take advantage of NJ's day care's "date night" -- drop the kid off at 6, pick her up by 9. We did this a couple of times, but my wife insisted on going home long before 9 p.m. so we were wolfing down three-course meals and racing to collect NJ before her bedtime. That is not how civilized people dine; that is how heathens dine.
Part of the problem is that we don't have any family in the area
, and, in most cases, family is best when you've got to leave your child with others. Still, we have other options -- next door to us (right next door!) lives a family with two smart, friendly, highly responsible teenage girls.
I've tried to determine whether
the whole "not getting a sitter" thing  is a gender issue, but the results have been mixed. I've spoken to a couple other moms who think my wife's 100 percent right, and a couple of dads who couldn't care less about an evening out. But others think we're needlessly depriving ourselves of wonderful, relaxing, rejuvenating evenings of delicious food and drink.
If I pester my wife about going out to dinner, the conversation inevitably turns to her saying, "You go out and do what you want and I'll stay home, no worries." And I do occasionally go out for a beer or two with a friend (there are five taverns within a four-block radius of my home, so ... yeah, that's pretty sweet).  And, as my wife points out, we constantly go out for lunch with NJ.
But I want to have a nice evening out with my partner once in a great while without having to be on rolling crayon duty, or rushing a crying kid outside for a few minutes so she can regain her composure.
Can I get a witness, or is my wife right? How do you manage a night out?
Bob Trott blogs about his adventures in parenting at Dad Solo.
Like this? Check out these links for more parenting goodness from TODAY Moms:
Why moms aren't grossed out... by anything
One dad's journey to the best-seller list, one F-bomb at a time