/ Source: TODAY Contributor
When Paul Henson's 3-year-old son, Caiden, asked to be Elsa from Frozen for Halloween, the Chesapeake, Virginia dad responded: "Game on."
In a now viral Facebook post, Henson shares a photo of Caiden in his Elsa costume, and says that he's tired of masculine stereotypes and the overly sexy costumes sold for little girls.
"Halloween is about children pretending to be their favorite characters. Just so happens, this week his is a princess," Henson wrote in the post.
Henson's post was shared across the internet, leaving those who read it either supportive of the dad's decision or expressing disgust about a boy wearing a costume they perceived to be intended for girls.
"At three years old, they don't need to know anything about gender stigmas," Henson told 13 News Now in an interview. "This is not a boy costume or a girl costume — it's a costume."
Tom Burns made headlines last year when a photo of him dressed as Princess Leia to complement his daughter's Han Solo costume went viral. Burns says he's surprised that controversy still erupts when kids' bend gender roles for trick-or-treating.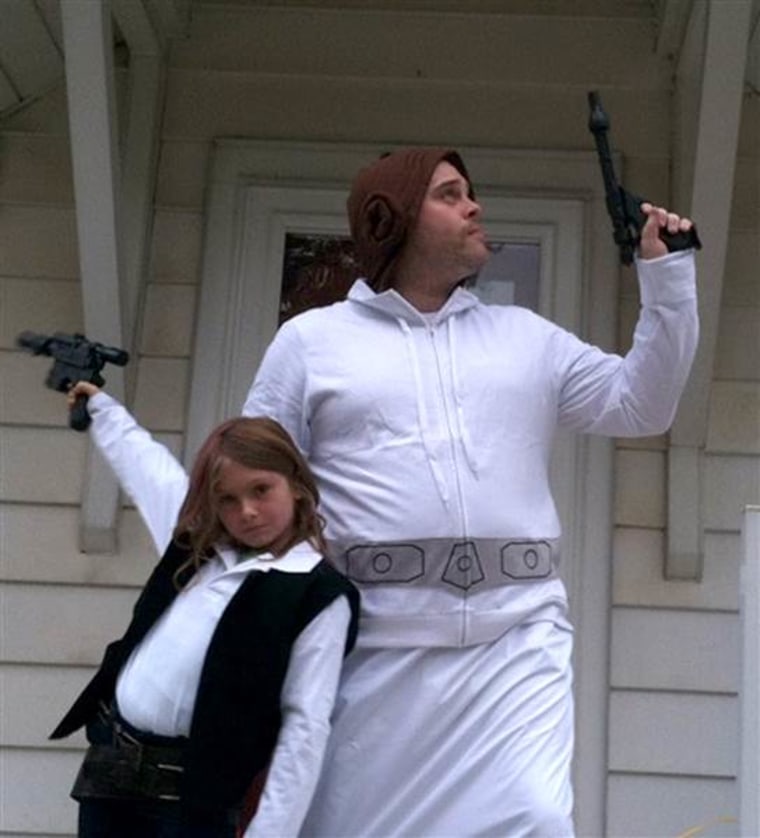 "It does feel weird that a 'boy in a dress' would still be making news in 2015, but we keep seeing people have really emotional reactions to pictures like these, so that tells me that we still have a long way to go as a society in terms of gender hang-ups," Burns told TODAY Parents. "I think Caiden and his dad are amazing. The dad is dead right — why put gender limitations on a kid's imagination? It's not about a political statement — it's about a kid who really, really loves Frozen."
Burns says, despite the negative online response he and his family received last year, he and his daughter had a lot of fun on Halloween night, and received an overwhelmingly positive reception from friends and neighbors.
"My one piece of advice for this family would be — don't read the comments," said Burns. "I'd just recommend that they unplug, enjoy their time with their family and friends, and feel proud about the fact that they're doing Halloween right."
"I don't want to cause any controversy, I just want my kid to go trick-or-treating," Henson said in the interview. "No matter what he choses to do in life, or what direction he takes – we're going to support him."