Her strengths are "rapid digestion" and yodeling, while her goals are world peace and to "open every drawer everywhere." Meet Emma, an 11-month-old showing astonishing self-knowledge, with a little help from her dad.
An Australian father's comical answers to a daycare questionnaire on behalf of his daughter have become the latest viral hit after a friend posted it on Reddit this week. 
"I am totally astounded that my trivial musings over a glass of wine late at night in my small home in Sydney, Australia, would the next afternoon become an Internet behemoth," Emma's father, Ben, who asked that his last name be withheld to protect the family's privacy, told TODAY Moms in an email.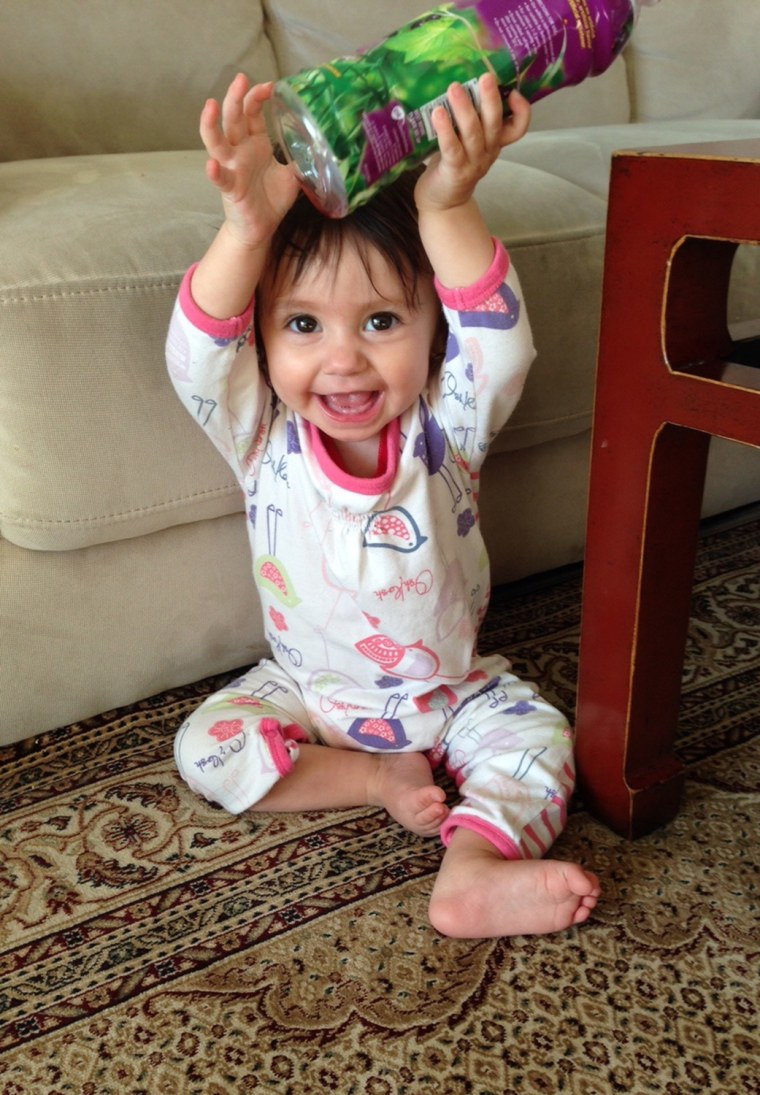 "I simply wanted to make people smile."
The questionnaire, from the Only About Children daycare, is intended for children up to age 5 and asked parents to list their child's strengths, interests and goals.
In the section that asks what friends the child likes to play with, Ben answered: "Not ones that adults can see, like unicorns and pixies." Under interests, he included "food as art/clothing" and "firmly gripping dog's hair." 
Emma's goals, according to dad, are to "unplug all power cords" and "inflict sleep deprivation on my parents until such time as they acquiesce to my every whim."

Some people have criticized Ben, 38, for making fun of the form, but he said he didn't mean to imply any kind of contempt for the questionnaire or the "fantastic" daycare staff. "I have nothing but respect for all the amazing people there," he said. The questions were totally legitimate to ask of the older kids, he noted. He just found them funny as the parent of an 11-month-old and responded accordingly.
Only About Children spokeswoman Kerri Brown told TODAY Moms the form has brought amusement to "all who have read it," adding "we enjoy a great relationship with this particular family."
Ben and his family are greatly amused by their sudden online fame. Though he lives in Australia, he said he's familiar with NBC's TODAY show "as it is shown in the wee hours in the morning and is a favorite of new parents such as myself who are often awake at these times."
Meanwhile, Emma has some new goals, her dad announced.
"(She) now intends to develop and market tiny baby-sized bungee-cords to enrich the experience of descending head-first from the couch the nanosecond dad turns his head away," Ben said.
"She is also working at improving her body-art skills... by growing a few more teeth, because two bite-marks on an arm are soooo 2013."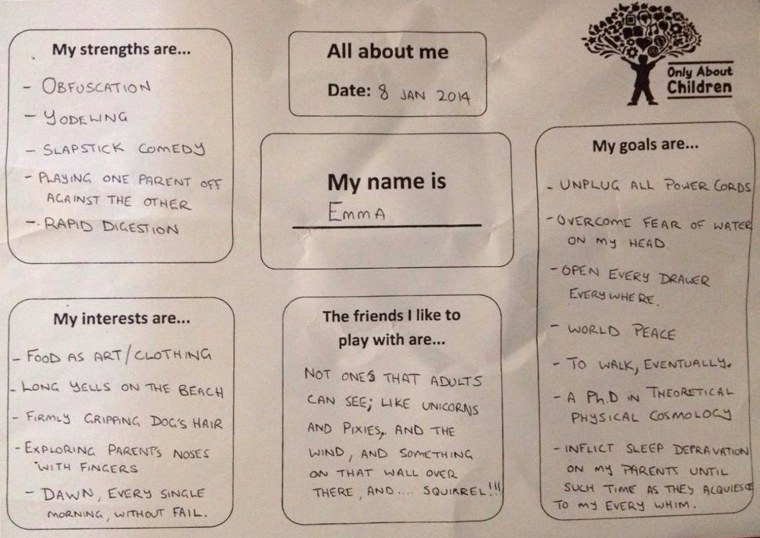 TODAY's Meena Duerson contributed reporting to this story.