/ Source: TODAY Contributor
A T-shirt posted by a dad in the U.K. has gone viral, sparking debate on Reddit and other social media sites about a father's role in bringing up children. The shirt reads "Dads don't babysit. It's called 'parenting.'"
Al Ferguson is founder and editor of The Dad Network, a U.K.-based website that serves as a support network for dads. Ferguson told TODAY he purchased the shirt from the National At-Home Dad Network, a similar site based in the United States.
"I bought the shirt, really, because it is appropriate to the message that we as an organization aim to promote, but also to support the At-Home Dad Network, Ferguson told TODAY. "I think it's a fun way of communicating a wider issue about parental equality that society is still getting to grips with."
After Ferguson posted an image of himself wearing the shirt, a vigorous online discussion about dads and their role in parenting ensued.
"It hurt really bad when I was a new, stay-at-home, dad and people would say or ask about me babysitting," wrote Reddit user NearHi. "I was with my daughter all day, every day. I became super territorial of her. I was the main parent. Then some...would ask about me, 'babysitting.' It really made me almost cry sometimes because it was like they couldn't see me as a caretaker."
"My husband is a really great dad, I stay at home but when he's not at work we split everything 50/50. I can leave for the weekend and I know everything will be completely fine,' wrote Reddit user books_and_hoes. "I can't tell you how many times people have said, 'The kids are home with their dad? How long until he calls you to come home?' Or the nurse at our pediatrician's office, who said, 'You've got a good helper here!'
"He is not my helper," the Reddit user added. "He is my partner and my children's father."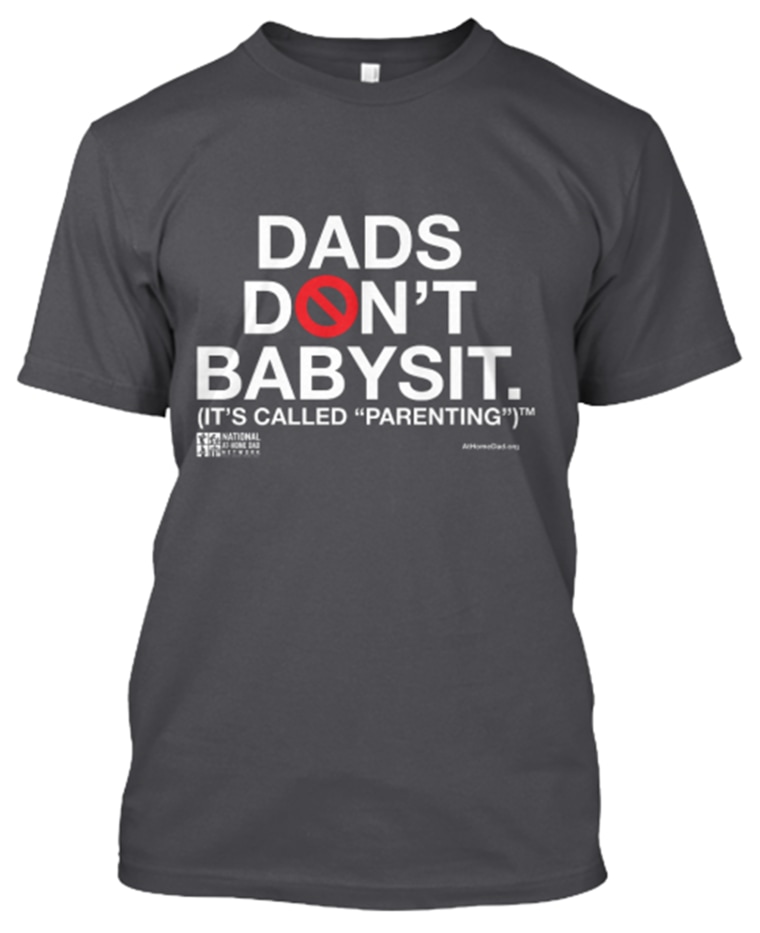 In an interview with the BBC, Ferguson said that he, too, has heard comments about "looking after the kids" when out and about with his children.
"It's just out of date. The modern dad is more active in their family life than they were historically. It's out of date to assume the mum is the primary caregiver," Ferguson said in the interview.
He struck a similar note with TODAY. "People around the world are starting to see that dads play a crucial role in the upbringing of their children, and more and more dads are choosing to stay at home and look after the kids," Ferguson said. "Even those that work are coming home and getting stuck in to parenthood in a more active way than generations before."