When Aaron Richmond heard from his wife that a local midwife was making a photo calendar featuring dads, to benefit infant mortality reduction, he immediately said yes.
Then he discovered that the dads would be recreating pregnancy and childbirth poses. 
"Oookaaay, what did I get myself into?" he wondered. And that's how he found himself "laboring" in a tub of water, wearing the same pink sports bra his wife, Ashleigh, did when she gave birth to their son, Oliver, at home in August. (Unlike Ashleigh, Richmond did wear bottoms for the photo.)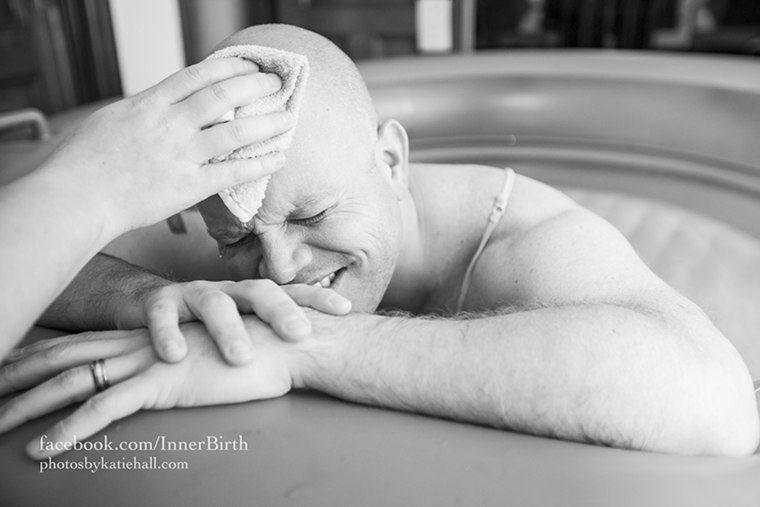 He is one of a dozen dads in the Racine, Wis. area who posed for the 2014 Homebirth Dads Calendar. Funds raised from sales of the $29.99 calendar — the brainchild of midwife Kimberly McGuinness-Rook — will benefit the Greater Racine Collaborative for Healthy Birth Outcomes. Some of the proceeds also will be used to create a birthing center for McGuinness-Rook's practice, InnerBirth.
"Racine County has a really, really high infant mortality rate," McGuinness-Rook says. About 17 of every 1,000 babies born in the county, only 90 miles outside of Chicago, do not survive the first year of life.
Photographer Katie Hall said Richmond and the other dads really got into the spirit of the photo shoot. "He did such a phenomenal job. His wife was there with their little one. And she was encouraging him and said 'No, honey, it felt like this.'"
McGuinness-Rook and Hall coached him to grimace in pain, but he couldn't quite convey the hurt. That is until McGuinness-Rook's husband, Kevin Rook, smacked him on the butt.
"I got that scream," Richmond says, laughing.
"I was a little apprehensive and nervous [but] once we got into it [I thought] 'This is really going to be a funny story one day.'"
Reenacting birth scenes gave the fathers a different perspective on what their wives experienced.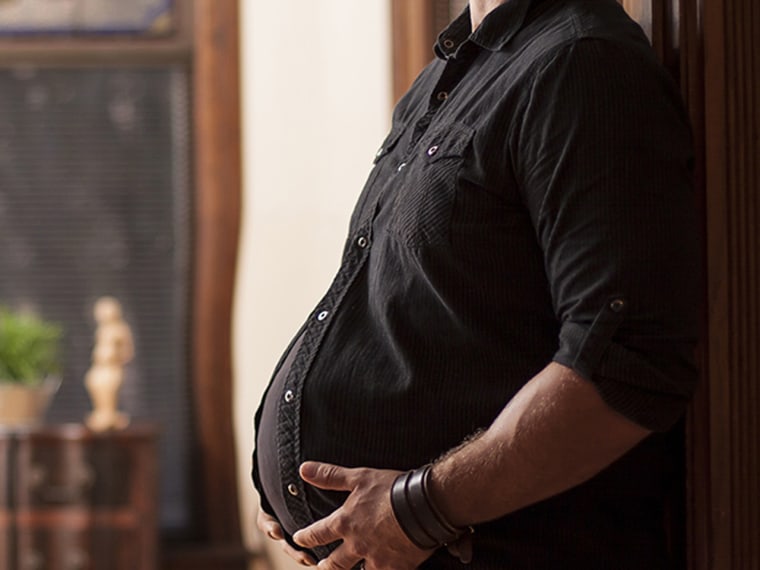 "All of the guys were very supportive of the fact that they were stepping into their wives' roles," Hall explains. "They were doing it as an honor to their wives' as strength and ability to give birth."

While Hall often takes birth and family photos, this was the first time she photographed men switching gender roles. 
"We just made it a very lighthearted atmosphere; it was very tongue and cheek," she says.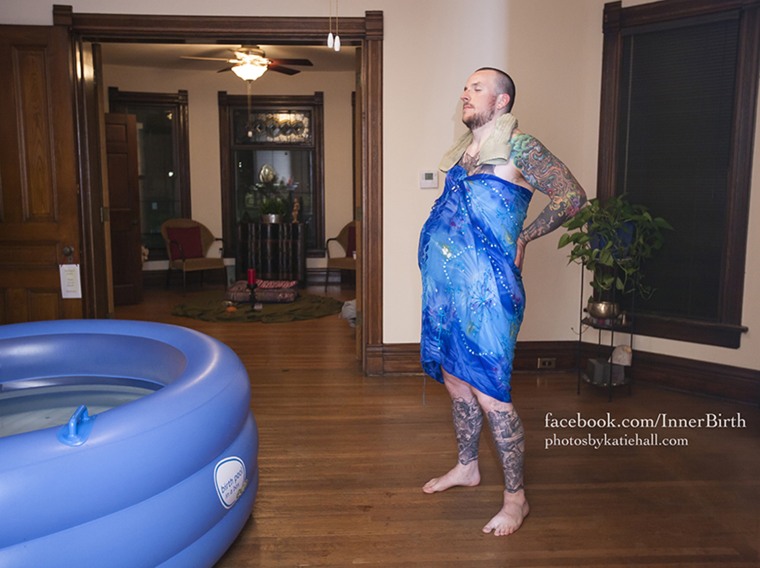 But trading places with their partners proved enlightening and moving for some of the fathers.  

When Richmond strapped on the fake belly, he realized he couldn't see his feet. This caused him to reflect about how pregnancy changed his wife's body. With the prosthetic attachment, Richmond suddenly felt as if his body wasn't his, much like his wife did. He often forgot he was carrying extra weight and realized he couldn't walk through a doorway without maneuvering his tummy.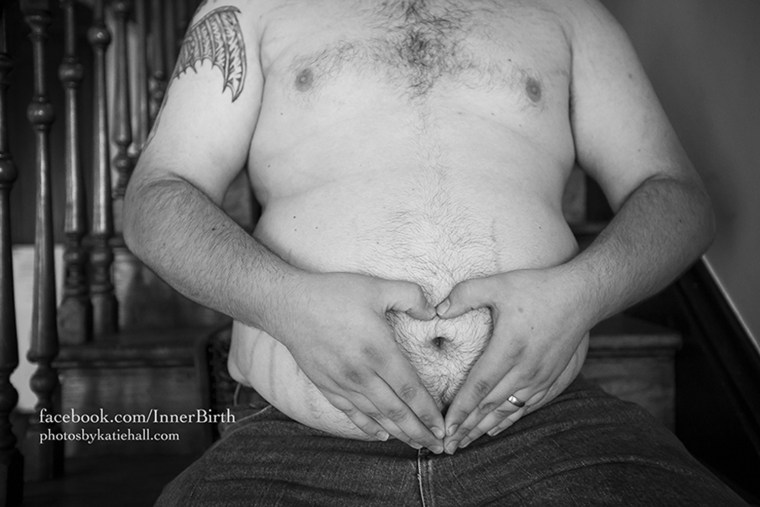 McGuinness-Rook said that one dad, who became the December photo, posed for a scene with his newborn son, which looked a lot like the moment when the baby appears for the first time. He started making muffled sounds. At first she thought he was laughing, but then she realized he was crying.

"I said 'are you OK?' [And, he said] 'I am really moved by this. As men, we never really get this opportunity to feel remotely what it feels like to have [a baby] and what my wife went through.'" McGuinness-Rook says.