One father's surprise gesture at his daughter's wedding is touching hearts worldwide, but has especially resonated with families affected by divorce.
Todd Bachman started to walk his daughter down the aisle last weekend when he stopped the procession and walked over to the bride's stepfather, Todd Cendrosky.
"All of a sudden, at the last second, he turned his head to me and grabbed my hand," Cendrosky told TODAY.com. "He said, 'Hey, come with me. You've had just as big of a part in raising this child. It's time you and me walk our daughter down the aisle together.'"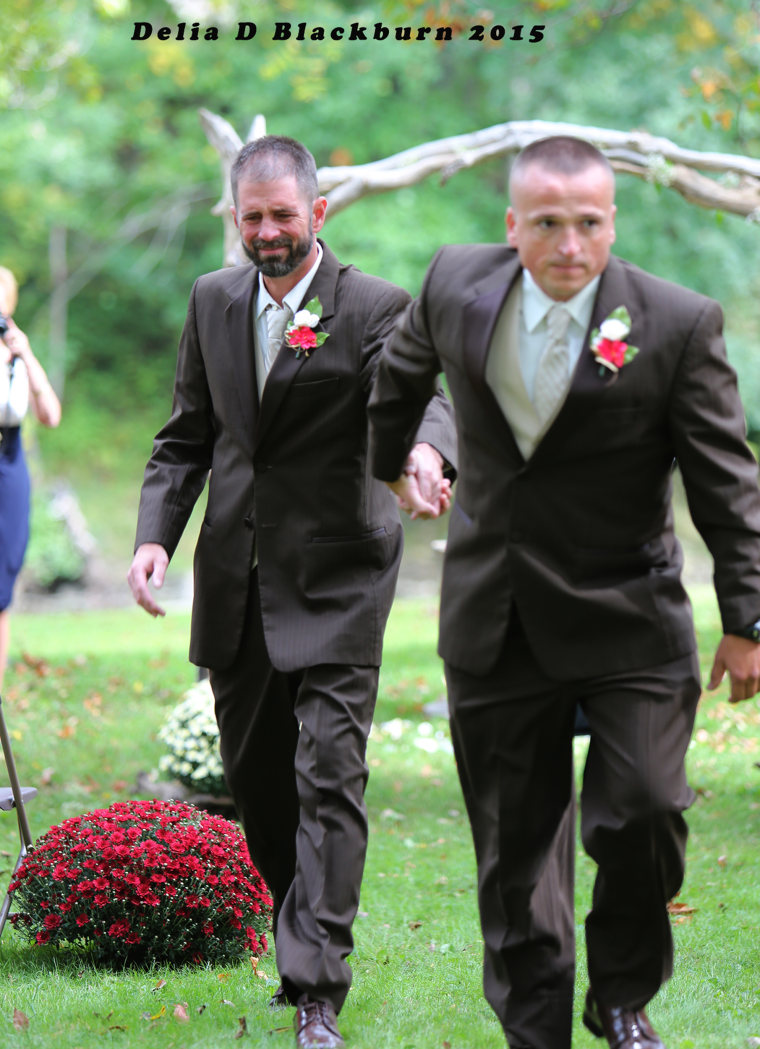 The expressions of an emotional Cendrosky as he was led by a determined Bachman back to the bride were captured in a series of pictures that have since gone viral on the wedding photographer's Facebook page.
"It meant the world to me," said the bride, Brittany Peck, 21. "I've dreamed of this, ever since I knew that my stepdad was going to be my second dad. But I always knew in the back of my head that it wouldn't happen because of the situation in my family and how no one ever got along."
RELATED: Bride will be 11th in her family to wear 120-year-old heirloom wedding dress
But that's exactly why Bachman said he did it.
"What we've been through over the years — if we can do it, anybody can do it," he said.
"It was a wonderful day," Bachman said of his daughter's wedding. "It's a shame more parents can't set aside their egos for an event like this. Kids should not have boundaries as to who they love and who they care for. Unfortunately, many parents, through their arguing, bickering, want to keep kids closed in."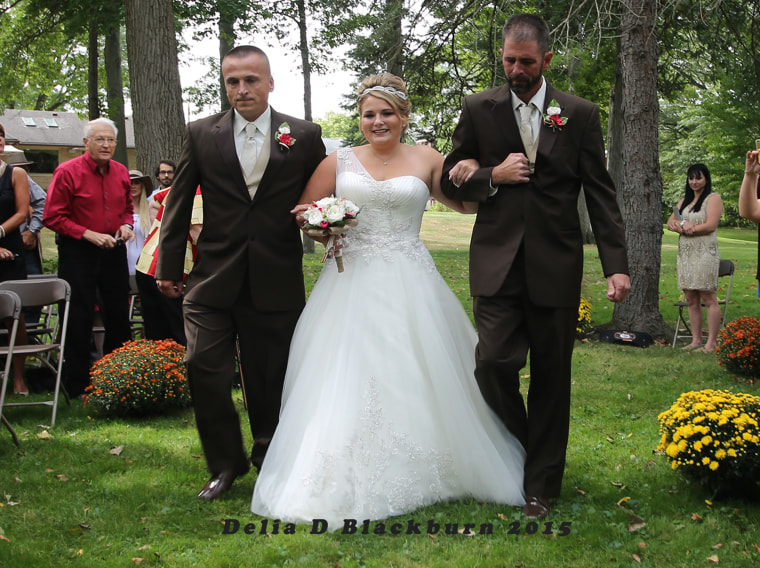 Bachman said he had planned the idea for a while, but then, two weeks before the ceremony, Peck called on the phone, distraught. He said he knew exactly the source of her concern and before she could spell it out, he told her what he had in mind.
RELATED: Gay couple's wedding has 10 bridesmaids — all in white bridal dresses
"He said, 'I already have a plan,' and it was absolutely perfect," said Peck, who had been "very, very nervous" about calling her dad. Yet, he assured her he was comfortable sharing such a huge milestone with Cendrosky.
"It amazed me how he could be such a strong man and give me away with my stepdad," she said.
Peck said she and her father decided to keep their plan a secret from everyone except the photographer. But hiding the idea from Cendrosky was difficult.
"My stepdad is a very emotional person. He cried for a week straight until my wedding to my mom," she said. "He was like, 'I have a tux, but I don't have anything special to do.'"
Cendrosky admitted the idea of sitting at the wedding without a role hurt.
"I always wanted to walk her down the aisle," he said of Peck. "From day one, I looked at her as my daughter, but I knew that was Todd's — the other Todd's — given right being the birthing father. But this was his way of including me, and I thought that was the kindest gesture that anybody has ever set forth for me."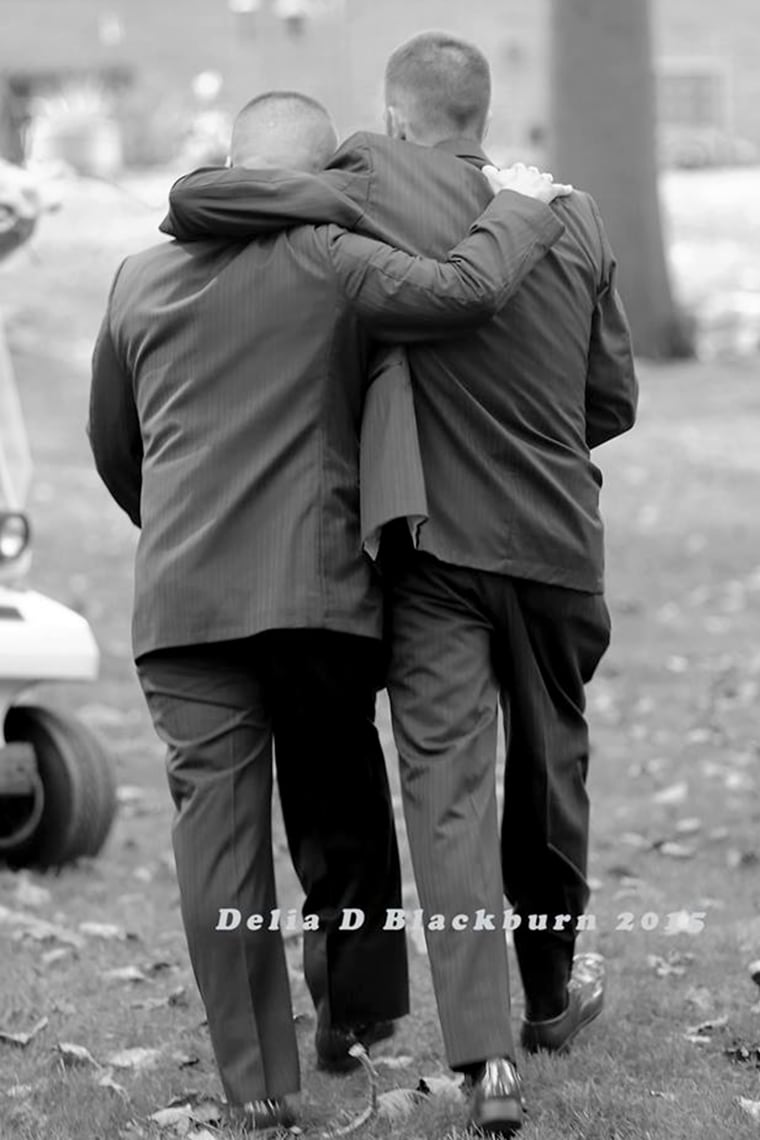 Bachman said he and his ex-wife definitely went through a rough period filled with lawyers and courtrooms, but the two sides are now cordial and he appreciates the role Cendrosky has played in the lives of his children.
"This didn't happen overnight. But when the smoke cleared, I guess I couldn't have painted the picture any better for my daughter," he said. "He's done nothing but show the utmost respect and treated the kids like his own."
RELATED: Trendy wedding style: 18 things former brides wish they knew
Bachman said he didn't expect everyone to make such a big deal about what took place, and he certainly didn't expect the photos to go viral. But he said if "even one divorced couple can see this story and maybe change their way of thinking," then it would be worth the attention.
Still, he said he hopes the story doesn't detract from his daughter's big day.
Peck said her father has nothing to fear.
"If anything, this has made my life so much better," she said. "I hope we get our story out there because it could show families that are putting their kids in the middle of divorces and breakups and custody battles that there can be a good outcome.
"It's such an amazing story. I just hope we can touch families that are going through the same thing we went through."
Follow TODAY.com writer Eun Kyung Kim on Twitter.