/ Source: TODAY Contributor
When they were pregnant with their first child, Taylor and Heidi Calmus wanted to wait until their baby was born to find out the gender. Then, just two weeks before baby Theo, now 14 months, made his way into the world, their doctor accidentally spilled the secret.
So the minute they knew Heidi was pregnant again — due in August — Taylor Calmus knew one thing for sure: "This time, THERE WILL BE NO WAITING!" he told TODAY Parents.
That's when he started planning ways to make the news special. "If we were going to do a gender reveal, I wanted it to be epic," he said. "This little person is going to change our entire world, and to me, cutting open a cupcake just wouldn't suffice."
Calmus, 30 — an actor, inventor, and stencil graffiti artist — has been vlogging about fatherhood for the past 14 months under the name Dude Dad Vlog while Heidi, also 30, works with homeless youth at the Covenant House near their home in Burbank, California.
"I knew fatherhood would limit my time and make it more difficult to pursue my dreams as an actor, so I decided a vlog might be a fun way to stay creative while being a father," Calmus said. His answer for the new baby's gender reveal is definitely creative: a Rube Goldberg machine that begins with baby Theo grabbing at a sippy cup from his crib and ends with a cannon blasting colored confetti after the contraption runs through the Calmuses' home.
WATCH: Couple's epic gender reveal goes awry, with a bang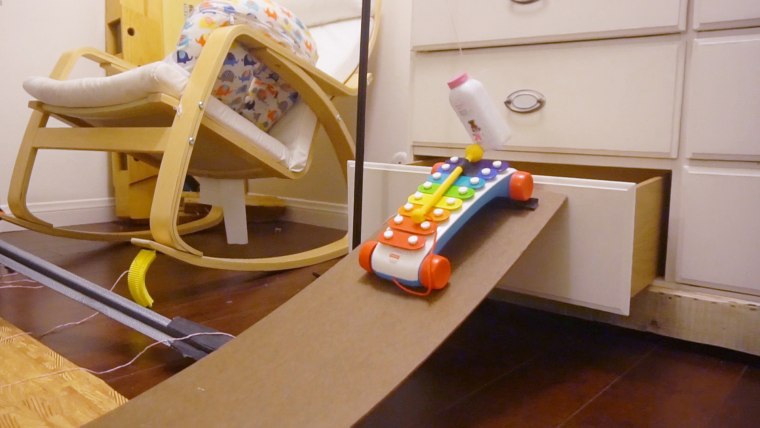 The resulting video of the gender reveal has been shared more than 71,000 times on Facebook.
"I love Rube Goldberg machines. It's probably OK Go's fault," admitted Calmus, referencing the band that became famous for their quirky videos featuring band members on treadmills or elaborate Rube Goldberg machines.
But building the elaborate trick was no easy task. With Heidi out of town, Taylor worked for three days on the contraption, enlisting the help of three friends to set it up — a fourth friend, Robb Gilligan, added original music from his band, VALKA. Little Theo was there too, which Calmus said was "a bit stressful, because he also wanted to help, which meant he would often knock stuff over by accident."
Never miss a parenting story from TODAY.com! Sign up for our newsletter here.
"Having a cat and a toddler wandering around was definitely an added difficulty," said Calmus. "Everything about Rube Goldberg machines needs to be precise, but we were working with only items we found around my house, which were basically baby toys and duct tape.
RELATED: Little girl is NOT happy about this cupcake gender reveal
"There would always be one little piece of the machine that wouldn't be working right, and once we finally got it to work, something else that worked perfectly every time would suddenly fail. We probably tried it around 50 times, but it could have been way more," Calmus said.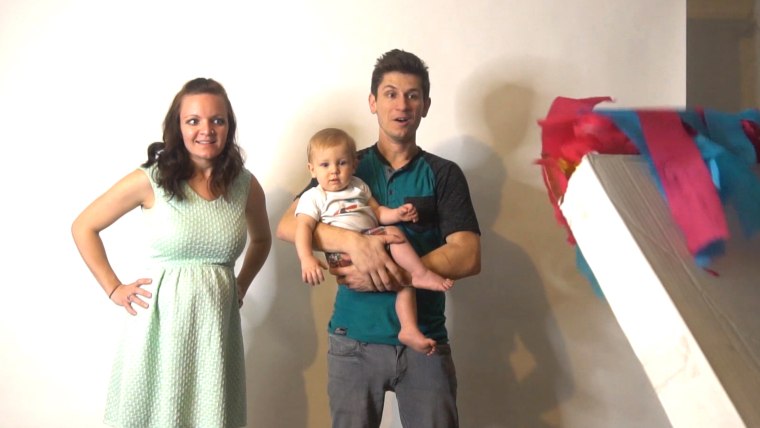 Calmus gave the sealed envelope containing the gender news from the doctor to his friends so that they could load the colored confetti, so the reveal at the end of the video captures the moment the whole Calmus family finds out whether Theo will be getting a baby brother or sister.
Even the grandparents were able to participate in the fun. "If you watch closely at the 2:10 mark in the video, you'll see a laptop. That was my parents Skyping in to see the whole thing live from their home in South Dakota!" said Calmus.
"The reaction has been amazing," said Calmus. "I knew we had made something unique, but I had no idea it would get this kind of response. I love the idea that we made something that inspires people to be creative."