Through swipes of blue nail polish on fingers and toes, a Louisiana father is hoping to improve the lives of his son and other autistic children for generations to come.
This April is the third that Brian Batey has urged people to sport blue-hued nails for Autism Awareness Month and send pictures for his Paint 'em Blue for Autism Facebook page along with the name of the person they are honoring.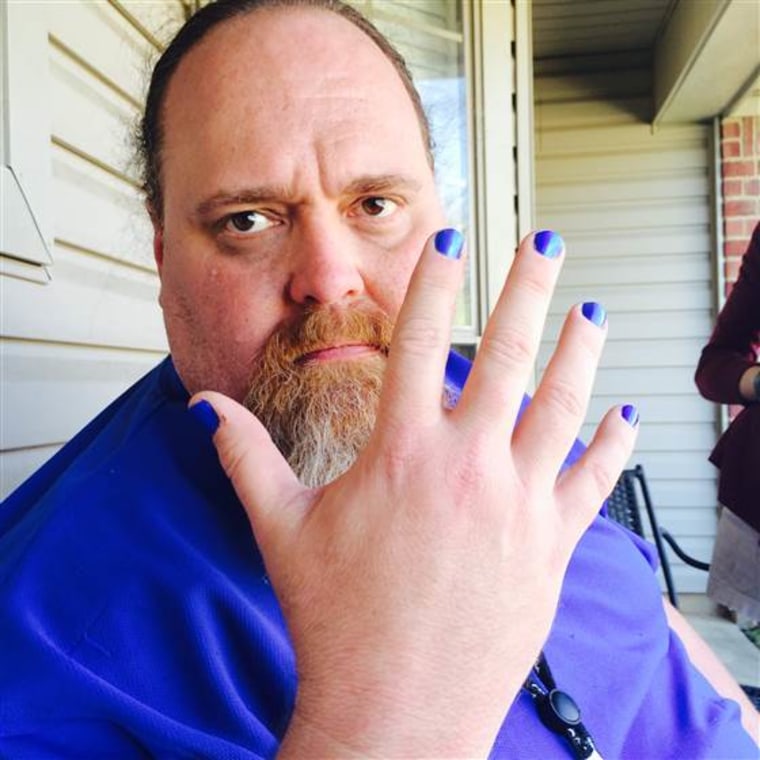 Brian Batey shows off his blue nails. (The photo was taken by Breanne Pittman, Batey's 13-year-old neighbor who also painted his nails.)
To Batey, who was diagnosed "in the Asperger's range" on the autism spectrum two years ago at age 46, and his 18-year-old son, Nathan, who has Asperger's syndrome, the azure manicures and pedicures are much more than a trendy spring fashion statement.
"The nails represent a growing level of acceptance of people like me and people like my son—that we have a growing place in the world of neurotypicals," says Batey, of West Monroe, Louisiana.
A senior software developer, Batey has experienced how powerful awareness can be.
Growing up in rural Louisiana as a kid who was different, a kid who didn't have a diagnosis or services like his son does, Batey had an extremely rough time. "The bullying was horrendous," he says.
As Asperger's syndrome became a recognized condition in the 1990s (only to become incorporated into autism spectrum disordertwo years ago), he saw people become more understanding of those with the developmental disorder who interacted and communicated differently. The disorder was considered on the "high-functioning" end of the autism spectrum, characterized by social and communication difficulties.
"I know how much better the world is to my son than it was toward me at his age," Batey says. "If I have autistic grandchildren, I want the world to be that much better for them than it was for Nathan."
Batey launched his blue nails effort after a friend painted her and her young daughter's nails blue one April in honor of Nathan. Batey was so touched, he challenged friends and relatives to do the same. He received 38 photos in his first year, more than 300 in 2014 and is hoping for 1,000 this year.
Among the latest crop are photos of blue fingers and toes that are young and old, male and female and lacquered in shades light, dark and sparkly. One depicts blue-tipped fingers making the "heart hand," another features three generations of toes, and one shows a daughter's hands atop her mother's.
Batey stresses that he's not raising money. "I ask for a little blue paint and a picture."
The idea is to "get people to do something for themselves and at same time do something for others," he says, adding that the blue nails have been conversation-starters that bring autism into people's minds and force "a moment of thought."
"That moment of thought can lead to the first tiny bit of awareness and acceptance," he says. "Hey, we're out there. We're full people. There are people who love us. There are people who value us, and it sends that message that maybe you should too."
One of Batey's friends and co-workers who has gone blue in April, Sabrina Mathus, says people have asked her about her nail color. By telling people the reason, she knows she is helping to spread awareness about autism.
"People have said, 'I don't understand what that is. Can you explain to me what it is?'" said Mathus, who has an autistic nephew and cousin.
Another friend of Batey's, Kelly Moravek, drew questions in the nail salon about her color choice. Once she explained it was for autism, some women changed their color to blue. "It's an easy way to spread the word and share information," she said.
The Paint 'em Blue campaign is giving Batey the feeling that he's accomplishing something for Nathan, and for all children who will be diagnosed on the autism spectrum.
"This is going to sound arrogant as hell," he cautioned, but "I feel like what I'm doing, in a small way, I'm changing the world for him."
Lisa A. Flam is a news and lifestyles reporter in New York. Follow her on Twitter.