We finally went on a vacation last month, and I managed not to wreck it like I did our last trip, in September, when I got sick and spent a couple of nights in the hospital instead of a beach house.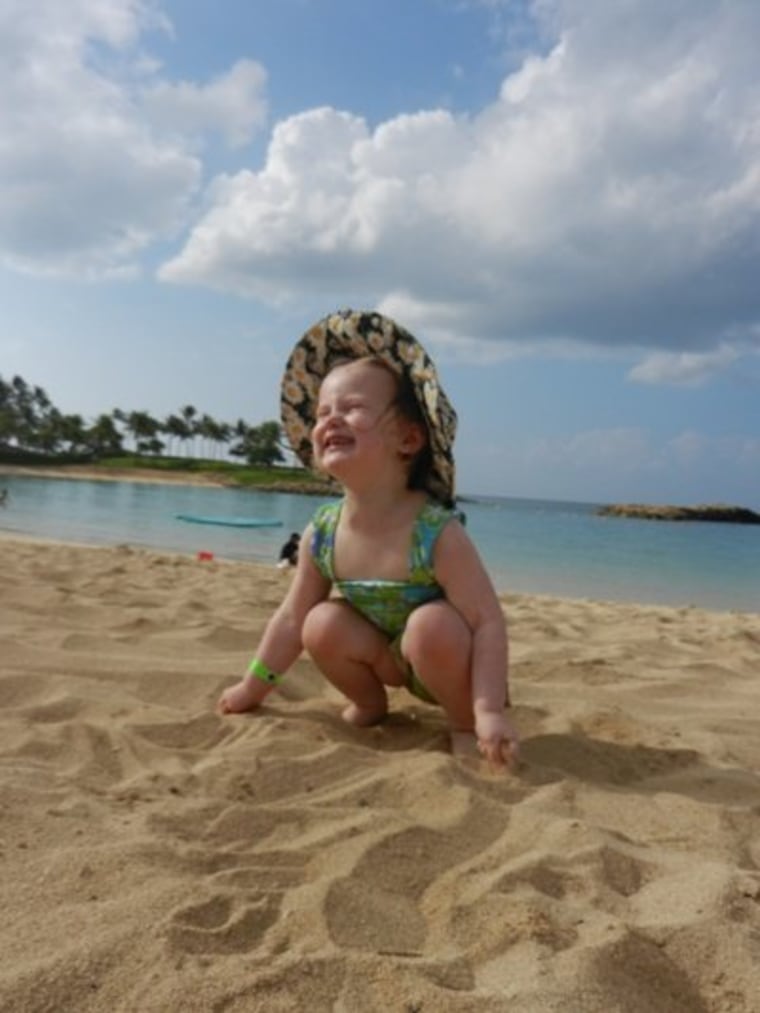 That was going to be our first touristy trip in years – i.e. our first trip that wasn't to visit family – and when pneumonia wrecked it we decided almost immediately to schedule another vacation. We also decided to stop putting off a trip to Hawaii, and – even with toddler NJ in tow – we went for it. My wife talked to an AAA rep and before too long, BAM! We were scheduled to visit the 50th state.
Before we left home, I read "Tips from well-traveled families" with hopes of living up to the lofty standards of those travel experts. It's not an apples-to-apples comparison – these tips came from seasoned world travelers who spend months at a time overseas, volunteering their time to help people less fortunate than themselves, staying in hip hostels, and hiking through Nepal. In contrast, we spent six days at a resort where Mickey, Minnie and Goofy act silly and pose for photographs.
Here's how our experiences stacked up.
Experts say: Pack smart and light
What we did: Smart, but not light
I was able to talk my wife out of bringing NJ's car seat along, a major victory for the guy who has to lug the unwieldy thing around airports. We rented a car for one day, and it came with a car seat. Otherwise, though, we failed rather spectacularly – three bags to check in, three to carry on, and a stroller. (A stroller that we didn't use at all, by the way, except in airports.) After traveling last fall, I vowed to cut down on our stuff so that when I'm rolling it around on a cart, it doesn't look like I'm pushing an out-of-gas Hyundai around baggage claim. Axing the car seat was a small, but important, step in the right direction.
The invaluable gear we used on the two six-hour plane rides included iPad episodes of "Olivia" and "Yo Gabba Gabba!", and several Mo Willems' pigeon books. Now, NJ gets agitated any time you even suggest that the pigeon should be allowed to drive the bus.
Experts say: Plan ahead
What we did: Not much planning, but that was OK
Not much of an issue, because our plan was mostly to swim and lounge, eat, lounge and swim, eat again, and fit some more lounging in if possible. The one day we ventured off the resort, our planning was terrible – NJ's nap blew a hole in our afternoon, and once we returned to our room we went ahead and turned the car in and stayed at the hotel. That's OK for a relaxation-centric trip like this one, but we'll really need to step up our game in the future. Otherwise, "planning" involved things like wandering over to the outdoor showing of "The Lion King" or reserving a spot on the ground for a Hawaiian dancing and music show.
Overall, planning a trip to Disney's Aulani Resort was a smart move for parents who wanted to forget about planning. Those folks really know how to keep kids happy – which, of course, keeps parents happy.
Experts say: Learn something from your experience
What we did: I took a long nap
The lesson I learned was this: If Dad takes his new-found affection for Mai Tais to the pool bar while Mom and Child head off to a playhouse for games and puzzles, he may need to join the toddler for an afternoon siesta.
Experts say: Make smart destination choices
What we did: When in doubt, go Disney
When it comes to family fun, the Disney compound is a great go-to travel spot if you don't want to go anywhere else. Not that you can't go anywhere else, of course, but we really needed the "rest" part of R&R and didn't schedule much. Things will be different when NJ's a little older and I take her to, for example, a Texas Longhorns football game.
Everyone had fun in Hawaii, even if NJ picked up a cold at the tail end of things. (She was a coughing mess on the flight home – no dirty looks, though, that I saw. And if so – so what? I put up with coughing, screaming, crying, yelling kids on planes for decades before I had a child. Deal with it!) It was a great first vacation as a family – I say "first vacation" because it was just the three of us, no grandparents or siblings to babysit or anything. And next time out – whether it's to walk the Great Wall of China, or to splash around in a waterpark somewhere – we'll be better prepared. Maybe we'll get everything in only five pieces of luggage.