When it comes to parents deciding which of their kids' drawings to keep and which to toss— the struggle is real. From the creative display ideas found on Pinterest, to Angelina Jolie's wedding veil adorned with her children's drawings, parents often have trouble finding the balance between saving the little masterpieces and minimizing the clutter in their homes by tossing art projects in the trash.
So when Keith Anderson's brother got a tattoo of his own daughter's drawing on his leg, the Ontario, Canada, dad says he was inspired to do his own take on the idea—a full sleeve of tattoos made up of doodles drawn by his son Kai.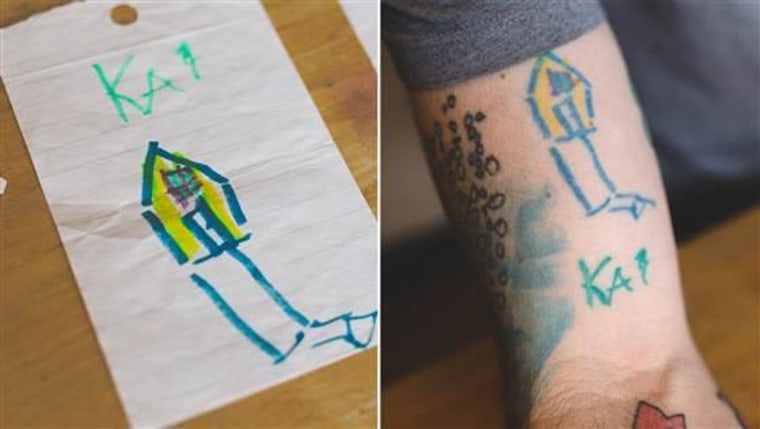 Anderson says he got his first tattoo when Kai, now 11, was only 5 years old. The duo has chosen one favorite doodle each year since, covering Anderson's arm with everything from a robot butler, to Kai's handwritten name, to the Canadian maple leaf symbol.
"He still loves the idea, and thinks in terms of what piece of art may be good to add to the sleeve each year. As the year goes on, we talk about what may be a good piece to add depending on size, mostly. All the pieces are original size, except for the robot butler, which was enlarged slightly," said Anderson.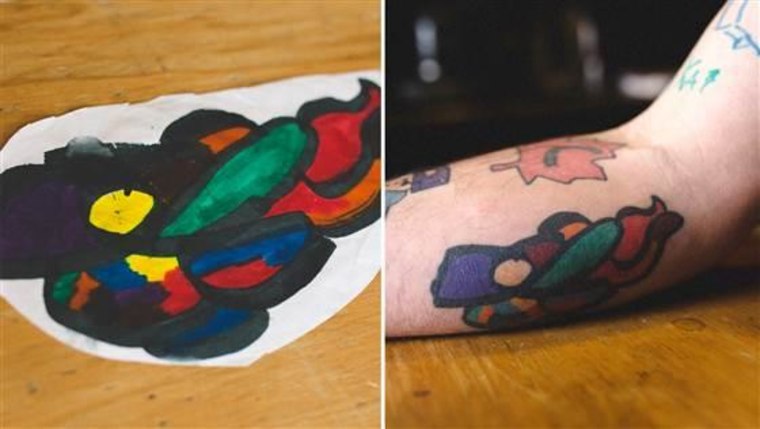 Anderson tells TODAY Parents that he and Kai enjoy looking at each doodled tattoo and remembering events from the year in which they were drawn. As Kai has gotten older, Anderson has allowed him to not only watch the tattoos being drawn, but also to try tattooing the piece himself.
"He was interested in doing some of the seahorse when it was done, but never did any of it. Next was the maple leaf, and when asked if he wanted to do some that time, he jumped at the idea. In total, he has helped with three of the most recent pieces. He is a good student with a very steady hand," said Anderson.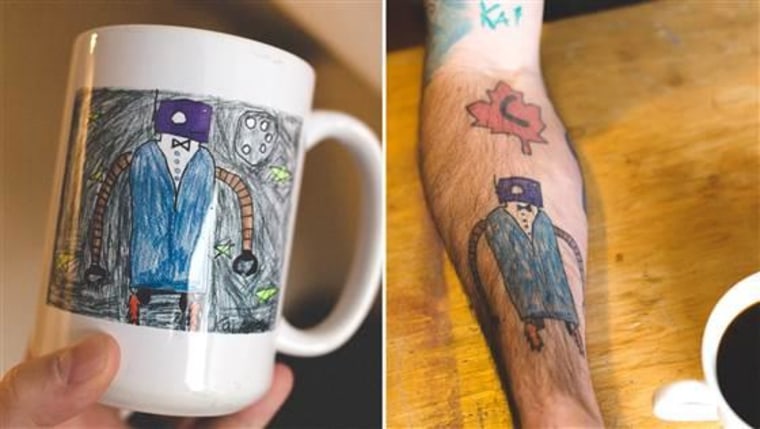 Anderson recently reached out to long-time friend and photographer Chance Faulkner to capture his tattoos in a photo shoot. Faulkner says it was one of the most unique ones he's done, and offers some advice for parents looking for a less permanent way to capture everyday moments from their kids' childhoods.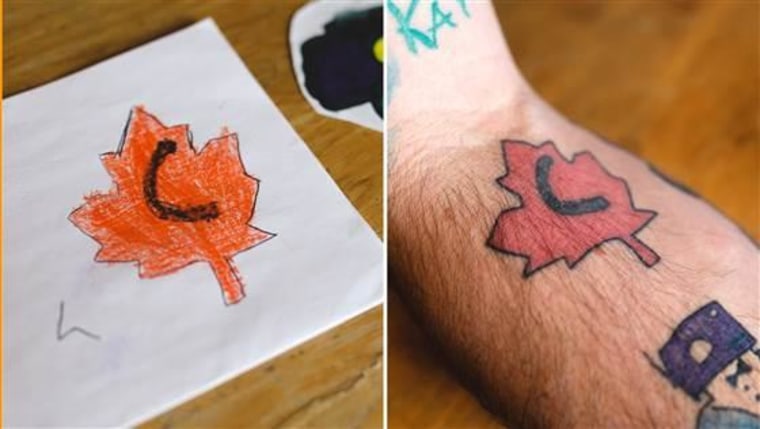 "Take photos of your kids when they're relaxing and try to capture the personal side of each subject as they are cooking, playing, or wrestling with dad. In the end, those are the raw and candid moments that best capture your kids' in the stage of life they're in," said Faulkner.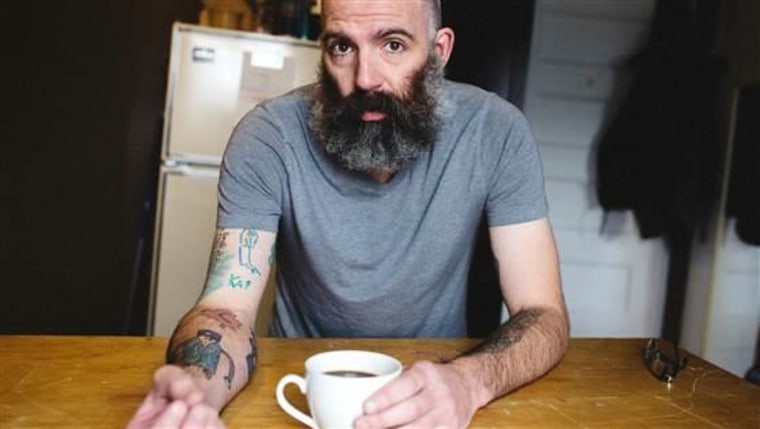 Anderson, whose job involves providing support to individuals with disabilities, says he will continue to add a drawing to his tattoo sleeve each year until Kai grows tired of the idea. And if they skip a few years, or just add to the sleeve more intermittently as Kai gets older, he's OK with that, too."
Mostly, it's just been a unique experience. I'm proud of him as an artist and for the person he is now, and I'm glad I could give him this experience to somehow shape who he will become. And I love when he is proud of his work and asks me to roll up my sleeve and show it off," said Anderson.
This article was originally published Feb. 3, 2015 at 1:55 p.m.