/ Source: TODAY Contributor
When Ben Sowards' 6-year-old daughter, Valerie, peed her pants at school this week, the Utah dad splashed some water on the front of his own pants and headed to school to cheer her up.
"I walked into the school...I walked up next to Valerie, who was sitting, looking down at the floor, and I put my arm around her and I said, 'Valerie, can I have your backpack? I need to cover up this accident,'" Soward recalled in a video interview he shared with TODAY. "And she just looked at me with the perfect look — just disbelief — and we started laughing."
One of Sowards' other daughters, Lucinda, 17, tweeted photos of her dad's wet pants, writing, "My little sis had an accident today at kindergarten & this is how my dad left to pick her up so she wouldn't feel so sad/embarrassed."
The tweet has been shared nearly 65,000 times, and has been liked by more than 250,000 people.
But for Sowards, the highlight of this week was not his wet pants going viral — it was adopting a set of four siblings that he and his wife, Connie, have been caring for through the foster care system for several years.
"Going viral was not the best thing that happened this week," Sowards told TODAY Parents. "It's really so superficial and insignificant compared to the other events of the week."
RELATED: Curious about adopting from foster care? Here's what it's really like
Ben and Connie Sowards have seven biological children, but have always felt a calling to open their home to kids through foster care. Sowards says he and his wife spent several years preparing to become foster parents.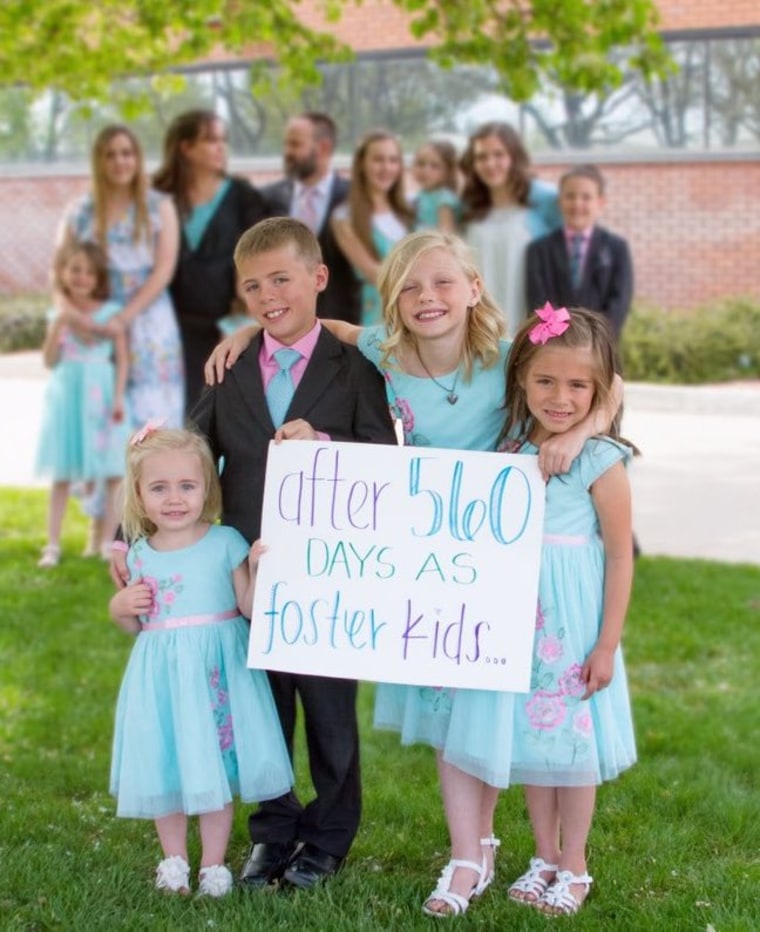 After taking in a pair of siblings nearly two years ago, the couple received a call asking if they would be willing to foster two additional children from the same family. Sowards says, after a discussion with his biological and foster children, the family decided to take in two more kids.
RELATED: Meet the father who cares for dying foster children when no one else will
"When we began foster care, we had some criteria that we wanted to meet if we were going to get involved," explained Sowards. "We weren't going to screen kids and we weren't going to send anyone back. We felt like that was fair because you aren't able to choose your own, biological children...we felt like that was a way to see them as our own children and love them that way."
Never miss a parenting story on TODAY.com! Sign up for our newsletter here.
This was the Sowards' first placement in their venture as foster parents. And, after 560 days in the foster care system, the children were adopted this week by their new family.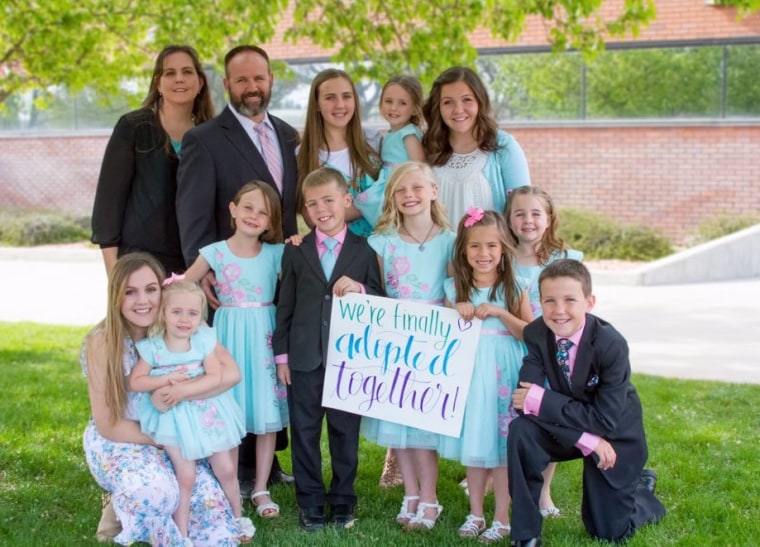 "There's a huge need for good foster homes for children that are suffering and that are in need of stability," said Sowards, adding that his family hopes their brush with viral fame shines some light on the importance of foster care and adoption.
RELATED: 'Today I got adopted!' Heartwarming campaign celebrates 'forever families'
"What went viral — maybe not in the specifics of what I did, but in the motivation behind what I did — is really common among parents who love their kids and are willing to do anything for their children," said Soward. "I hope this brings attention to the importance of families and the critical role that parents play in strong families today."