Lots of parents and children will be boarding flights this summer, but many will find flying together and sitting together may be two different concepts.
An upset father says Delta Air Lines assigned his 4-year-old daughter a seat that was 11 rows away from his own on a recent flight, and then asked him to pay $88 if he wanted the family to sit closer.
Frank Strong couldn't find two adjacent seats online during the booking process, but a ticket agent said he and his daughter could sit together in Economy Plus for the extra fee. Strong was told to ask the gate agent to make the switch for free, but the dad worried the issue would not be resolved, so he chose the path of least resistance, he wrote on his blog.
"Faced with a dilemma of handing over ransom money to Delta in exchange for certainty, or taking a risk that an agent might fix the problem at the gate, I opted to pay," Strong wrote.
"No parent holds a higher responsibility — or more deeply visceral instinct — than keeping their child or children safe. That's hard to accomplish 11 rows away when the fasten seat belt sign is glowing."
Strong notes that once he boarded the flight, he discovered there were lots of empty seats on the plane so he feels the situation should never have happened. He thinks there should be a law that prohibits an airline from separating a child and a guardian in seat assignments.
Delta says it's investigating the matter.
"We strive to ensure that every customer has a great experience with Delta. We regret that Mr. Strong's experience did not live up to our standard," the airline said in a statement. "We're working with the customer directly to resolve the situation."
Strong says he doesn't think it's an unreasonable expectation to put a parent and a toddler or a child together on a plane.
"Amen," anchor Tamron Hall responded on TODAY Wednesday.
"That's kind of a basic," added Al Roker.
"This happens to us all the time," said Willie Geist about his family travels.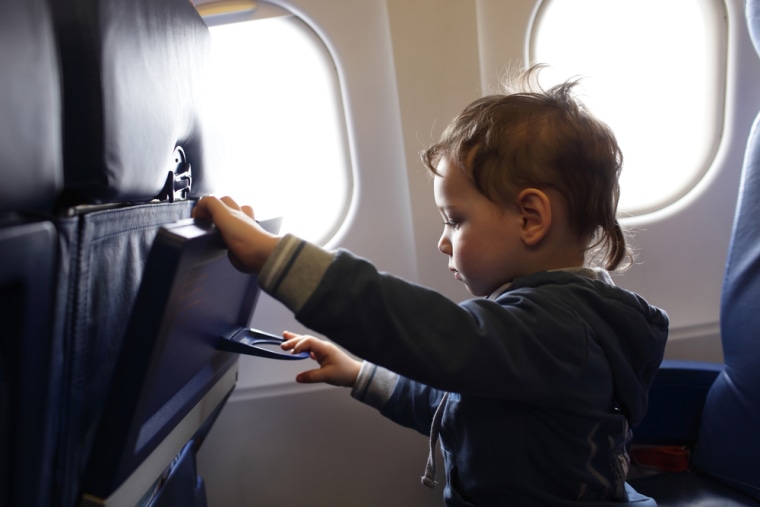 Tamron said she often flies with her three nieces and a nephew during her vacations and finds it's impossible to get seats together.
Natalie Morales pointed out you can ask other travelers to switch seats, but it doesn't always work out.
"You also don't want to be put in that position where you have to ask," Natalie said.
Al said flight attendants will sometimes help families sit together, but it's not a guarantee. Willie joked the best solution is to let the other travelers see his young son.
"You know what does work? Bring George Geist up to the counter with you and say, 'You sure you want to sit next to this guy?'" Willie said to laughter. "George is great, but he's 5 and I don't think you want to sit next to him."