We already know Olympians start young, but this is getting ridiculous!
Luckily, it's all just part of a fun photo series from Alan Lawrence of "That Dad Blog."
Lawrence, 41, documented his son Rockwell's experience "trying out" for various Olympic sports, including gymnastics, beach volleyball and weightlifting. The Paradise, Utah photographer, who works as an art director and has five other children, said the photos were fun a way to educate the whole family about different competitions in the upcoming Summer Olympics in Rio.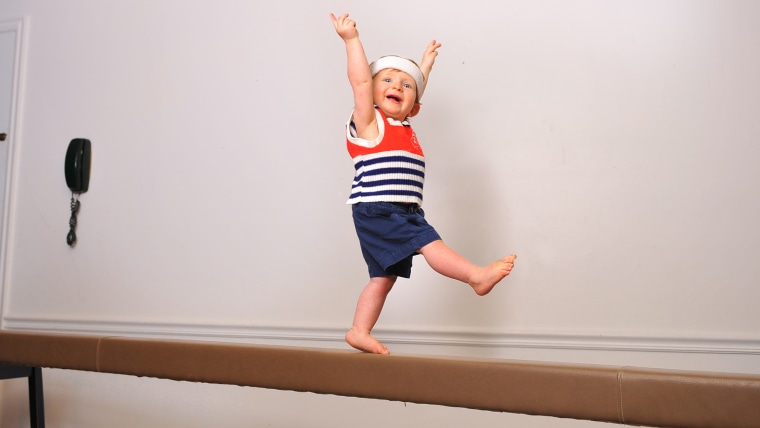 RELATED: Cute overload: Snoozing identical quadruplet girls star in new baby photos
"I think sometimes we all think the Olympics is just gymnastics and running and swimming," he told TODAY.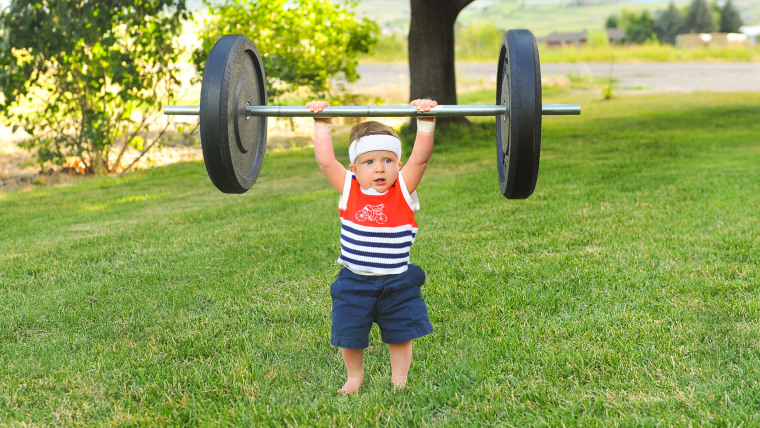 So he enlisted Rockwell, who turns 1 this month and is his youngest child, for a playful photo project. With a little help from Photoshop, Rockwell lifts weights, dives in the sand for a volleyball and even walks the balance beam.
"It's basically pictures around our house," Lawrence said. "Our swing set has rings on it. My sister-in-law made the balance beam — her daughter does gymnastics."
Lawrence's hilarious captions make the photos all the more fun.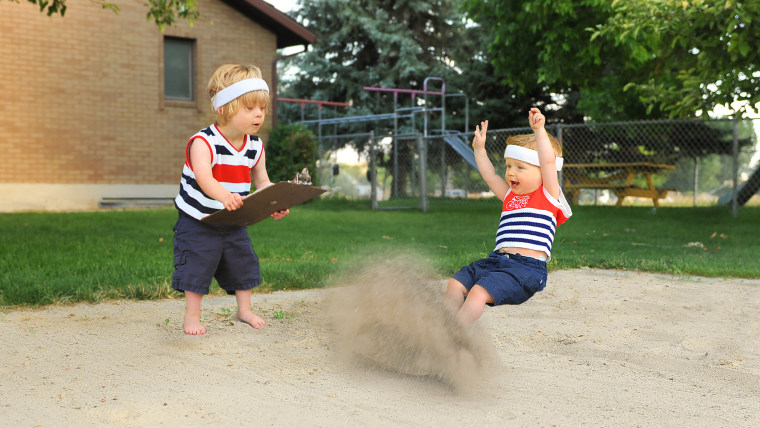 "I told him that only females performed on the balance beam," he joked. "He told me, 'Your mom is a balance beam.' That doesn't even make sense."
RELATED: Child's play(er): Grown man re-creates cute baby photos
Lawrence, who has featured Rockwell as an Elf on the Shelf and a leprechaun in other viral series, plans to release more photos from the project during the Olympics.
"We've got a couple in the queue of Rockwell boxing — I didn't even know boxing was an Olympic event!" he said. "I also really want to do badminton. I had no idea that was an event either, so I've got to get that one in there."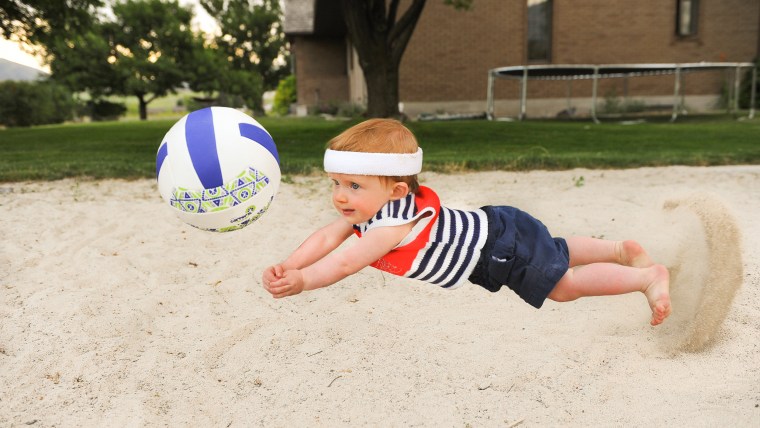 RELATED: McGhee sextuplets re-create viral photograph 6 years later
In addition to discovering new sports, Lawrence also wanted to show his other kids — some have been featured in different photo projects — that the Olympics can be a lot of fun.
"It's more than these athletic events," he said. "It's a celebration of your country. It just got to the point where — I have six kids, we're busy — the Olympics would come on, and I'd say, 'I didn't even know it was coming!' So I always had this idea that when I had time I would put some attention on it, so my kids could appreciate it like I did. So they could really rally around and get excited for it."