For nearly a year, Mike Wilson lived with the fear that cancer could claim the life of his son before he turned 5. And when young Jayden reached that milestone, Wilson was ready with a birthday surprise worthy of the superhero they both adore.

On Aug. 21, Wilson slipped into a custom-made Spider-Man suit, slipped out of a bathroom window and jumped off his porch roof to greet Jayden outside their home in south-central England. Wilson, a free runner and parkour athlete who had no trouble making the 11-foot leap, never let on that it was really just Dad in a costume, shielding his identity by speaking in his best American accent to his shell-shocked, yet smiling son.
As Jayden came face-to-face with his beloved red and blue superhero, a moment caught on video that is now going viral, Spidey asks him if he is having a good birthday before asking if the boy will give him a hug. As they embrace, their relatives cheer and clap.

"Having a father-son hug is one thing, but for your son to hug you as their hero, as their superhero idol, was amazing," Wilson, 32, recalled in a telephone interview Tuesday. "He was holding me real tight. It felt perfect."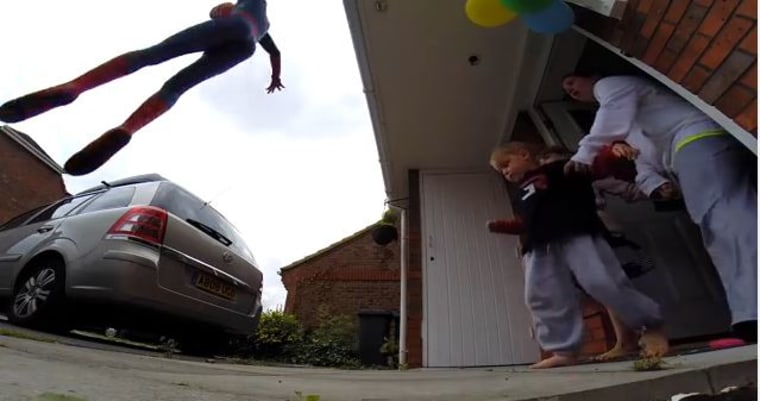 For Wilson, whose son was diagnosed with an aggressive brain stem tumor shortly after he turned 4 and was given an estimate of a year to live, it was an unforgettable, tender moment. Jayden truly believed that Spider-Man had appeared from nowhere to attend his birthday party.
As he interacted with Jayden, Wilson said he saw the "shock, happiness and 'Oh my God'" in his son's eyes.
"I'm looking at him as my son, but what's he's looking back at is Spider-Man," Wilson said. "He doesn't see Dad. He's seeing Spider-Man. To be able to make that happen for him is a dream come true for me."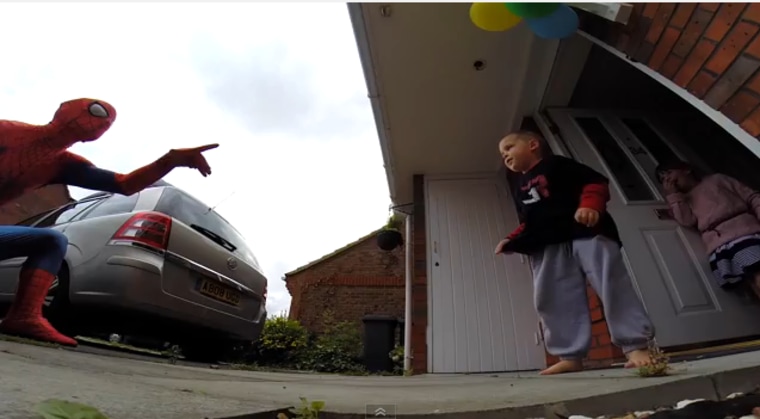 Jayden, whose room is filled with Spider-Man posters and toys, welcomed the real deal inside, where the two played for about 30 minutes while Jayden thought his father was out shopping for his birthday party.
"He started showing me his Spider-Man presents he had just got," Wilson said. "It was lovely."
When Spider-Man had to say goodbye and Dad suddenly returned home, the kids mobbed him to tell him about the special guest he had just missed. "It proved that it all worked perfectly," Wilson said of the ruse.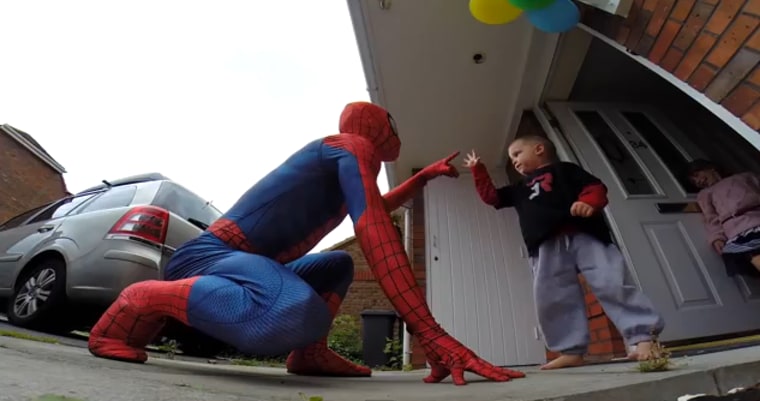 It was a special day: Wilson, his wife, Lou, and their 7-year-old daughter, Ella, are trying to get as many special moments as they can with Jayden.
"We're literally trying to make every day count with our son and experience new things with him," Wilson said, adding that they have taken Jayden on helicopter rides and to theme parks.
"We wanted to create as many good memories as possible within the time we have."
The Wilsons learned about Jayden's tumor after a playground fall left him unsteady on his feet. A scan revealed a mass that was later confirmed as a grade 4 brain stem tumor, a glioblastoma.
"It was the worst moment of our lives," Wilson said.
Jayden had three weeks of radiation that helped a little, he said, though surgery and chemotherapy were not options. "Doctors have said there is nothing they can do," Wilson said, and the family is now trying vitamins and supplements.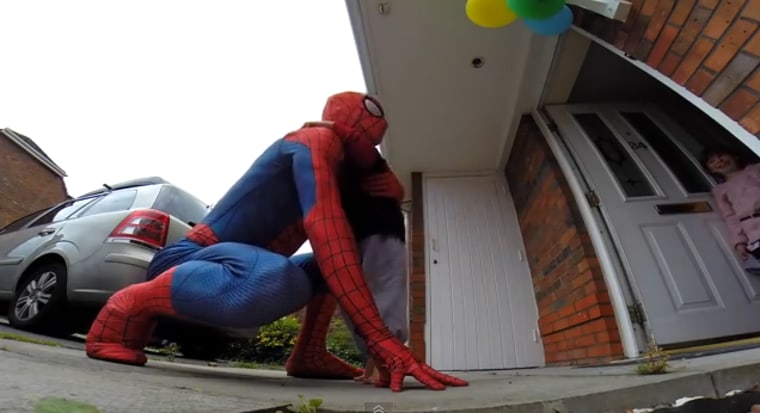 Though a recent scan showed a slight increase in the size of Jayden's tumor and his condition has deteriorated, Jayden has exceeded doctors' expectations, Wilson said, and the family is trying to stay positive.
"Jayden's really a little warrior," he said. "He's doing really well considering the diagnosis. He's my little hero."
As the family faces uncertain days ahead, Wilson is thankful for the gift he was able to give Jayden.
"Looking back at doing that for Jayden, it was definitely a highlight of my life," he said. "To be able to provide a dream for your child, it's an overwhelming thing to provide your son."
To read more about Jayden, visit the family's Facebook and fundraising pages.

Lisa A. Flam is a news and lifestyles reporter in New York. Follow her on Twitter.