We asked ... and WOW, you delivered!
With Halloween approaching, TODAY invited families to share photos of amazing costumes from this year or years gone by. Store-bought? Fine! DIY all the way? Also great! We just wanted to see your creations and hear a little bit about how you came up with them in order to get in the spooky spirit.
Share your photo here: TODAY wants to see your family's Halloween costumes!
We've had a blast updating this story with your Halloween costumes throughout the month of October. Here are some of our favorite submissions:
Pint-sized Elton Johns
Moms Kelly Roberts of Ocala, Florida, and Alissa Payson of Winthrop Harbor, Illinois, both shared photos of their cute kids dressed up as Elton John for Halloween. We can feel the love tonight!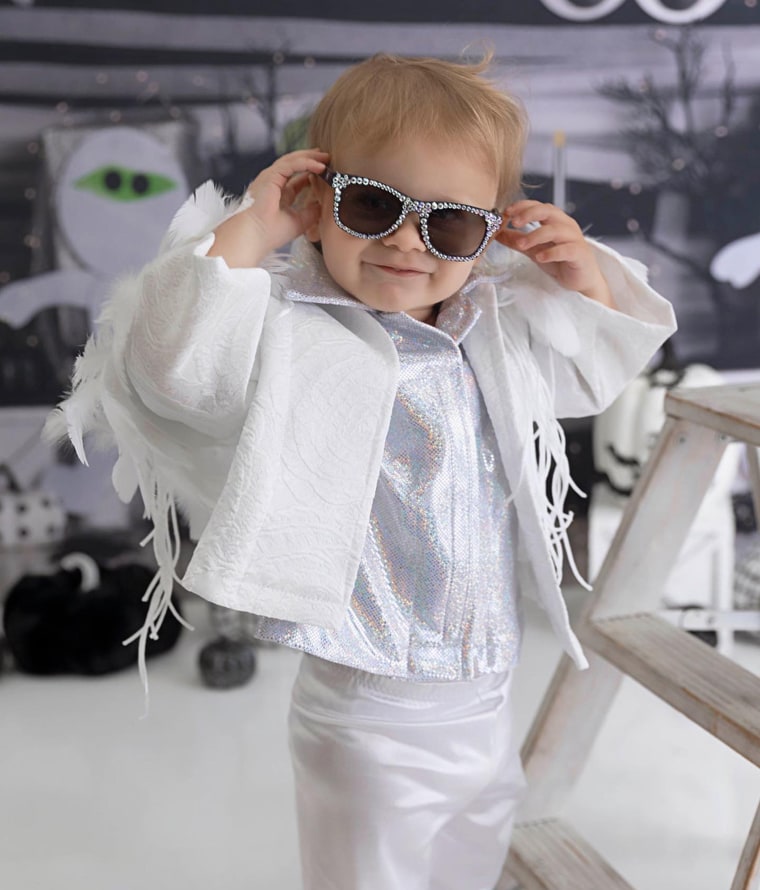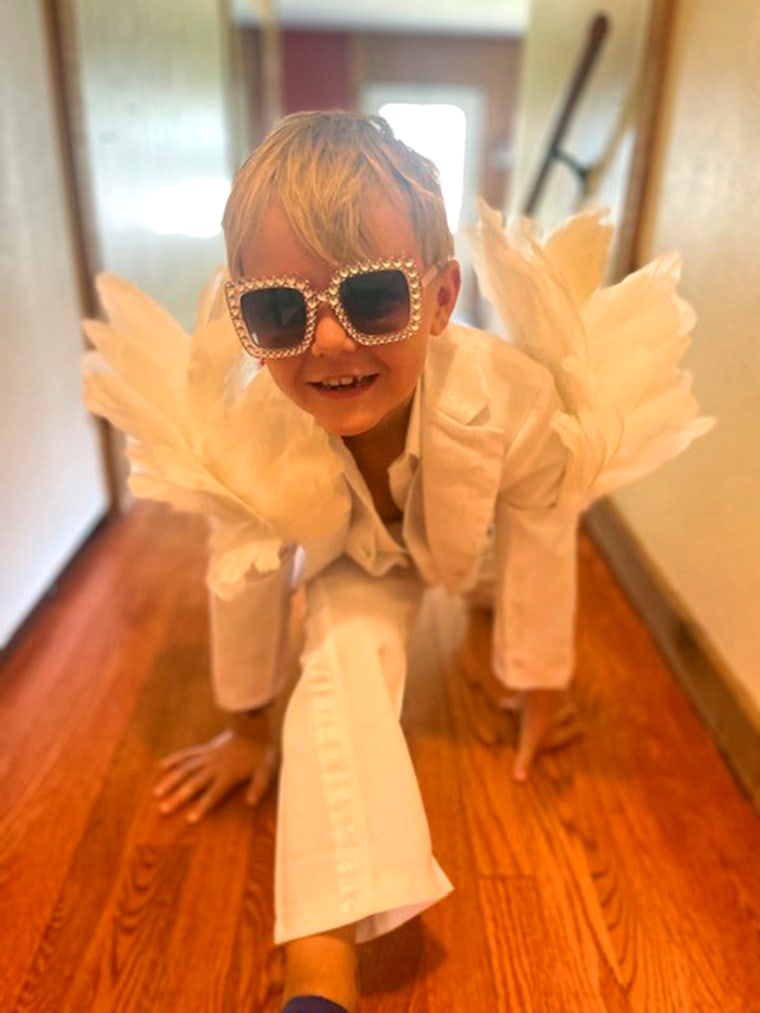 Scooby Dooby Doo!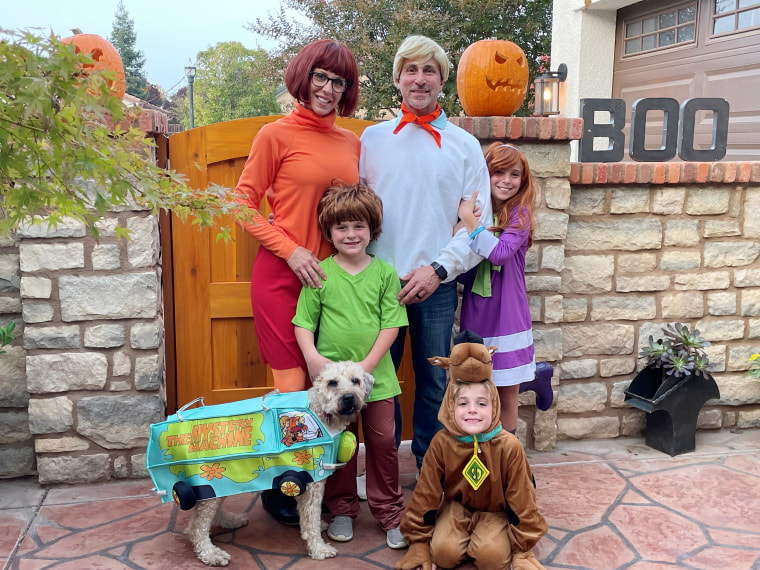 "This was Halloween 2021 and I'm afraid it may have been the last 'family' costume ... for a while," explained California resident Erin Person-Murray, who shared this photo of her family's "Scooby-Doo! Mystery Incorporated" costumes with us. "My twin boys want to be their 'own things' for Halloween this year. I can't blame them, but if I'm being honest, it makes me a little sad."
Transforming a wheelchair into a tank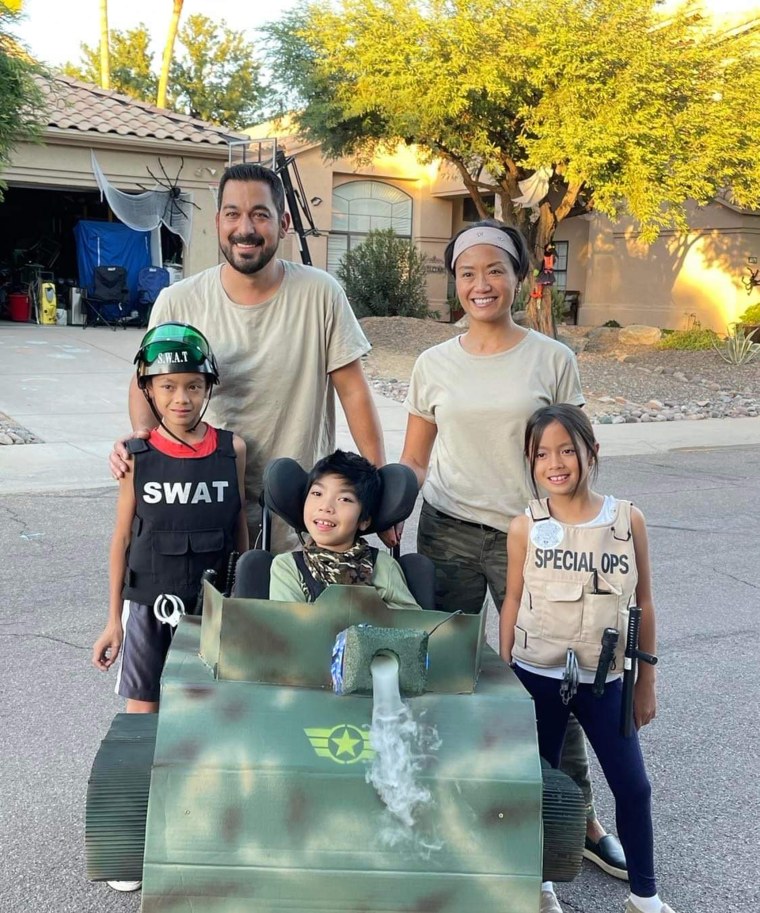 "We love fun, creative, family-themed costumes! And because one of our sons is in a wheelchair, we turn his chair into something creative to go along with the family theme," said Sherry Milia of Scottsdale, Arizona. "Last year, we were dressed as military personnel, and his chair was transformed into an Army tank. We even used dry ice for the full effect. He is always a hit as we stroll through the neighborhood on Halloween!"
Just sit right back and you'll hear a tale...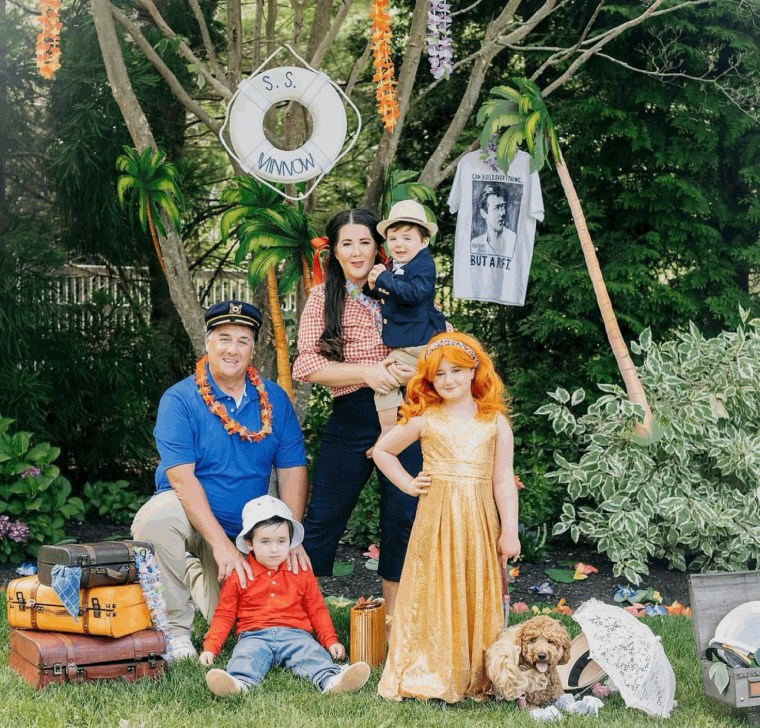 "Family fun as usual," joked Dallas resident Emberli Pridham, who shared this photo of her family all dressed up as characters from the iconic 1960s sitcom "Gilligan's Island."
This is how hamburgers are made, honey...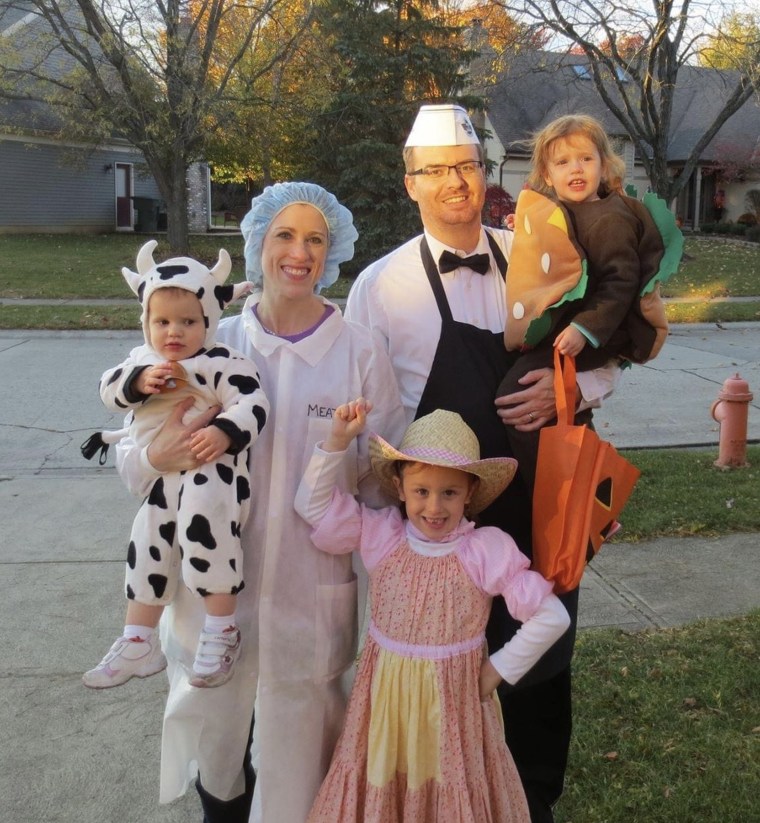 "We are the Berger family and we call this The Lifecycle of a Hamberger!" explained Dana Berger of Dublin, Ohio. "My oldest daughter, Cassandra, wanted to be a cowgirl. (I made her dress.) We already had the hamburger costume and this idea formed in my head. I am the butcher holding my youngest daughter, Charlotte, dressed as a cow. My husband Mike is a waiter (I actually went to Steak 'n Shake and asked for a couple of their paper hats that the waiters wear) holding our middle daughter, Cora, the hamburger."
Related: The one thing you should never say to trick-or-treaters this Halloween
Pumpkin power!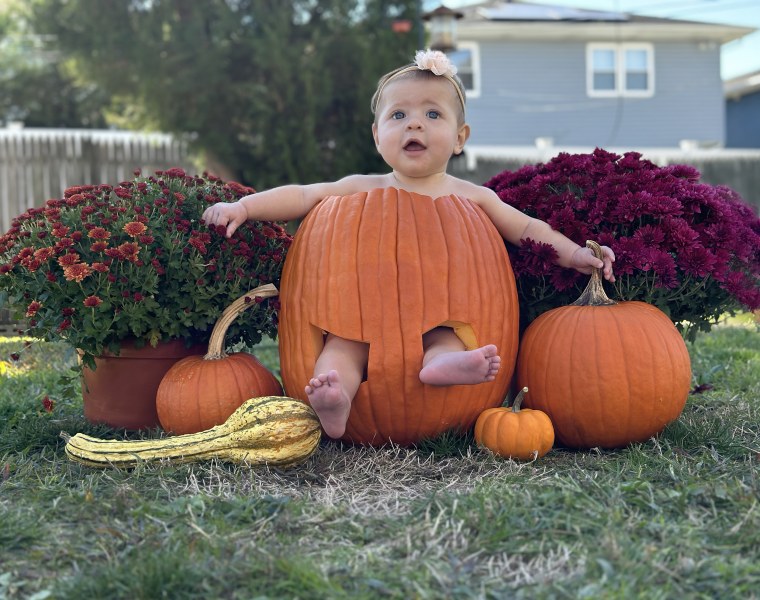 "My Pumpkin in a pumpkin!" joked Veronica Manglirawan of Seaford, New York. "OK, maybe not a Halloween costume, but it's ADORABLE." We totally agree!
Through the looking glass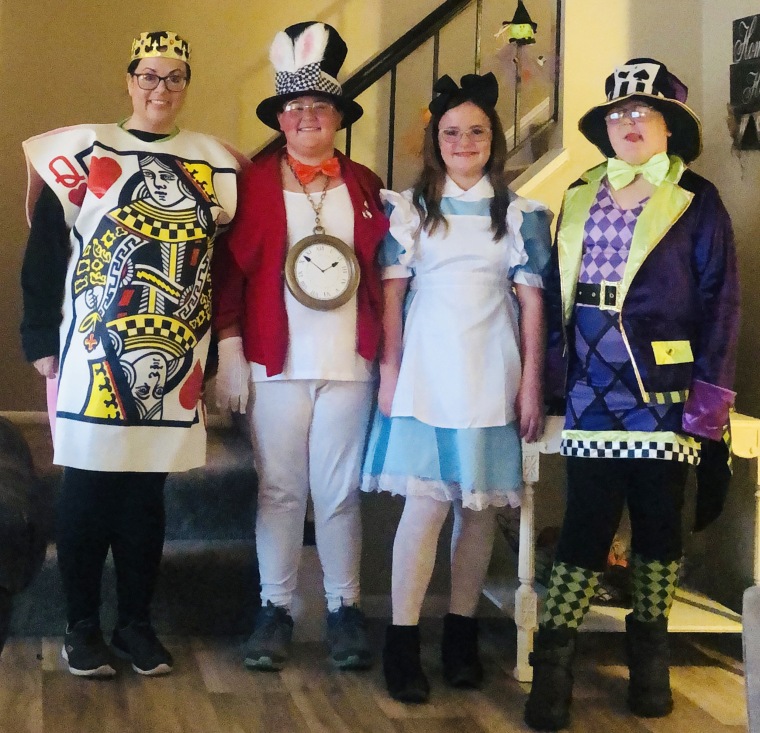 "My three daughters and I love to theme our Halloweens," said Stephanie Selleck of Wabash, Indiana. "Halloween 2021 was 'Alice in Wonderland.'" 
Costumes that represent 'strength, courage, passion'
Taya Maxey of Palm Springs, California said she brainstorms each year with her daughter, Sukari Suzuki Jordan, to "make costumes from scratch that showcase different cultures and that represent strength, courage, passion."
This mom-and-daughter duo are onto something! At age 7, Sukari transformed into Australia's Great Barrier Reef.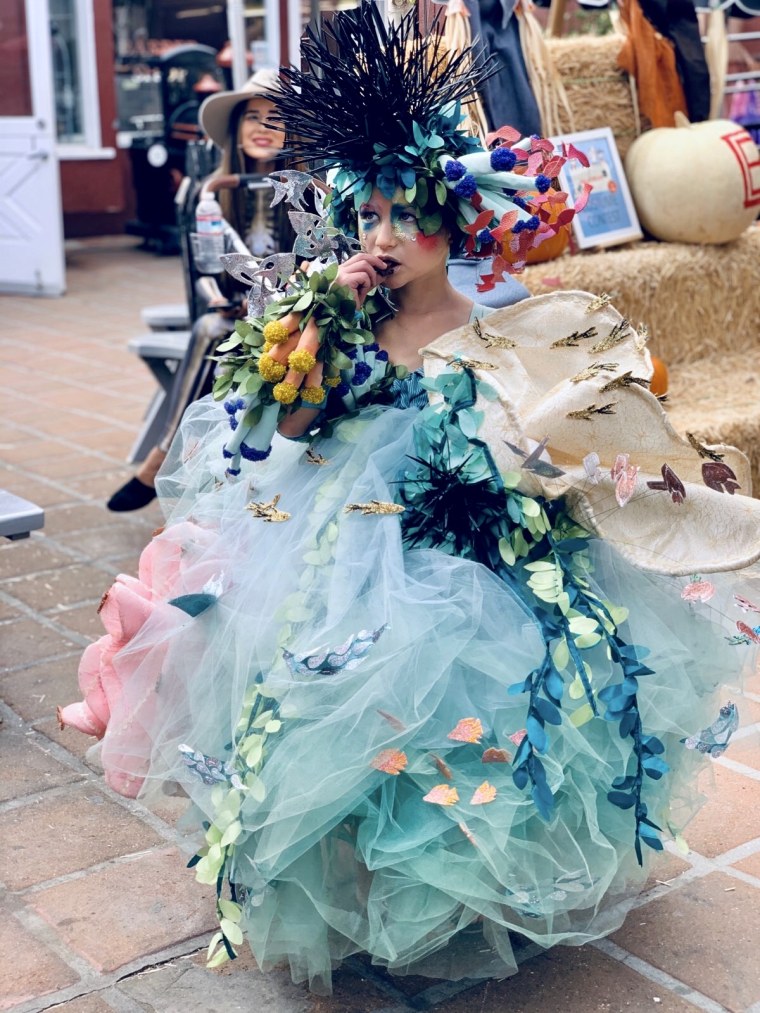 "This costume was made 50% out of garbage we scoured from recycling bins (foam, straws, zip ties, wire, hangers, rubber, cardboard, etc.)," Maxey explained.
When Sukari was 3, she got all dressed up as England's Queen Elizabeth I.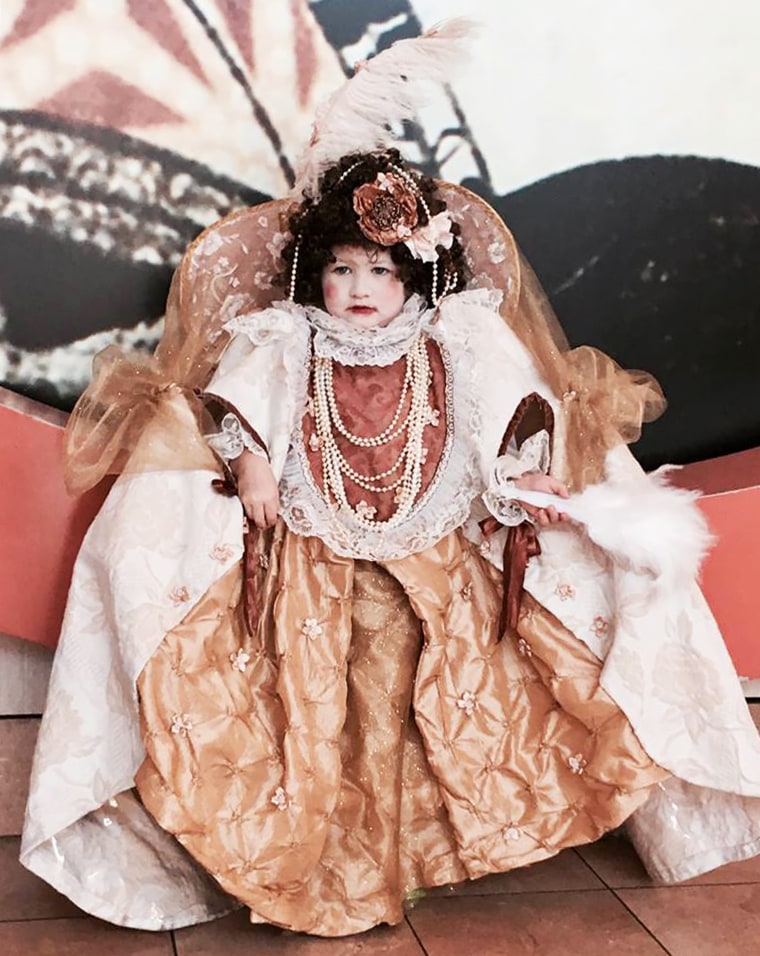 "This one was quite the challenge," Maxey revealed. "The collar of this dress was made from an old broken plastic laundry basket which I shaped and covered in fabric."
Just look at that costume!
Greased lightnin'!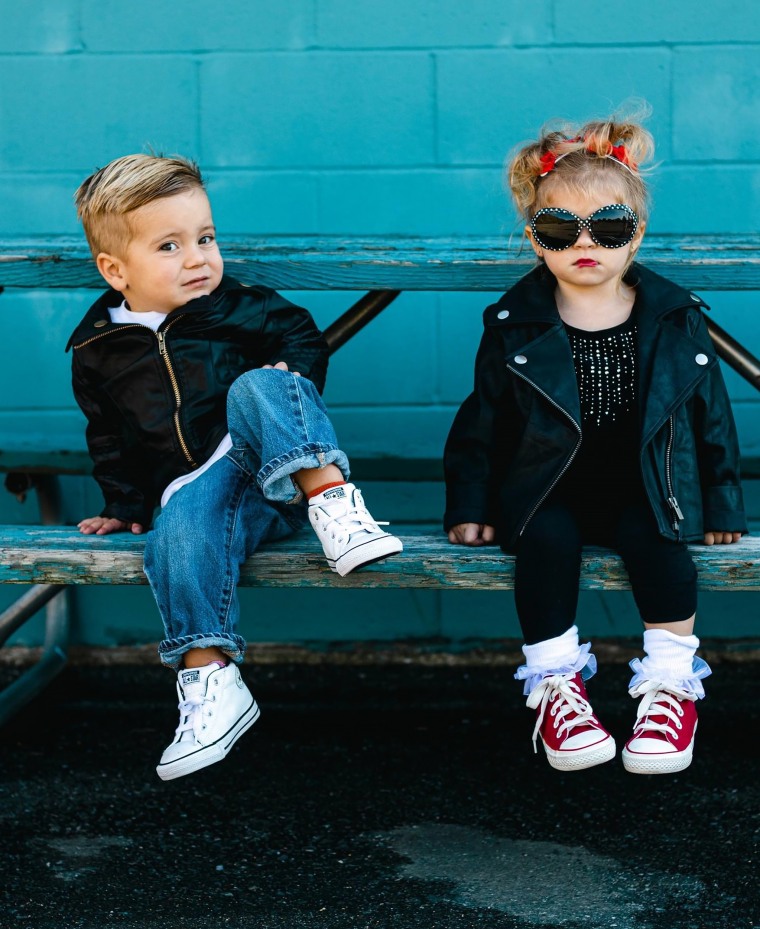 Brittney Messia of Averill Park, New York shared this photo of a pint-sized Danny and an adorable Sandy from the movie "Grease." This costume is all in the accessories!
A powerful team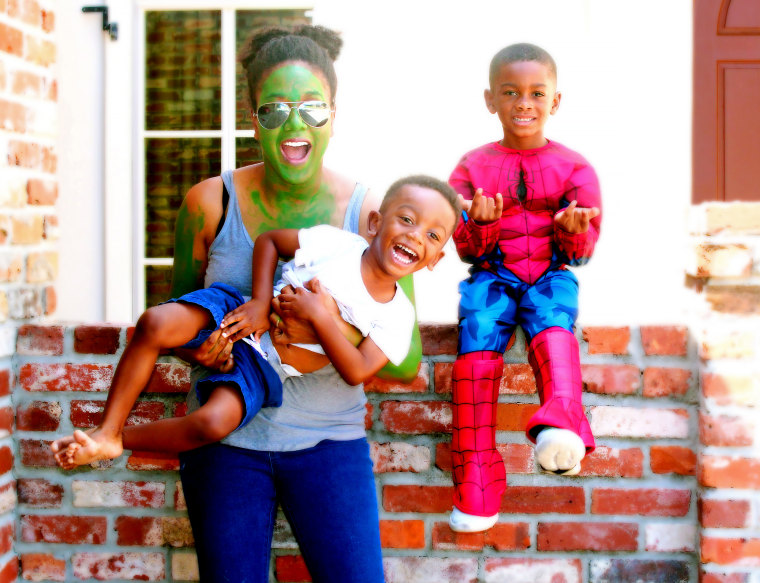 "We are a Superhero family," said Melanie McHenry-LeBlanc of Zachary, Louisiana. "My oldest, Jack, is Spider-Man, I'm the Hulk, and my youngest, Jacob, is being himself. I couldn't love them more."
Look at those tiny khakis!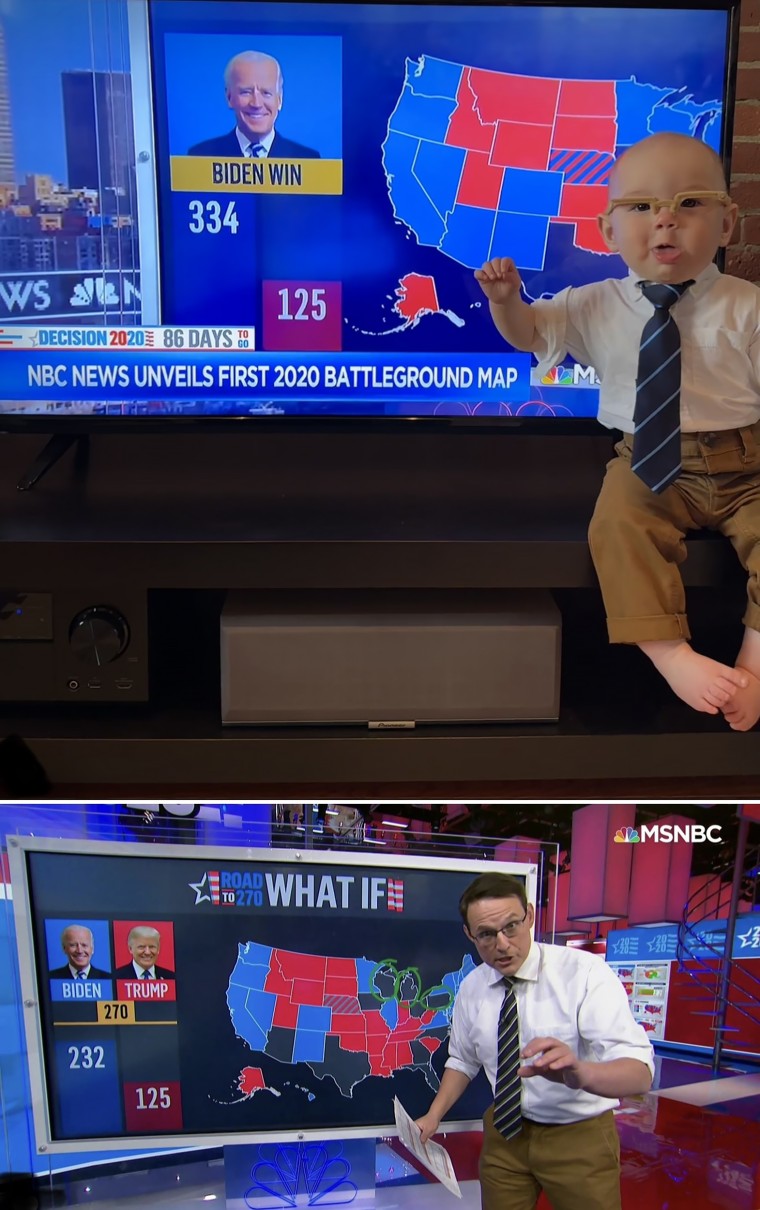 "Our daughter, Gemma, as everyone's favorite, Steve Kornacki!" shared Cassandra Liew of Philadelphia.
Barbie in a (very!) original box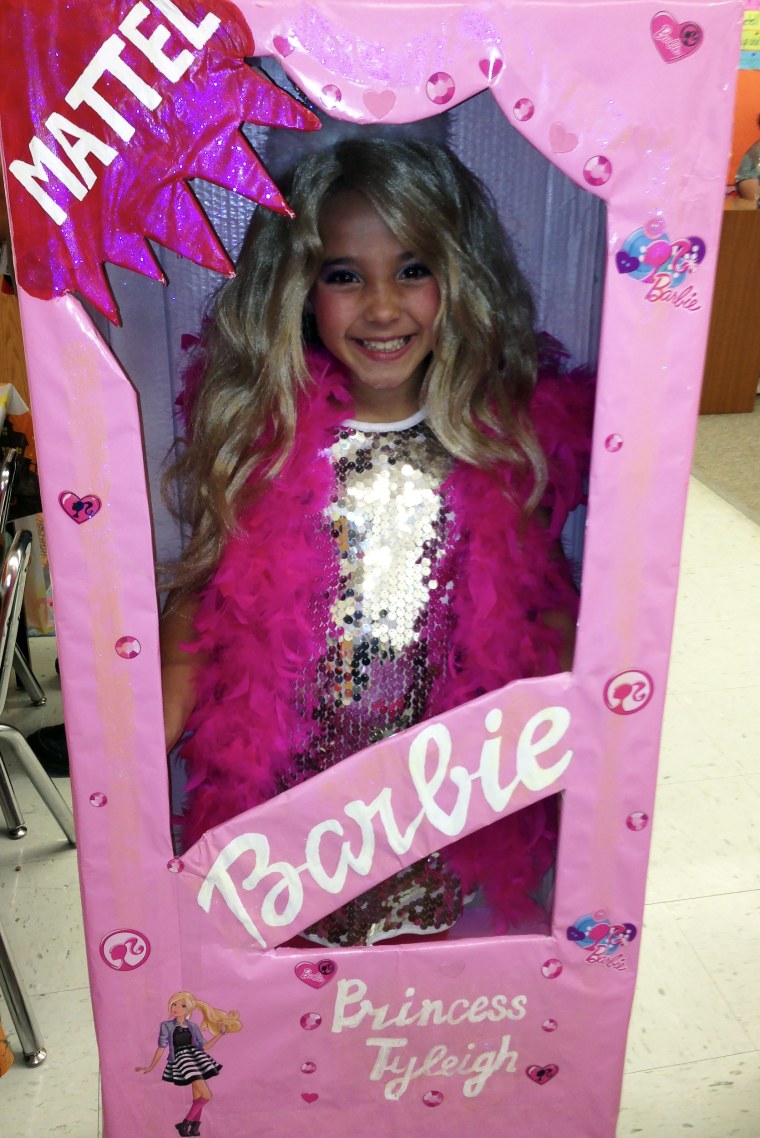 "In 2013 my daughter Tyleigh wanted to be a Barbie," explained Christina Coca of Raton, New Mexico. "My sister and I made the Barbie box out of a large cardboard box, some wrapping paper and some Barbie stickers. We put straps on the inside so she could easily walk around in it."
Do you speak Elvish?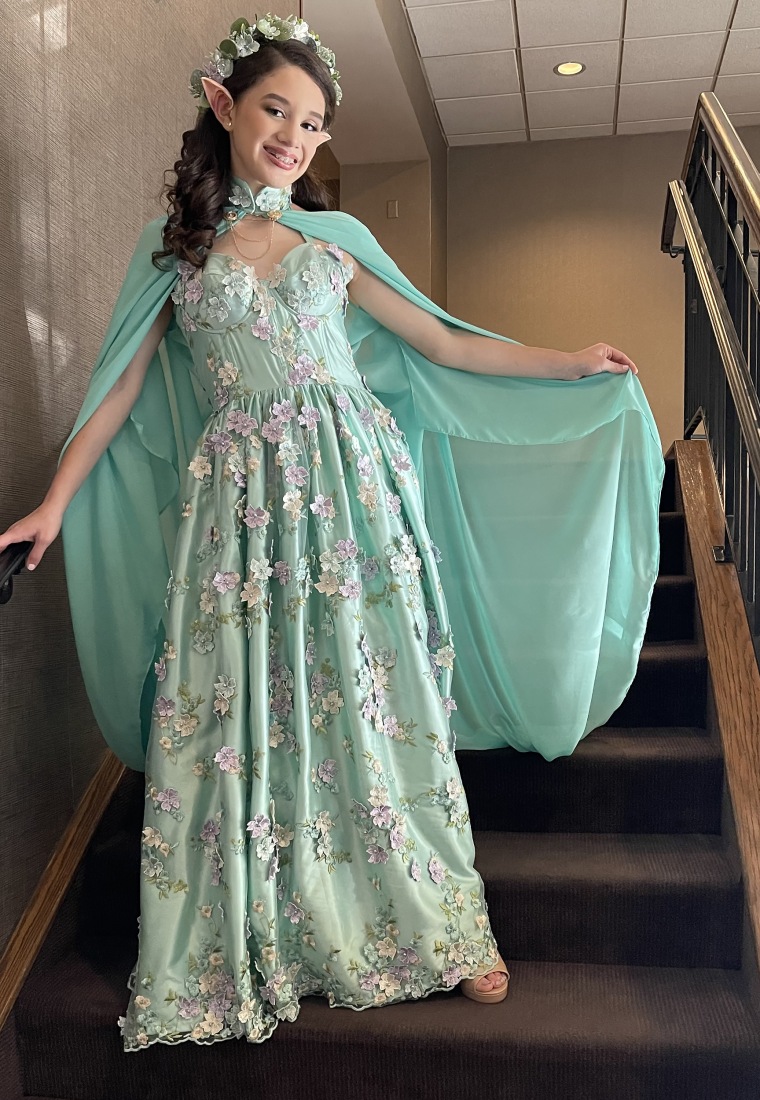 "This (was) my best Halloween costume because it was a dream to have my godmother make this beautiful elf costume dress for me!" shared Cristina Garcia of North Plainfield, New Jersey. "I truly love it!" 
'Top Gun' forever!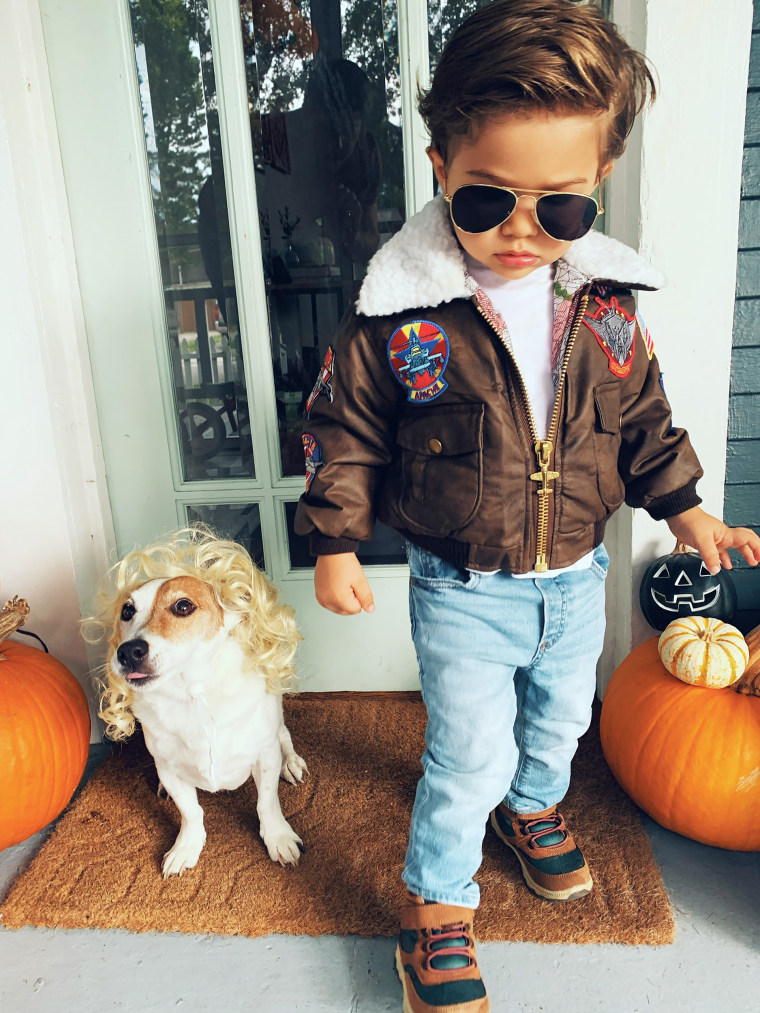 "Declan (1.5 years old) was Maverick from 'Top Gun,'" said Lauren Krueger of Tampa, Florida. (And look who played Charlie Blackwood, civilian Navy flight trainer and Maverick's love interest in the original movie!) 
The King lives!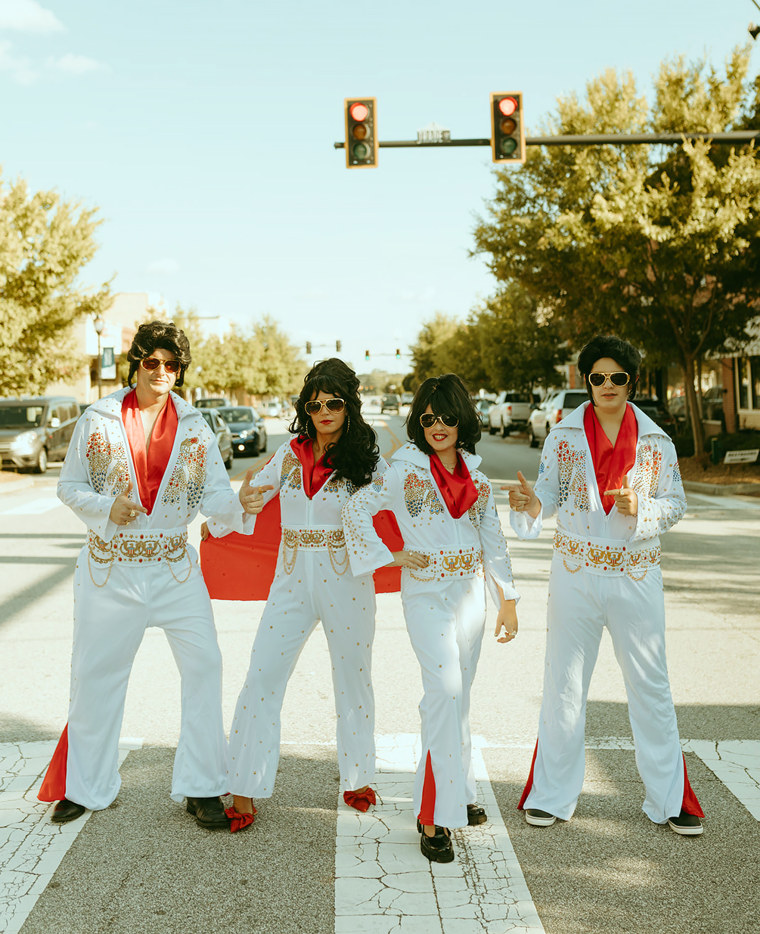 "My dream came true this year and I had my whole family dress up as Elvis Presley!" said Ashleigh Patterson of Chester, Virginia.
Day of the Dead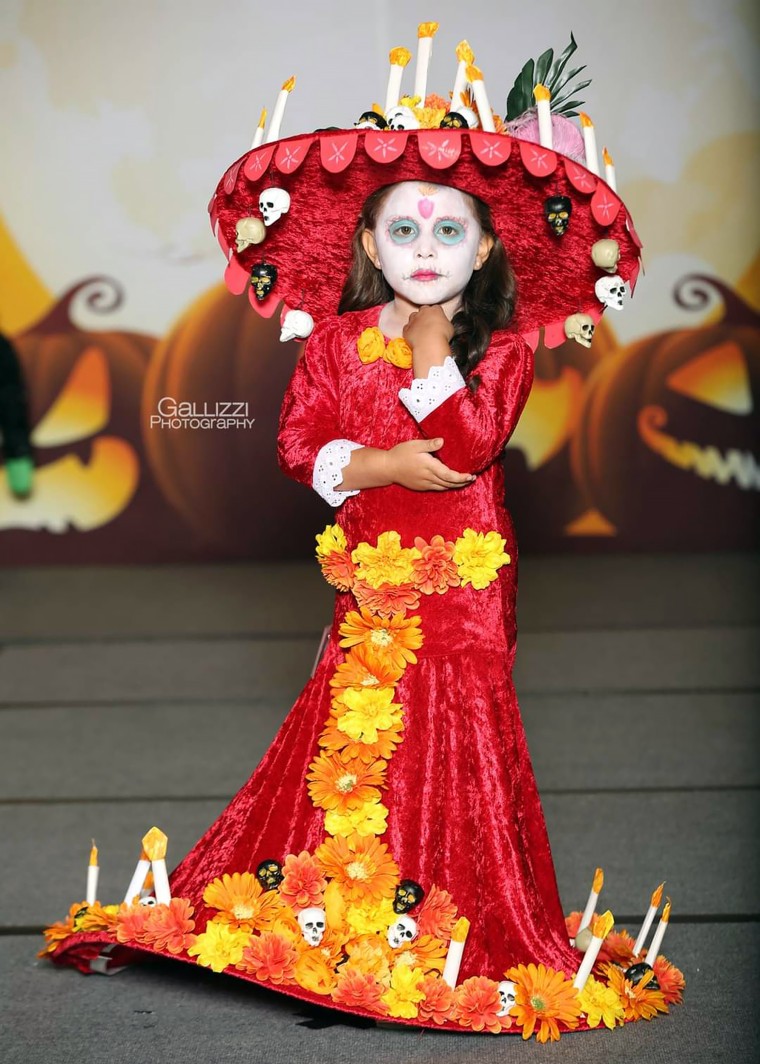 "Since we watched the movie 'The Book of Life,' we loved La Muerte's dress — so I decided to make it for my daughter Valentina Suria to wear it for the Day of the Dead festival in Washington, D.C., (and) also for Halloween," explained Ana Suria of Manassas, Virginia. "My husband helped me with the lights on the candles, and it was a success. After a few hours of work we were pleased with the result. It's a tradition to make her costume every year."
Party on, Wayne! Party on, Garth!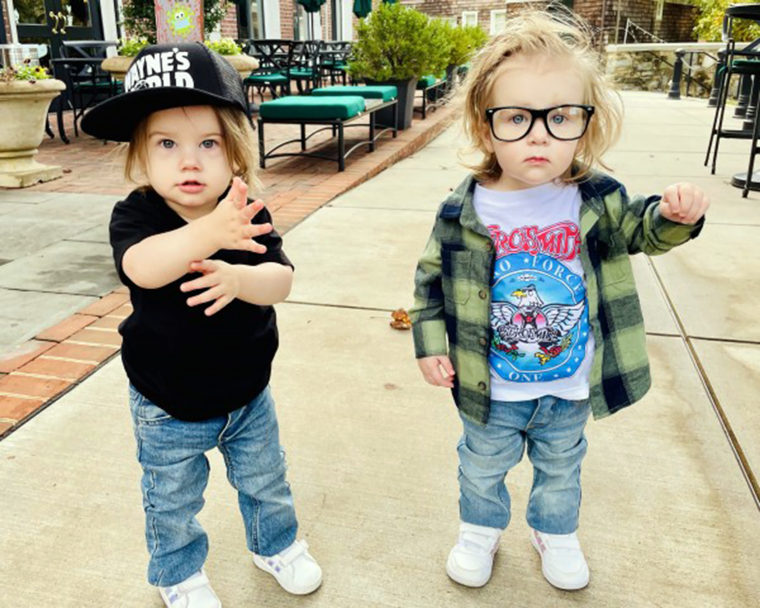 "Why did I dress our twin girls as Wayne and Garth? Because it was hilarious and more importantly, because we could!" mom Anne Fitzgerald of Baltimore shared on our TODAY Parenting Team.
"For a few short years parents are driving the Halloween costume bus, and it is prime time to get creative!" Fitzgerald continued. "I racked my brain for weeks trying to come up with the perfect duo and then one day I found myself listening to Queen's 'Bohemian Rhapsody.' I was transported back to the '90s, a teen in the grunge uniform of flannel shirts, baggy jeans and Doc Martens. The memory of jamming out with my friends, pounding imaginary drums, reaching toward the soprano 'Galileos,' and there I remembered the duo that was Wayne and Garth. And I knew it was gold. That Halloween everyone was delighted by the '90s throwback and these little ladies rocked it!"
'Hocus Pocus' — miniature edition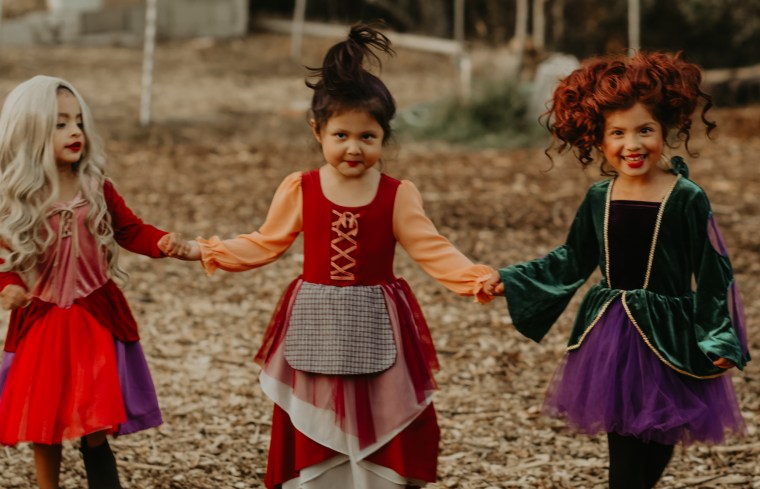 "These three little witches are first cousins: Faith 5, Gianna 5, and Jayla, 4," shared Vanessa Yerena of Watsonville, California. "They are more like sisters and enjoy playing together. Gianna (dressed as Winnie) is my little one. She was blessed with lots of hair at birth and also lucky her mommy (me!) is a hair dresser. 100 bobby pins, one can of auburn hair spray made for a perfect Winnie. Faith ... as Mary and Jayla as Sarah are true to character. These girls had a blast in 2020 dressing as them."
Related: A Texas mom warns 'Hocus Pocus 2' will 'unleash hell on your kids'
Little Red Riding Hood and the Big Happy Wolf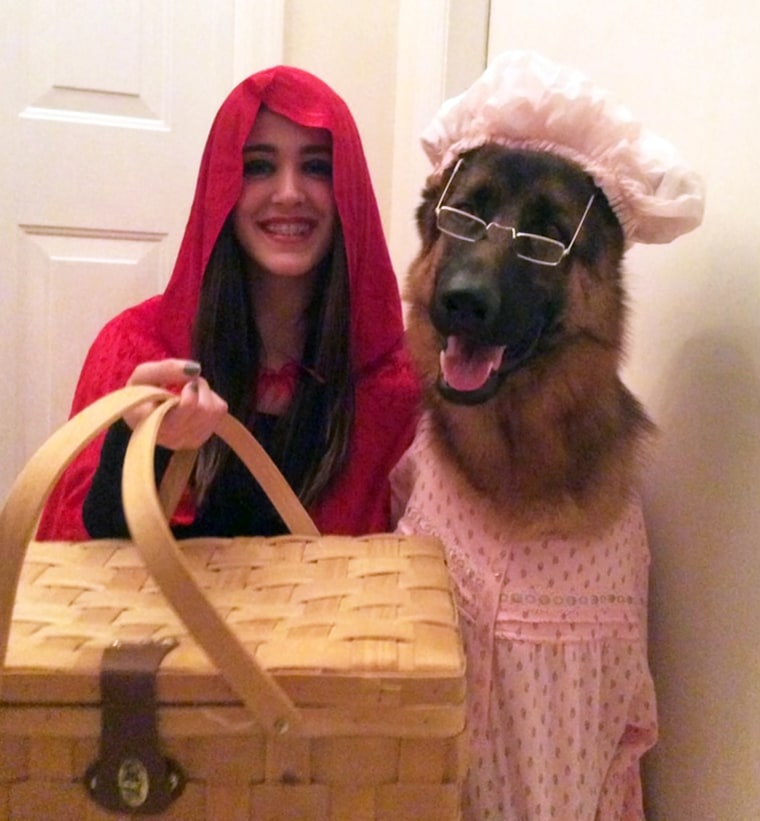 "'Grandma, is that you?' Nope, it's Axel the German shepherd and Juli as Little Red Riding Hood!" revealed Juli Berger of Boca Raton, Florida.
Super Mario forever!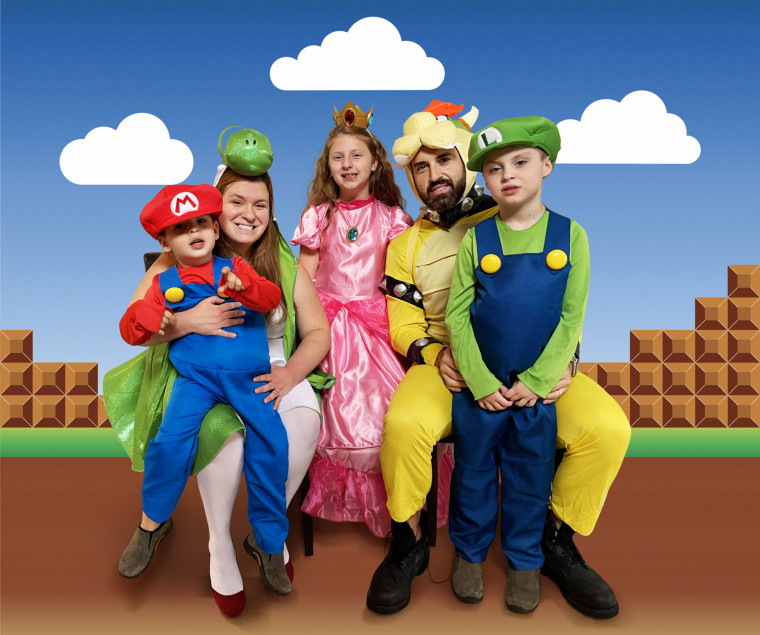 "The kids were obsessed with Super Mario, so we just went with it!" said Grace Cutugno of Staten Island, New York.
'Humans are hilarious!'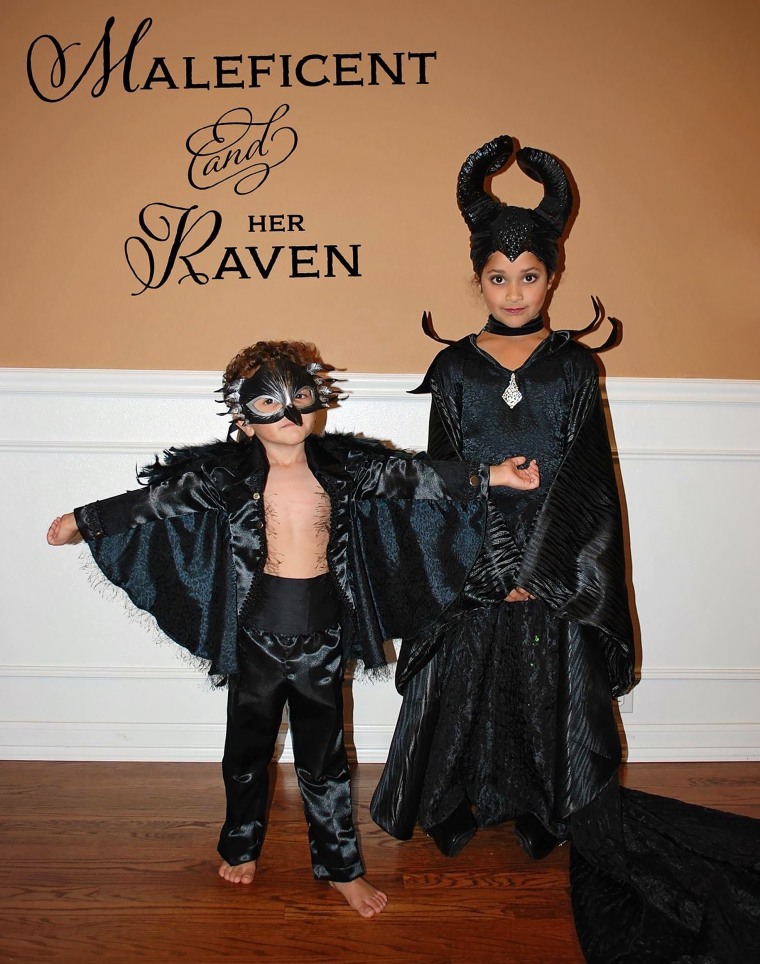 "We had these costumes custom made by a very talented lady on Etsy," explained Kimberly Jones of Maple Valley, Washington. "I requested something formal yet feathery to pair with my son's raven mask. She said she went for a Black Sabbath meets My Chemical Romance look, and I absolutely loved it! The Maleficent dress and horns she made were equally impressive, and eight years later they're still my favorite costumes." 
Special delivery!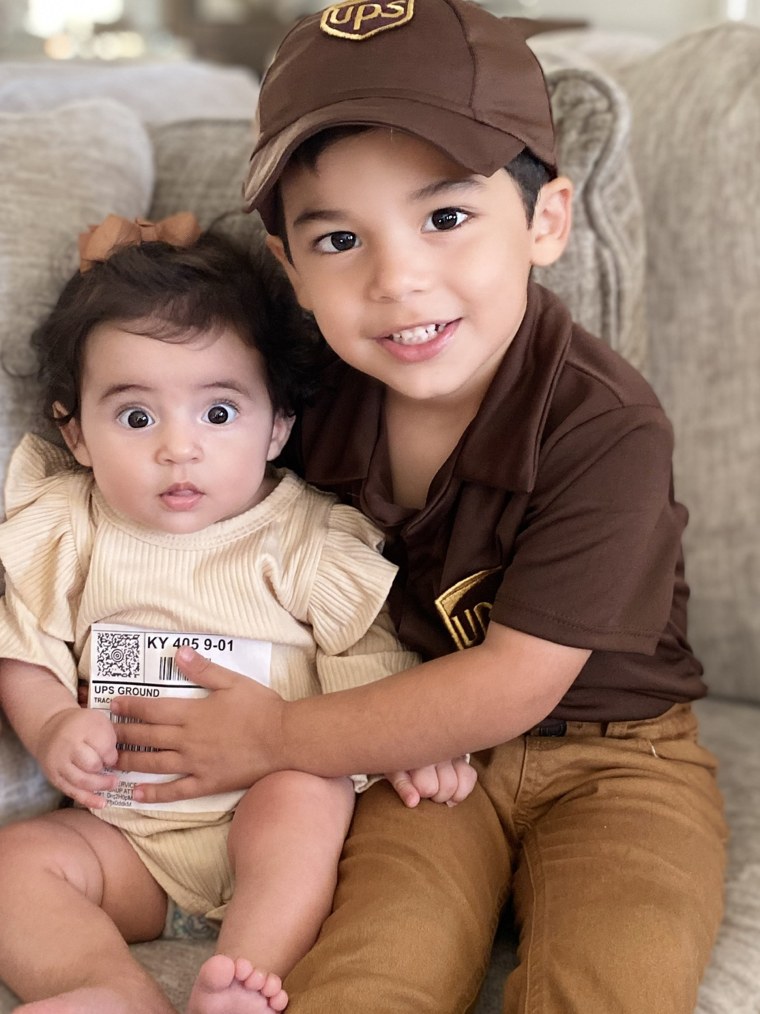 "We celebrated our first Halloween as a family of four with our UPS delivery driver and his special delivery, his baby sister — who was, in fact, a special and unexpected gift to our family," shared Christy Bjork Elias of Long Beach, Mississippi.
Dressed to impress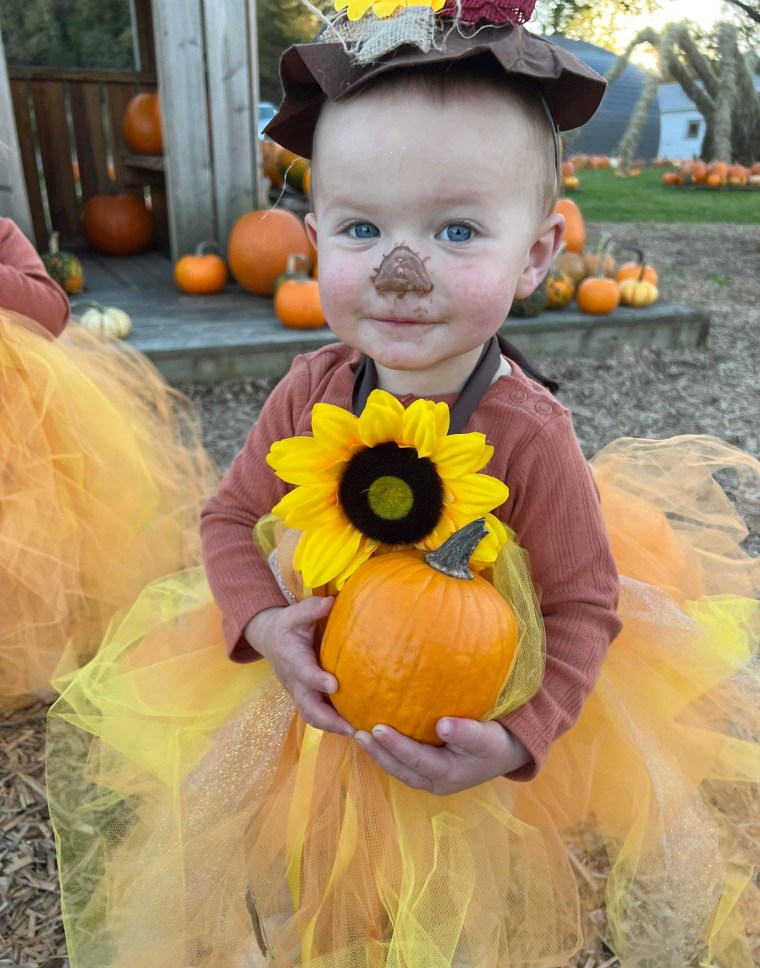 "Madelyn enjoying her cute costume her meme made her by hand," wrote Madelyn's mom, Kayla Blanchard of Orleans, Vermont.
Related: Family decorates their house with a different Halloween scene every day of the month
Like father, like son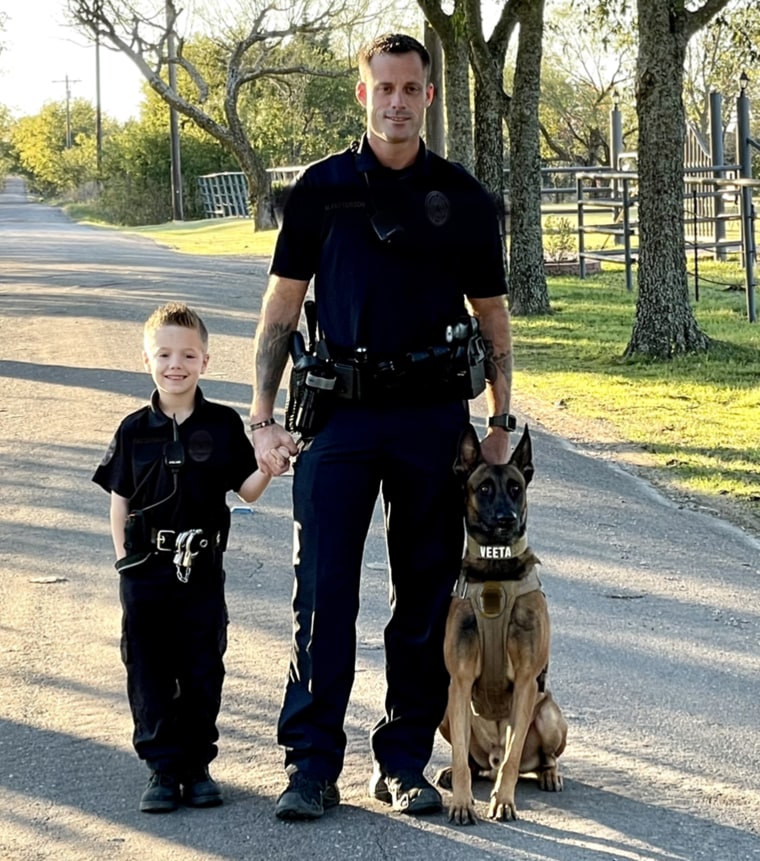 "My son wanted to be his dad for Halloween — not just any police officer, he wanted to be HIM!" explained Alison Patterson of Royse City, Texas. "I made his costume to look exactly like my husband's uniform."
'If that's a joke, I love it!'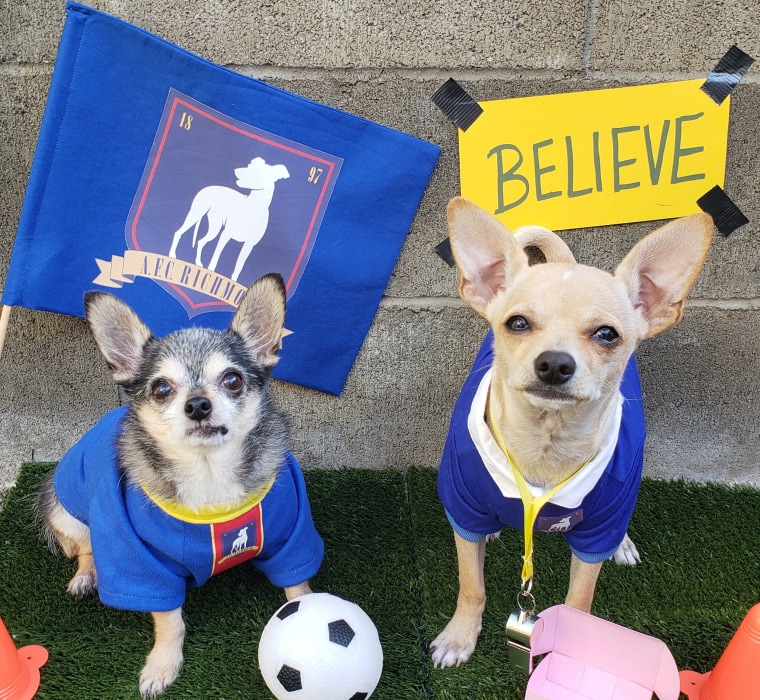 "Remy (left) was 14 years old and Bill (right) was 5 months old when we dressed them up last year as Roy Kent and Ted Lasso from 'Ted Lasso,'" wrote Emily Moncur of Irvine, California. "We made the costumes, flag and props ourselves. We love dressing them up and we're doing a costume a day for Bill on his Instagram @mrbillmcb every day this October to bring smiles to people's faces."
Who you gonna call?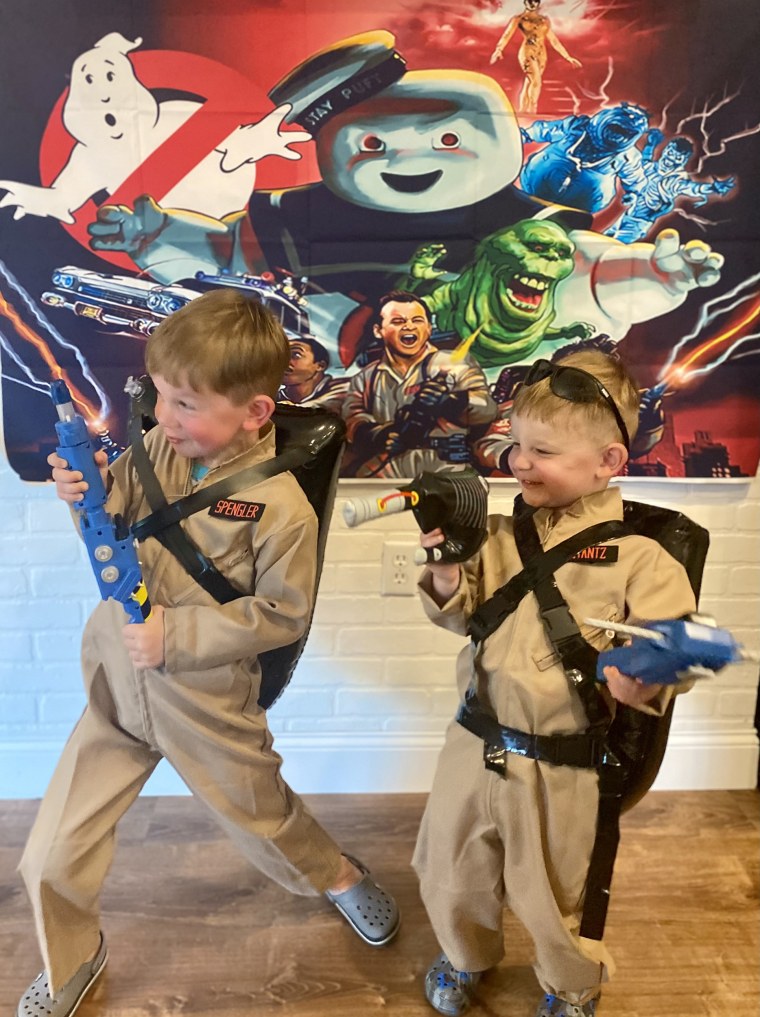 "CJ Rudy (5) and Ace Rudy (3) love 'Ghostbusters,'" explained Amanda Rudy of Carlisle, Pennsylvania. "They're bustin' ghosts all day every day like Stantz and Venkman. They're ready to believe you!!"
Are you guys ready for your power cheer?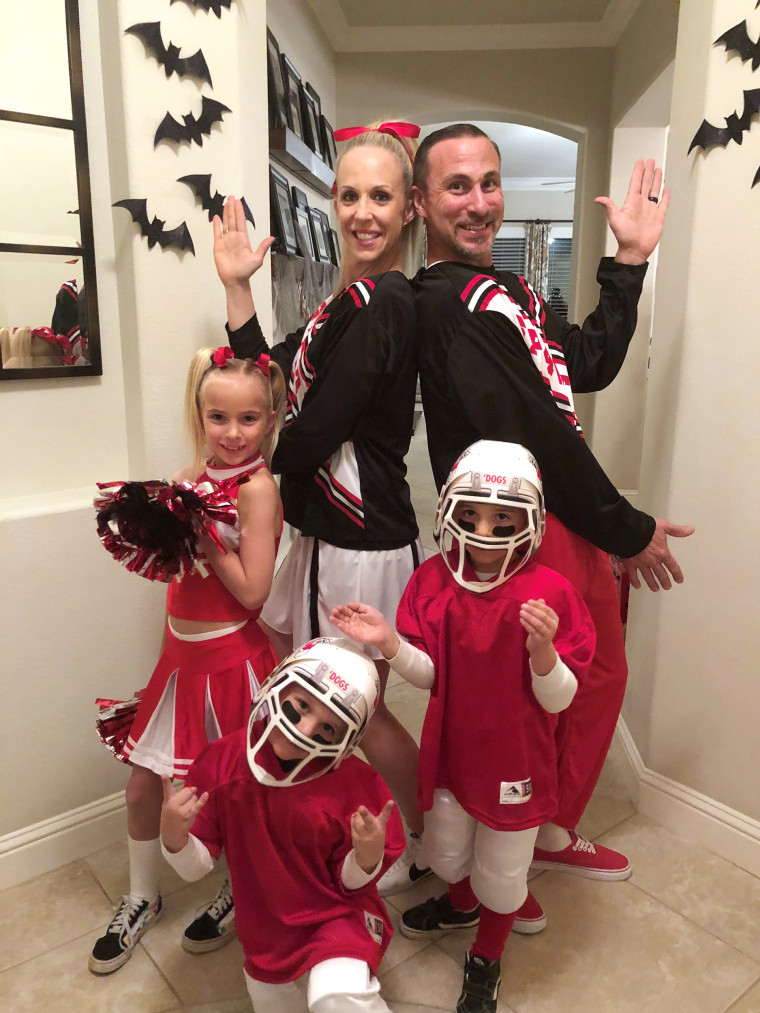 "Who doesn't love some Spartan cheerleaders?" said Erin Person-Murray of Clovis, California. "This was Halloween 2019."
This Herculean task was so worth it!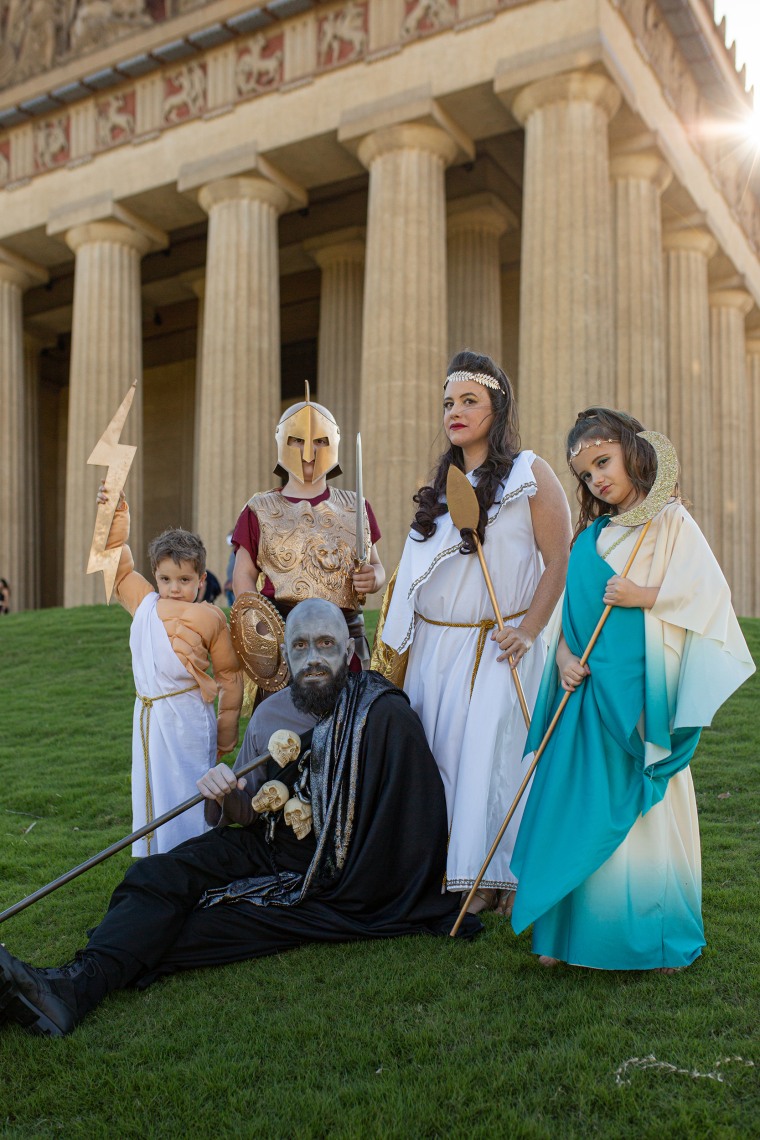 "Our family is known for our themed costumes. In 2020 we decided to do Greek mythology since we live in Nashville (the Athens of the South)," shared Jessica Turner of The Mom Creative. "We took photos at The Parthenon in Nashville. All the costumes had handmade elements or were completely handmade."
Bravo, everybody!
Related video: