More than 50 years after graduating high school, a 72-year-old recently earned an undergraduate degree and turned his tassel.
On May 11, Sam Kaplan became the first of his seven siblings to earn a bachelor's degree after receiving his diploma in Cinema and Media Arts from Georgia Gwinnett College in Lawrenceville, Georgia.
According to NBC affiliate WWBT, Kaplan's 99-year-old mother cheered on her son from the crowd as he crossed the stage for his graduation ceremony.
"She's very excited," the new graduate remarked about his mother. "She's excited, happy and proud."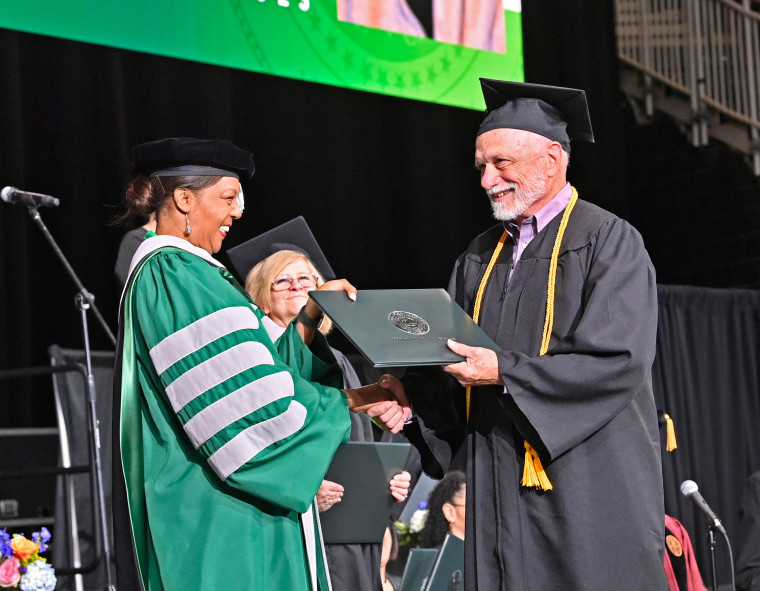 She last saw her son in an academic setting in 1969, when he graduated high school. In the decades after, Kaplan crisscrossed careers. According to the college's news release, he ran a cleaning service and later a telemarketing company. He also worked as a taxi driver and in customer service for electronic wholesale distribution. 
Kaplan's college also revealed that the septuagenarian decided to enroll in school again for the first time in decades when he was 68 years old.
"I was riding down 316 and heard on the radio that Georgia Gwinnett College was offering a degree that involved script writing," he explained. "My car seemed to have developed automatic steering, and I pulled off on Collins Hill Road. Five minutes later, I was registering for the fall semester."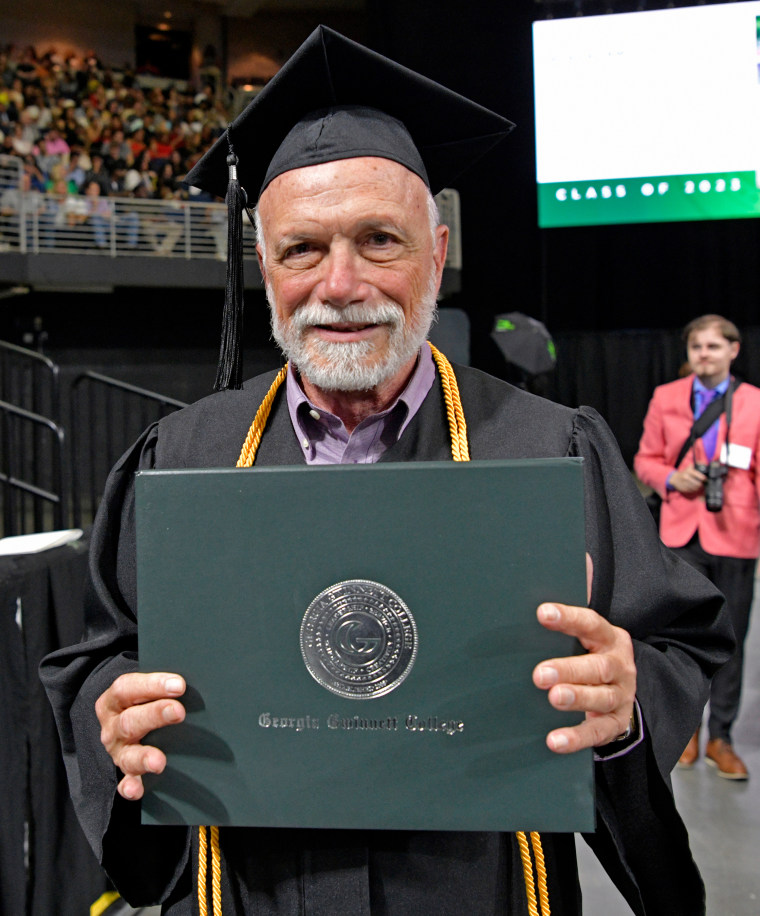 Despite his maturity, jumping back into a classroom setting after so many decades wasn't necessarily like riding a bicycle. The father of five had to learn how to study all over again, and in the early days of becoming a student felt the jitters of fitting in with his classmates — students 50 years his senior. To make the leap, Kaplan set out to meet a daily quota. Every day he would approach a new student with the intention of learning more about their academic goals and dreams for the future.
"When you ask a student about what they want and plan on doing and find out what they want to do with their lives, I think that's uncommon with a lot of kids — they don't get that with people," Kaplan said. "I think I have a good relationship with them. I got hugs from a lot of them on the last day of classes."
Kate Balsley, an associate professor of film at Georgia Gwinnett College, taught Kaplan for some of his classes and expressed her excitement for his academic achievements.
"Sam was always willing to share photos and stories about his interesting life and his family. We're so proud to see him graduate, but we will miss him," Balsley said.
No doubt, Kaplan has left a mark on his college. In a video of the ceremony, the applause from his graduating class swelled to a high level as he received his diploma with a proud smile.