Behold quadruple perfection.
Abigail, Mckayla, Grace and Emily Webb, 2-month-old identical sisters from Canada, are starring in a spectacular new series of baby pictures containing a dangerous amount of cuteness.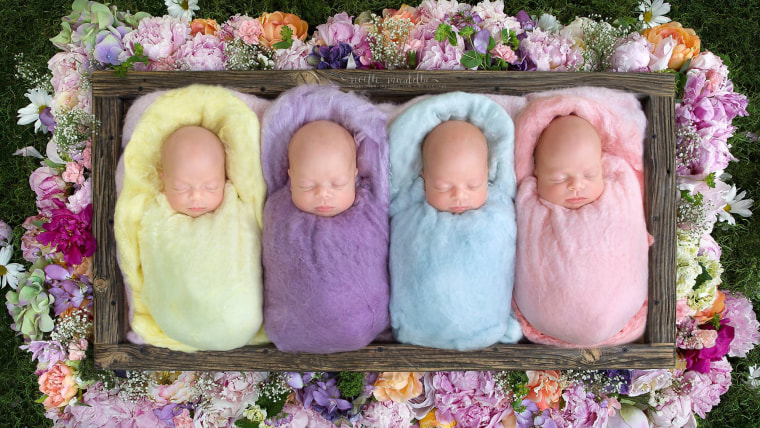 The images were taken by Cassandra Jones of Noelle Mirabella Photography in Grande Prairie, Alberta.
"The girls were all amazing. There were absolutely no tears," Jones told TODAY Parents. "In fact, they did not even raise an eyelid. They slept like little angels for the entire shoot."
The family adores the photos, too.
"The pictures she took are absolutely beautiful and I love them so much," mom Bethani Webb said.
Never miss a parenting story with TODAY's newsletters! Sign up here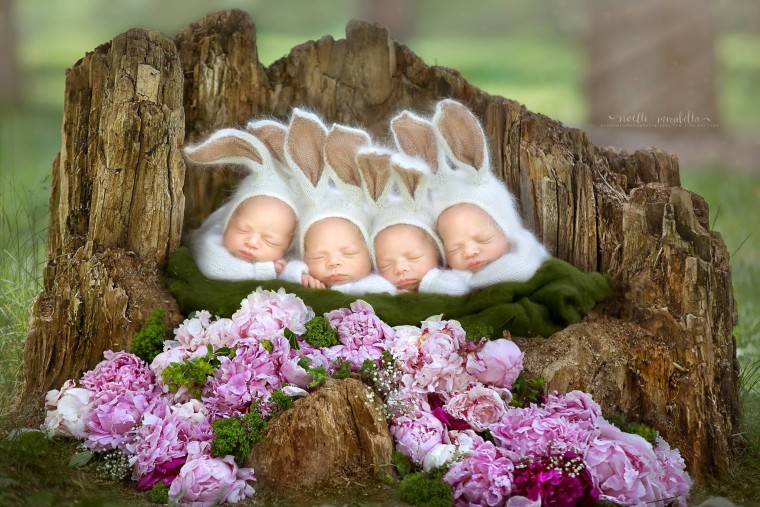 You may remember the identical quadruplets were conceived without the help of fertility drugs or any intervention from reproductive technology. Their parents, Bethani and Tim Webb of Hythe, Alberta, were shocked when a routine ultrasound revealed four babies in December.
Read more: Newlyweds startled to find out they're expecting identical quadruplets
They were born via C-section on May 6 when Bethani was 33 weeks along. All are healthy, growing, active and doing well.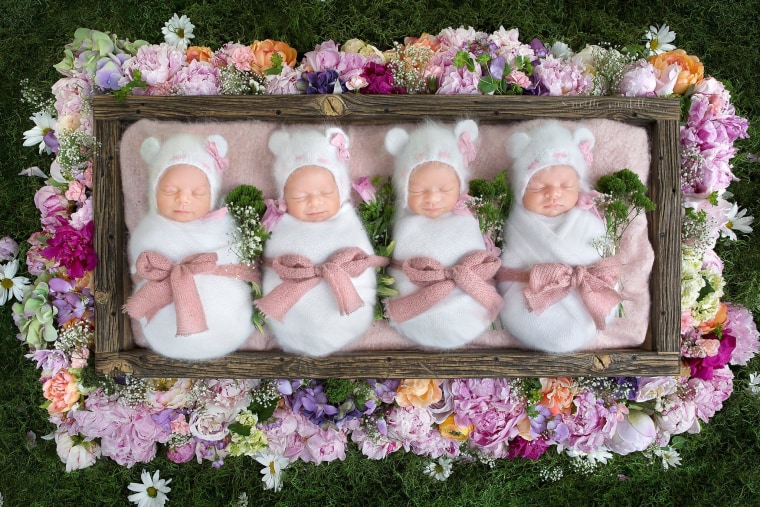 It's the first time Jones has ever photographed quadruplets, so the project took much more planning and assistants than she was used to. Five extra people helped her set up the shoot: one person per baby and one person to help arrange the flowers and props. It took three large vehicles to haul all the items needed to the outdoor location in Grande Prairie.
Related: 7 awkward things people say to moms of multiples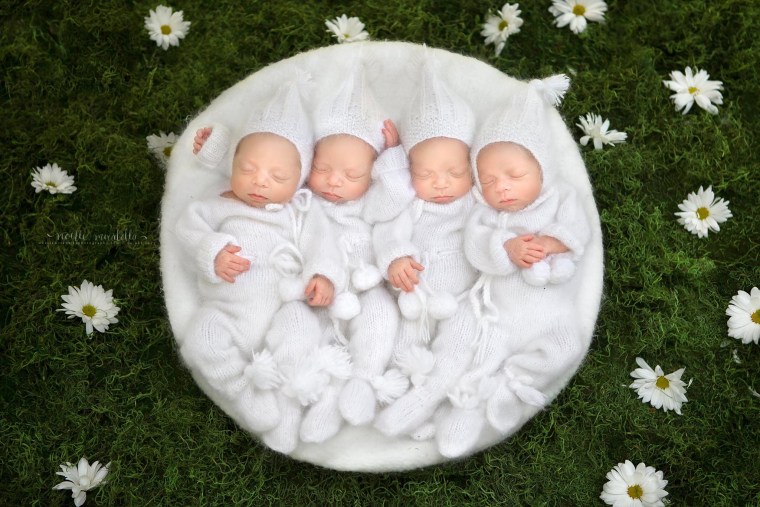 The girls' knit hats and wraps were custom-made specifically for the shoot. Jones chose white outfits so that she could coordinate all of the different hats without having to change the babies and risk waking them up, she said.
Meanwhile, the tiny sisters are already confounding adults.
"With the exception of the smallest of the girls, Abigail, my assistants and I were not able to tell them apart with their outfits on. Prior to dressing them, we kept checking their hospital bracelets to see who was who," Jones said.
To help tell them apart, the girls just had their ears pierced with different colored sets of earrings. Abby has blue, Emily has purple, Grace has red and Mckayla has pink, their mom said.
Related: 18 ways life changes forever for parents of multiples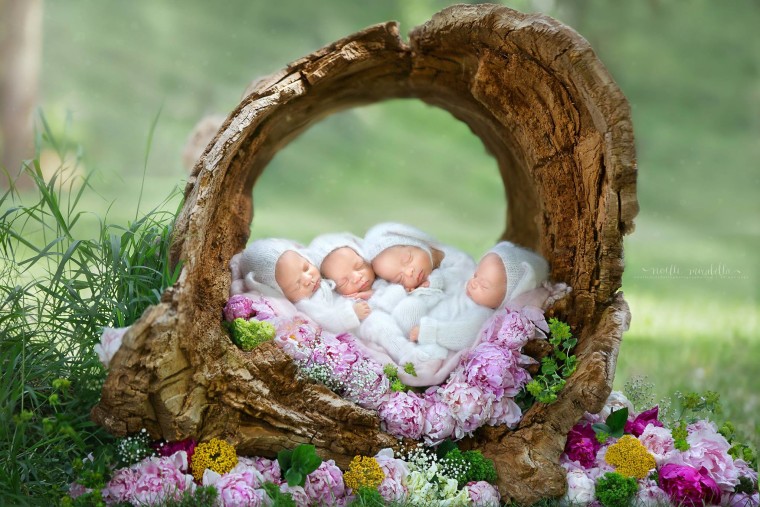 The large rectangular barn wood prop in the photos was custom-made to fit the babies. Jones found the hollow log and hollow stump at a local park and figured they would be just the right size.
"They were a pretty snug fit, but we managed to get them all in together and looking adorable," she said.
The chance of having quadruplets without fertility drugs is one in 729,000, Dr. James Bofill, a professor of maternal-fetal medicine at the University of Mississippi, told TODAY when he treated a Mississippi woman who gave birth to quadruplets in 2014.
But the odds of having identical quadruplets are about one in 15 million pregnancies, according to RaisingMultiples.org.
The Webbs, who celebrated their first wedding anniversary last month, are first-time parents and have no history of multiples in their families.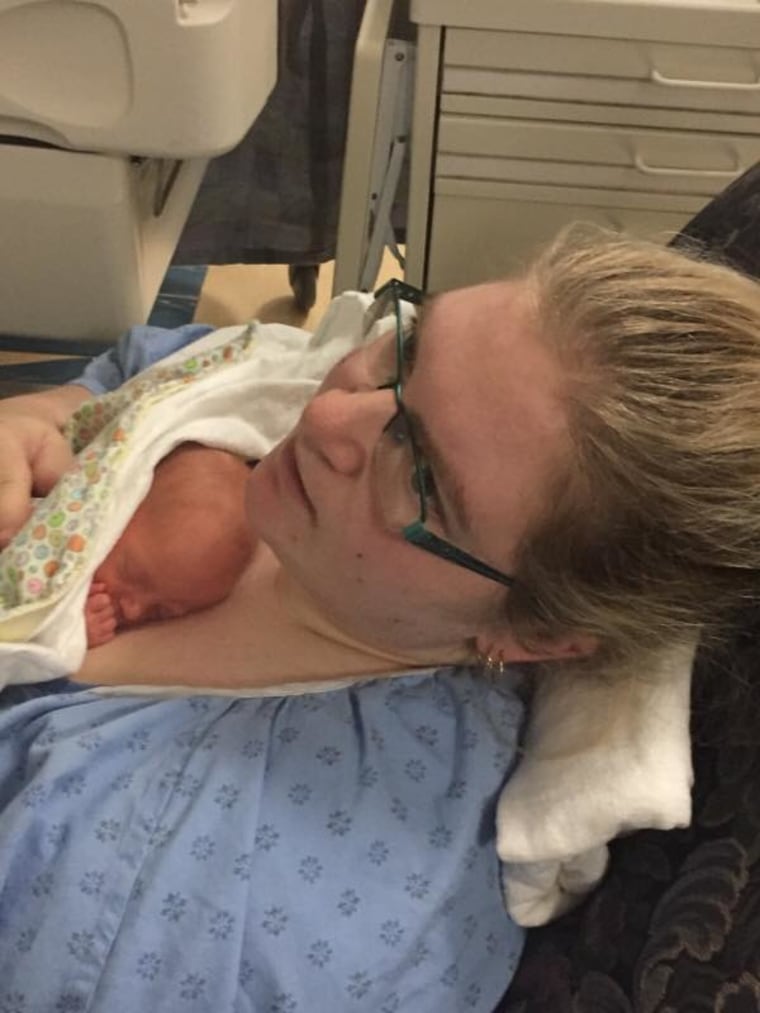 Bethani still remembers the moment an ultrasound technician revealed she was pregnant with identical quadruplets.
"I'm definitely glad I was laying down because I could not believe that there were four there. I thought there had to be some kind of mistake… (my husband) almost fainted. He had to sit down for a moment," she told TODAY earlier this year.
To help the couple with finances, friends have started a GoFundMe page.