When a Connecticut couple bought a meal for a family of strangers to honor their late son, they unwittingly touched off a chain of kindness extending his memory well beyond that one night.
Shane and MaryJo Dunn gave a $50 gift card to a family dining at First & Last Tavern in Glastonbury, Connecticut, on Feb. 20 in honor of what would have been the second birthday of their son, Luke. The boy died from a rare liver cancer at 17 months old in August 2015, leaving his parents with memories of his big blue eyes and his happy personality.
"He was nothing but pure joy and love, and we wanted to pass that feeling on,'' MaryJo Dunn told NBC Connecticut.
RELATED: Young boy cries happy tears over little sister buying him a pet hamster
The Dunns left a card and a "Love 4 Luke" wristband for the family telling them about Luke and explaining why they were paying it forward with a free meal. The family happened to have a boy who was celebrating his third birthday that night, and the Dunns' touching gesture turned out to be just the beginning of an outpouring of kindness.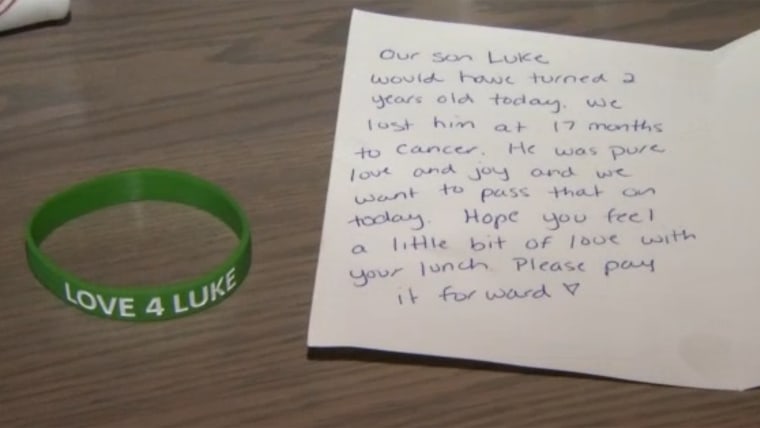 The family was so moved by the Dunns' generosity that they told the staff at First & Last Tavern that they wanted to pay it forward themselves by purchasing their own gift card to be used by another family later that same night. That second family then paid it forward themselves, continuing the chain.
RELATED: Why one man is playing music for the homeless
"It makes you think that there truly is a connection that none of us can comprehend," Shane Dunn told NBC Connecticut.
The infectious generosity then moved First & Last Tavern owner Rich Nemarich and his brothers, who own the chain's three locations, to start their own pay-it-forward program.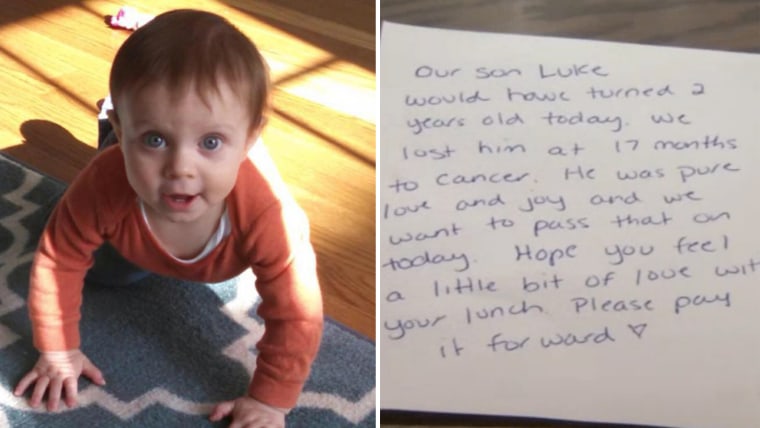 "We were so touched by what happened we decided we didn't want this selfless act to end there,'' they wrote on the First & Last Tavern website. "That's why we started our Pay It Forward Program. At our restaurants we are fortunate enough to be a community gathering place. We feel that we see the best people walk through our doors, and our Pay It Forward Program is a great way for us to give back."
RELATED: Dad who lost son to cancer raises funds for teen in need
The First & Last Tavern now has an online form in which people can nominate a family for a free meal while sharing their story of why they think the family should be nominated. Every week, a gift card will be given out to a worthy family at each of the tavern locations in Avon, Plainville and Glastonbury.
Follow TODAY.com writer Scott Stump on Twitter.