A growing belly calls for a new wardrobe, and that can be a financial hassle for expectant moms.
So one company is offering a unique perk as part of its employee benefits package: Serious spending money for maternity clothes.
You get the "Haute Mama" bonus if you work at Domo, a business data company based in American Fork, Utah. (Domo provides services to NBC Universal, the parent company of TODAY.)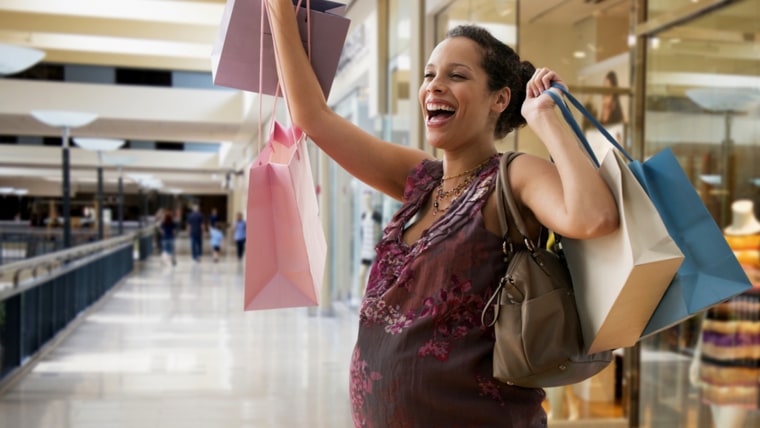 "It can be a very challenging time (for women)," Cathy Donahoe, Domo's vice president of human resources, told TODAY.
"The goal is to help them feel good, to be able to go, 'It's not one more thing I have to worry about.'"
Employees who become pregnant receive $2,000 in gift certificates to spend on maternity clothes at Nordstrom, A Pea in the Pod or ASOS. If an expectant mom doesn't like any of those stores, the company will make arrangements to provide different gift certificates, Donahoe said.
The idea is to allow employees to splurge on special items they might not otherwise buy for themselves.
Read more: Rental maternity clothes make pregnancy shopping easy
And it's not a one-time deal either: If you become pregnant again, you get another $2,000 shopping spree because "clothes go out of style, things change," Donahoe said. That's on top of a $1,000 baby bonus the company offers employees, plus maternity and paternity leave.
Domo CEO Josh James began thinking about the wardrobe bonus when his assistant was expecting her first child, Donahoe noted. He thought it would be a nice thing he could do for her, but then realized it was a perk the company could offer to every female employee.
About half a dozen women have taken advantage of the offer since it became part of the benefits package a year ago.
The response so far?
"Fantastic," Donahoe said. "They just love it."