Ciara and Russell Wilson have added their own little princess to their family.
On Friday, the couple announced the birth of their daughter — Sienna Princess Wilson — via an adorable "letter" to the baby girl that was posted to the couple's social media accounts.
"Dear Sienna Princess Wilson, No matter how big the wave, we will always be your calm in the storm," Ciara wrote in the caption of a photo of herself sitting on the beach while pregnant. "We Love You. Love, Mommy & Daddy. 7:03 pm 7 lbs 13 oz. 4.28.2017 Photo By Daddy"
This is couple's first child together, although Ciara has a 2-year-old son, Future, from her previous relationship with rapper Future. Baby Sienna is the first child for the Seattle Seahawks quarterback.
RELATED: Our favorite celebrity bump styles ever
Ciara and Wilson, who will celebrate their first wedding anniversary in July, first announced their pregnancy on October 25, which just happened to be the "Goodies" singer's 31st birthday. Although Ciara kept her fans updated on her pregnancy via plenty of baby bump pictures posted to Instagram, the singer and Wilson chose not to reveal their baby's due date, sex or name until she was born.
As for that royal name, Wilson, 28, told Extra in February that both he and Ciara had a part in picking it out.
"We do have a name picked out. It will be a good one," Wilson said. "I think we both have some creative sense about us, so it's gonna be cool."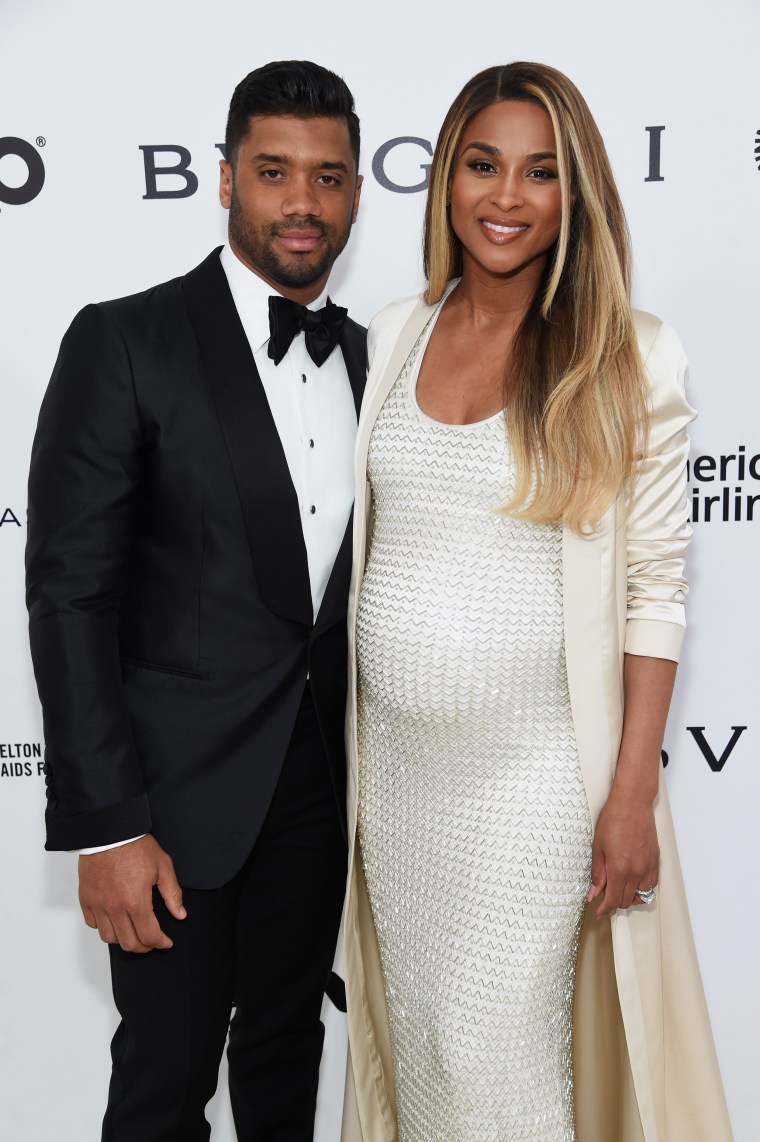 The couple didn't have to get too creative when choosing their baby's middle name, however. Ciara's own middle name is Princess as well.
RELATED: Seahawks quarterback Russell Wilson buys team first-class tickets, flat screen TVs
It didn't take the couple very long to decide on what to call their baby girl. In fact, back in November on the red carpet of the American Music Awards, Ciara told "Entertainment Tonight" that she and Wilson already had decided on the baby's name.