When Chrissy Teigen hangs out with President Barack Obama, as she apparently does, what do they talk about?
As we found out on "The Late Show with Stephen Colbert": baby names!
Teigen, who was showing Colbert how to make some Vietnamese summer rolls while on the talk show Tuesday, had more to talk about than just her new cookbook, "Cravings."
Colbert asked if she and husband John Legend had come up with a name for her daughter-to-be, and that's when she let him in on the exciting tidbit.
MORE: Chrissy Teigen, John Legend reveal they're expecting a baby girl
"I asked Barack — we're, like, very first name basis," she said, chuckling as Colbert walked away, visibly gobsmacked. "I asked President Obama if he liked one of our name choices, and he said he did. But then I realized, I should have come up with two so he could pick one, because, you know, you've got to be nice about it if you give someone a name."
She also revealed that the baby is due in mid-April.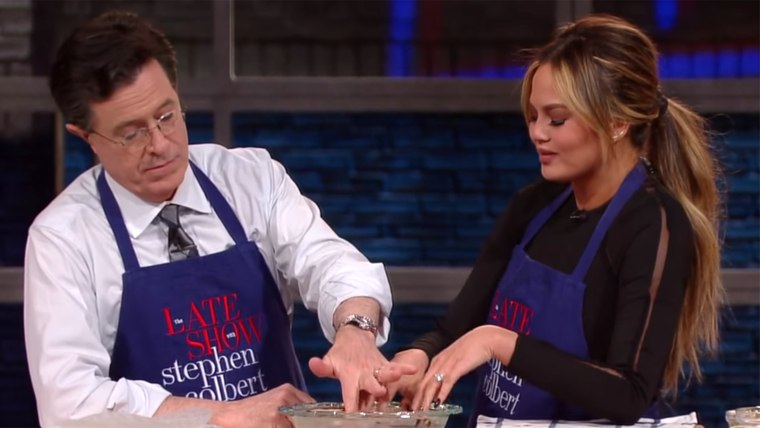 But her chat with Obama wasn't entirely random. As she revealed, hubby Legend was becoming an obstacle in the baby name game.
"I wanted to ask him because John isn't sold on the name, so I figured if [the president] liked it, then John would be sold on it. He says it's 'too Hollywood.'"
Points to Legend for having standards on crazy names!
The question remains, of course, what is the name that has now been given the presidential seal of approval?
MORE: Chrissy Teigen to pregnancy pic haters on Twitter: 'Get out of my uterus!'
Well, you're just going to have to wait a bit longer to find out. (Though Teigen did tell Colbert in a secret whisper, and he responded with an "I love that.")
Follow Randee Dawn on Twitter.