Chrissy Teigen and John Legend have redefined "relationship goals" — and Teigen says the couple's bond has only strengthened since welcoming baby Luna earlier this year.
"To be with somebody for so long — John and I were together for 10 years — you think you've seen every side of them," Teigen told TODAY. "And seeing them with a child is definitely new and fun and different and it drives you crazy in some ways, but it's really cool to see … It's silly to say the 'softer side' to John because obviously he's the most loving, sweetest, romantic person on the planet. But to see this with a little baby and a little someone who looks just like him and to see them together and to see her light up when she's with him, is really cool because she's just like, he can do no wrong."
She added, "Whatever this father-daughter relationship is, it starts so quickly, because I thought they grew into being daddy's girls. No, it was the second she came out."
While Teigen and Legend frequently share adorable photos of Luna's milestones with their social media followers, Teigen has learned to cope with negative comments. Just recently, she proclaimed herself a "proud shamer of mommy shamers" after a Twitter troll criticized how she was holding Luna in a photo.
"I can see things coming a mile away," Teigen said. "I know that when I post something, if she's in a car seat, I've got to be ready for the million people telling me she's in the car seat wrong, even though she's in there correctly. At this point, I know what they're going to say before they say it. If I'm holding her while I'm cooking, or if I'm holding her within 10 feet of a stove top, I've kind of just come to expect it."
RELATED: Chrissy Teigen shuts down 'mommy shamer' who criticized how she held baby
Fortunately, the supermodel and cookbook author, who spoke with us before hosting a launch event for Stella Artois' "Host One to Remember" holiday campaign Tuesday, isn't shy about shutting down the haters.
"I just like to call people out," Teigen said. "Sometimes it's just for entertainment of my other followers, and sometimes it's to genuinely see if they know that there's somebody else on the other side of that screen that they're talking to. And most of the time, they're just so excited to get a reply that that's the frustrating part: You realize they don't even think this, they're just saying it because they wanted to rile you up, or they wanted a hello. And that frustrates me so much, because it's incredibly childish, one, and two, why do we need that kind of acknowledgement in society today, even if you say something negative? Why do you want that attention, why do you want a 'hi' to come out of calling someone a bad mother or ugly? That's where we are now?"
RELATED: Chrissy Teigen shares adorable photo of baby Luna dressed as ... a hot dog!
However, there is one aspect of motherhood Teigen wishes people discussed more.
"I think a lot of the mood stuff that happens afterwards isn't really talked about, whether it's postpartum depression or really just, for me, some days, I wouldn't know how to cope with work and juggle things and still have time for a husband life," she said. "And that was really tough for me, and I think just the mere act of losing those endorphins, I think I was slightly cursed by having such a great pregnancy and being so happy and having so much energy, that just the decline of all those endorphins, and all the prenatals and everything I was on and how healthy I was, naturally made my mood change. There were periods where you get super dark."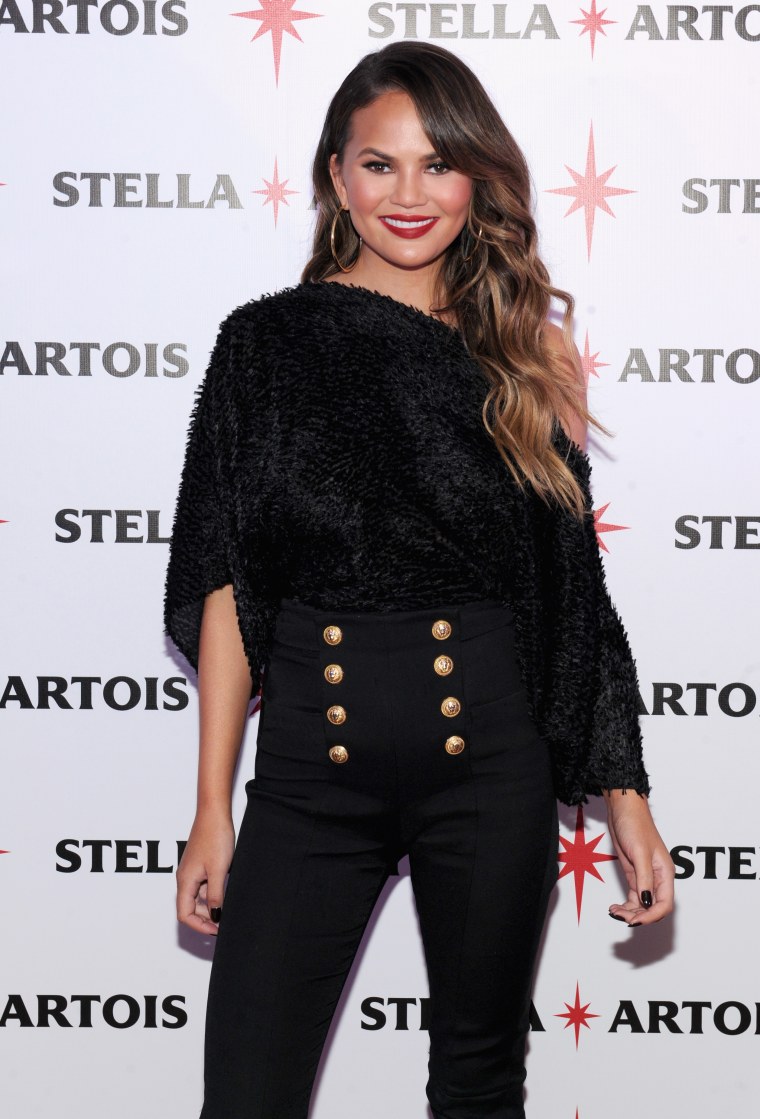 Teigen, 30, also wants to remind new moms that celebrities who drop their pregnancy pounds immediately after giving birth have had a lot of help.
"Anyone in the public eye, we have all the help we could ever need to be able to shed everything," she said. "So I think people get this jaded sensation that everybody's losing it so quickly, but we just happen to be the ones who are out there. We have nutritionists, we have dietitians, we have trainers, we have our own schedules, we have nannies. We have people who make it possible for us to get back into shape. But nobody should feel like that's normal, or like that's realistic."
Teigen may seem flawless to her fans, but there's one feature she took time to embrace.
"I've always had a big, rectangular smile," she said. "I always just had the biggest mouth, and when I laugh, I laugh with all of it. I can't control it, it's just my mouth. And that, paired with these chipmunk cheeks, can be very piercing to people. So now I appreciate the cheekbone structure my mother has given me. That's why I love people seeing my mom. That's why I love that she's on Snapchat and Instagram, so people know that I have not indeed filled my face with cheek filler and stuff. For me, when I was little, I thought it looked so goofy and grating and now I feel like I still look like a kid, so I like that."