At Wednesday's royal christening, six people will become the proud godparents of Prince George. While the palace has yet to confirm who the half dozen are, royal watchers are speculating that some of the names include Will and Kate's closest friends.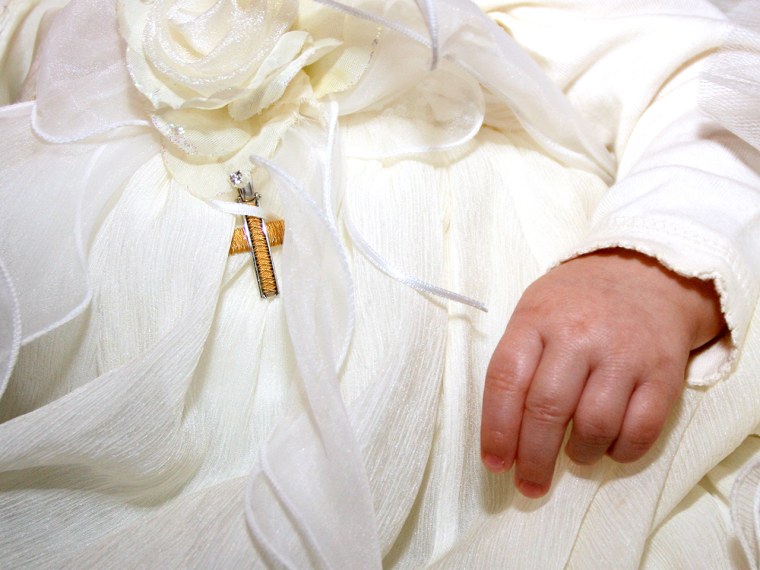 Traditionally, the role of a godparent has religious overtones. In many denominations of Christianity, a godmother or godfather is someone who sponsors a child's official entrance into the church. For nonsectarian families, a godparent has historically been an individual chosen by parents to take an active interest in a child's personal or character development.
But these days, more Americans may be eschewing the godparent tradition, opting only for a legal guardian in the event that something happens to both parents — over that "special aunt or uncle" who plays a symbolic role in a child's upbringing.  
According to a recent poll, Americans are becoming less religious, with one in five adults declaring no religious preference. Character education in schools and as a parenting philosophy may also be on the decline.

And while changing a baby's godparent is all but unheard of, lawyers encourage parents to reconsider their child's legal guardian regularly, especially if they've chosen close friends over family members.
According to Robert Fleming -- a Tucson, Ariz., trusts and estate lawyer who raised his 14-year old nephew when Fleming's sister and brother-in-law tragically passed away in 1988 -- these days, clients are more likely to appoint close friends than religious or spiritual godparents.
But no matter how close you may feel now, best friends can drift apart, he said, while most of us are stuck with family. So Fleming encourages parents who choose a close friend as their legal guardian to review their decision "much more frequently."
Chris Battle, a dad in Washington, D.C., said he and his wife did not select a godparent for their 1-year old daughter because he's "pretty anti-religious." However, they did designate a legal guardian and backup in their will — both of whom they plan on changing soon. In the three years since they drafted their estate plan, Battle said the couple's relationship with the people they chose "changed drastically," even losing touch in one case.
Another big mistake parents can make, warned Betsy Kreger, trusts and estates attorney at Stark and Stark in Princeton, N.J., is to feel obligated to name a particular person or family member -- like an aging grandparent, for example, who might not be up to the task of raising young children.
Michelle Levin, a mother in Huntsville, Ala., never picked godparents for her twin 1-year-old son and daughter, although she and her husband included all of their siblings in the traditional Jewish circumcision and naming service. Four months ago, she and her husband wanted a will before they flew for the first time without the kids. The couple picked Levin's parents as the legal guardians for the next five years, at which point, she explained, they are concerned that they will be too old to care for two little kindergartners.  
Whichever of the couple's sibling is in the best position to take care of the twins, said Levin, will replace the children's grandparents as the legal guardian.
Some parents, however, still adhere to the more traditional view of godparent as spiritual role model and legal guardian. Kristen Shambarger, also of Hunstville, Ala., chose a separate set of godparents, one from each side of the family, for their twin 1-year-old, son and daughter.
In her family, the godparents customarily take a special interest in the child, said Shambarger, and if anything should happen to the parents, a godparent would help ensure the child's spiritual well-being. The Shambargers selected one of the godmothers and her husband — whom they felt were both in good health, around their age, had similar values, and were financially responsible — as the legal guardians for their children.
The title of legal guardian is something not commonly discussed in the UK, said Linzi Clingan, a Glasgow, Scotland, parent of two girls, ages 7 and 9. According to reports, only 3 in 10 people in the U.K. have a will. And most parents, she believes, don't even consider the decision.
"Personally, if I was asked to be a godparent," said Clingan, "I would be put in a difficult position. It is an 'honor,' but as an atheist I couldn't be a godparent. I hope my friends would know me well enough never to ask."
Jacoba Urist is a business, health and lifestyle reporter in New York City. Follow her on Twitter @JacobaUrist.