This winter, don't let your family get cabin fever. The editors of Cookie magazine have tips to keep your kids comfy and snug while out in the winter wonderland.
Bundle up
Indulge in a little color — or even a lot. Bright colors bring cheer to a wintry day and, more importantly, they make flyaway hats and mittens easier to find. Hats with ties and mittens attached to a neck string help to avoid a frustrating search through the wet snow.
Choosing the right fabrics will ensure maximum comfort. Combine cozy standbys like wool and cashmere with newer high-tech fabrics, such as breathable fleece and long underwear specially designed to wick away moisture.
Chunky knit scarves and hats appease the trendsetter, and are extra warm! Don't stop with a puffy anorak; ward off the cold from top to toe. Warm, wooly socks and waterproof boots are another must for staying toasty and dry. Always tuck pants into boots to keep them from soaking up moisture.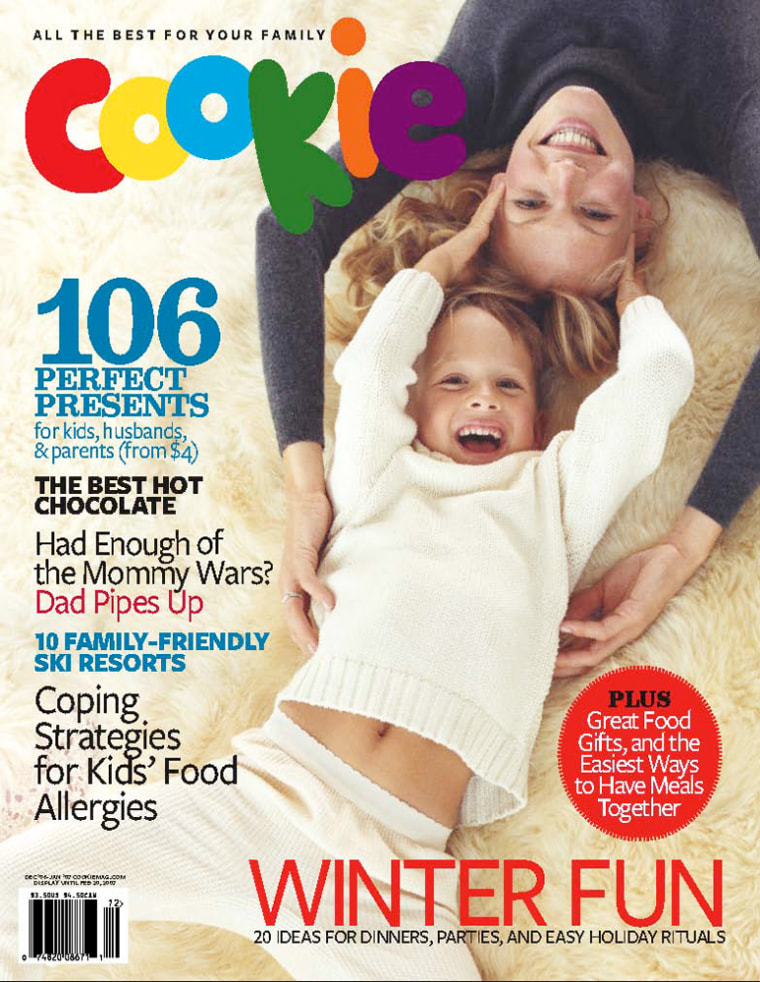 You can never have too many layers! Fall items can get twice as much wear if you top those light tees, cardigans and hoodies with winter-weight sweaters, long underwear and cuddly down coats. If the kids get too warm — or the top layer gets wet — they can shed an item or two. (Click here for more of Cookie's roundup of buttery-soft children's hats, scarves, and sweaters.)
And brave the elements!Snow angels are a classic favorite activity but making them can get a little damp and messy, so send them out in their most water-resistant gear, and be sure to have a hot drink waiting inside!
Take a winter nature walk, and if you can get your hands on a pair of snowshoes, bring them along for tromping through the highest drifts. Can you spot a cardinal? Harvest an icicle? Start a pinecone collection?
Build a snowman, and don't stop at the carrot nose. Stick on some broccoli hair, or cherry tomato buttons, whatever happens to be wilting in the fridge. Bring him his own scarf, so he doesn't get yours all icy!
When powder is fresh, it's the perfect time for a bracing sled ride! Always bring a partner, and remember to duck inside to "defrost" every now and then. For inspiration, check out our selection of the coolest (and safest) sleds, kid-tested for you on the glaciers of Iceland by the Cookie team.