/ Source: TODAY Contributor
One night in late September, Eugenia McDowell received a text from her 6-year-old son's first grade teacher that begged the question: what rights to free speech do children really have in their school classrooms or on the school sports fields?
"I just wanted to let you know that this morning when it was time to do the Pledge of Allegiance, [your son] went down on one knee," the teacher wrote. "I knew where he had seen it, but I did tell him that in the classroom we are learning what it means to be a good citizen, we're learning about respecting the United States of America and our country symbols and showing loyalty and patriotism and that we stand for the Pledge of Allegiance."
McDowell, a mother of sons ages 18, 17, and 6 in Wesley Chapel, Florida, was livid. She wrote a letter to her local news station expressing her frustration with the Pasco County School System.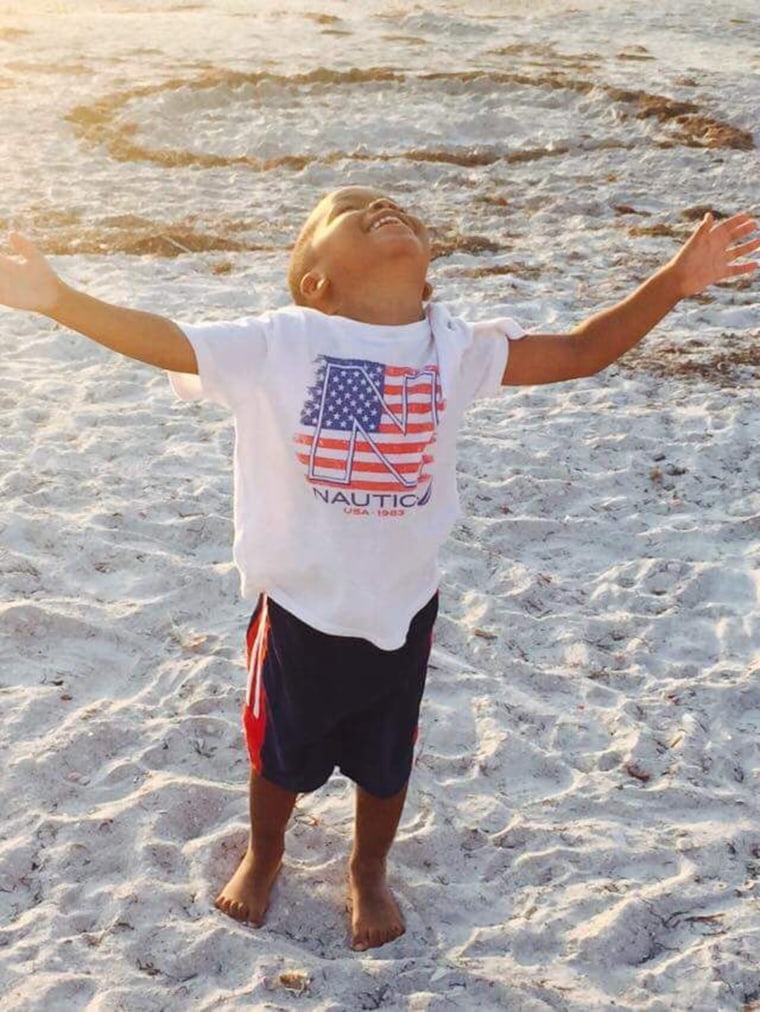 "I am sitting here fighting back tears as, yet again, one of my young black sons are reminded of their place in this society," McDowell wrote. "Instead of taking an opportunity to demonstrate inclusion and diversity within the classroom, his teacher decided to impress upon him her opinion and her definition of what it means to be a good citizen — which, based on her text message, is the opposite of what he demonstrated today in the classroom."
Her son decided on his own to kneel during the Pledge of Allegiance without talking to his parents first, McDowell said. "He didn't encourage other children to do it. He exercised his constitutional right to protest, which is what a 'good citizen' does," she wrote. "The right to protest is one of the many rights that the flag stands for, and [his teacher] snatched that right away today."
Pasco County Schools, where McDowell's son attends school, has since made an announcement on its Facebook page explaining that in compliance with Florida law and school board policy, no student shall be "compelled or required" to participate in reciting the Pledge of Allegiance or in standing or placing their hands over their hearts during it.
"This means that kneeling or other non-disruptive forms of non-participation will generally be considered as permissible alternatives to the traditional recitation of the Pledge, provided that the demonstrating student has provided a written request from his/her parent in advance," the school board wrote in the post.
San Francisco 49er quarterback Colin Kaepernick began taking a knee during the singing of "The Star-Spangled Banner" at games in the preseason of the 2016-17 NFL season. It was an effort, he has said, to protest police brutality and racial injustice in America. Since then, other professional athletes have followed suit, as have K-12 students, with mixed reactions.
Author Luvvie Ajayi recently posted a picture of a student she identified only as "Kamryn" with a statement from the child's mother, who says Kamryn has received criticism for kneeling during the national anthem at her school volleyball games.
In Texas, Houston-area high school football players Cedric Ingram-Lewis and Larry McCullough were kicked off their team at Victory & Praise Christian Academy after kneeling during the national anthem at a game, the Houston Chronicle reported. The same night, entire teams from the Dallas Independent School District knelt together in protest, according to the Dallas News.
And in Chicago, several high school football teams peacefully protested during the anthem with full support of their coaches, including Oak Park River Forest, whose players knelt with members of their band and cheerleading squad last week, the Chicago Tribune said.
But in Bossier City, Louisiana, Bossier Parish School Superintendent Scott Smith issued a decree that all students in grades K-12 are expected to stand during the national anthem at sporting events and extracurricular activities or face consequences, including reduced playing time or removal from teams or clubs.
Never miss a parenting story with the TODAY Parents newsletter! Sign up here.
"Freedom is not free," Smith wrote in a statement shared with TODAY Parents. "In Bossier Parish, we believe when a student chooses to join and participate on a team, the players and coaches should stand when our national anthem is played in a show of respect. This extends to those that elect to join a club or student organization, which requires a faculty sponsor. It is a choice for students to participate in extracurricular activities, not a right, and we at Bossier Schools feel strongly that our teams and organizations should stand in unity to honor our nation's military and veterans."
The varied and sometimes strong reactions to the same protest across the country have confused students, parents, and even some educators. Do students have a legal right to free speech at school under the First Amendment? How far do those protections go?
Rachael Jones, a legal research fellow and First Amendment scholar at the University of North Carolina's Center for Media Law and Policy, told TODAY Parents the issue of free speech for K-12 students in public schools is complicated, to say the least.
In public school classrooms, children are protected by the First Amendment (private schools are a different story, as they are not held subject to the same standards). The Supreme Court case that tested free speech protection for students, Tinker v. Des Moines, was decided in 1969 and said that a school could not suspend students involved in a protest wearing black armbands opposing the Vietnam War, organized by then 13-year-old Mary Beth Tinker.
In the decision, the Court ruled students "do not shed their constitutional rights to freedom of speech or expression at the schoolhouse gate." However, Jones added that schools do have some flexibility within that protection if the students protesting are disrupt the school's operation. "A black armband is a distraction, perhaps, but it is not disruptive," she explained to TODAY Parents.
However, in extracurricular and school-sponsored sporting events like football games, free speech protection is not guaranteed. "This is where it gets wonky with student-athletes," said Jones. Because they are wearing the jerseys of the school and those events have the school and school district's names stamped on them, athletes are "held to higher standard because it becomes the school's message and not the student's message" if they protest, said Jones.
"The response to student-athlete protests will depend on the region and the school itself," she said, "and if the message of the protest is inconsistent with the social order and policy of that school."
So while by law, no American of any age has an obligation to stand for either the Pledge of Allegiance or "The Star-Spangled Banner" — a point Jones feels gets lost in these debates — and children do have First Amendment rights, the protection of those rights depend on what they are doing and how they are doing it.
Jones suggested that parents or students wondering about free speech protection contact their local chapters of the ACLU to find out exactly what their rights are and what they can do if they feel their rights have been violated.
Meanwhile, McDowell told TODAY Parents she will continue to encourage her own young son to follow his convictions. "I think about all the children in school today who may have had their independence stunted," she said. "What has that cost the U.S. in terms of future potential?"
"Our teachers should cultivate, not eradicate, independent thinking," McDowell said. "Thinkers with no ceilings change the world. I will legally fight with all my power to ensure that not only him, but every child within this district, is entitled to exercise their constitutional rights peacefully without reprimand."