Staying connected with the kids takes on a literal meaning for many parents who turn to child safety harnesses to keep their little ones close.
Attached to mom or dad by a tether, a small child can't bolt off or get lost in a mall, at an amusement park or any other crowded place. Depending on your viewpoint, it's one of the best ways to keep kids out of harm's way or a cringeworthy practice that comes uncomfortably close to treating them like four-legged creatures on a leash.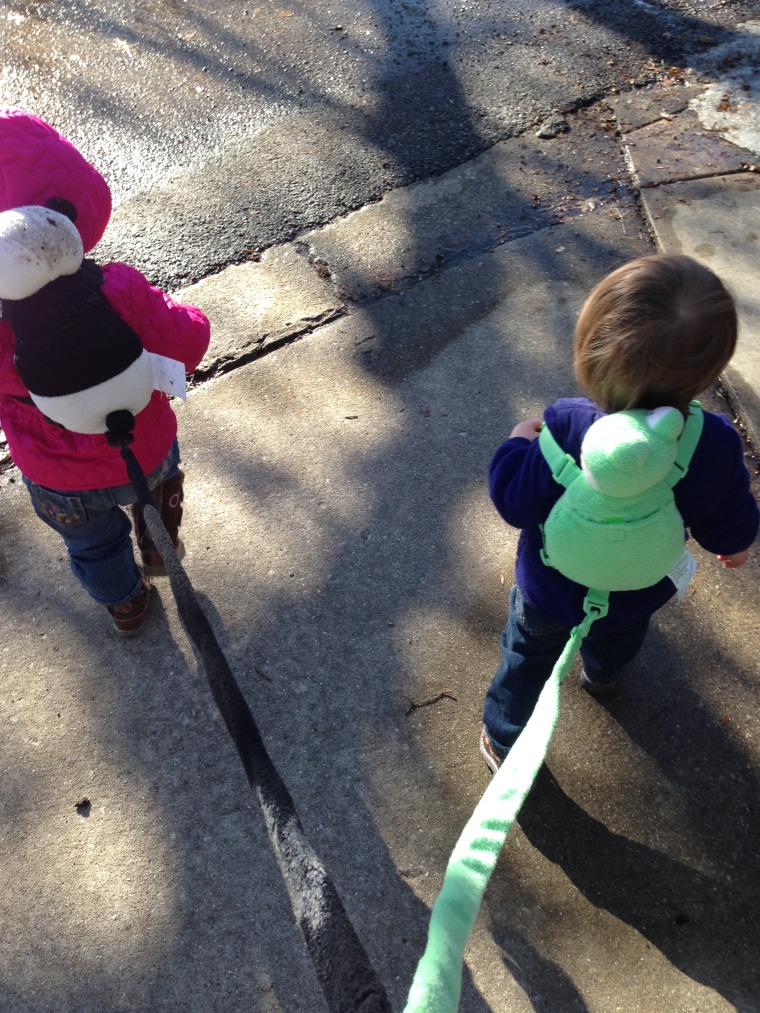 Put Katy Maher firmly in the "pro-harness" column. The mom of 14-month-old twins lives on a very busy street in Chicago, so she recently started using harnesses when she's on her own and the family wants to venture outside. The knowledge that the kids can't stray far away from her provides peace of mind, she said.
"I really love being able to just go outside and walk around and let them explore. So this gives us the freedom to do that and not be as stressful," Maher, 40, told TODAY Moms.
"If it's just you and the two little ones, it can be kind of a scary prospect when you're out on a busy street."
The harnesses look like tethers attached to backpacks in the shape of stuffed animals that Maher's twins, a boy and a girl, like to play with when they're at home. Mom lets them lead the way when they're walking outside for a hands-free experience, but they also hold hands when they want to.
Maher recently put together a list of all the reasons why she uses a harness in a column that also acknowledged some passers-by are openly critical of her stance.
"There have been a couple of people who looked sideways at me, and I have heard the comment, 'I leash my dog, you leash your kids,'" Maher recalled.

"I didn't want to get very upset but I was, and I said, 'I'm doing my best to keep them safe.'"
Kat Komin's mom always used a harness with her when she was little, so Komin did the same when her 2-year-old daughter began scooting off from her at the playground.

"It got me really scared that you just blink and the next second your daughter is running away," said Komin, 32, who lives in suburban Seattle and wrote about the experience in her blog.
She was also shaken after reading a news story about a stranger snatching a boy away from his parents during an outing, so Komin uses the harness when the family is out in a public place as an extra measure of security for her daughter.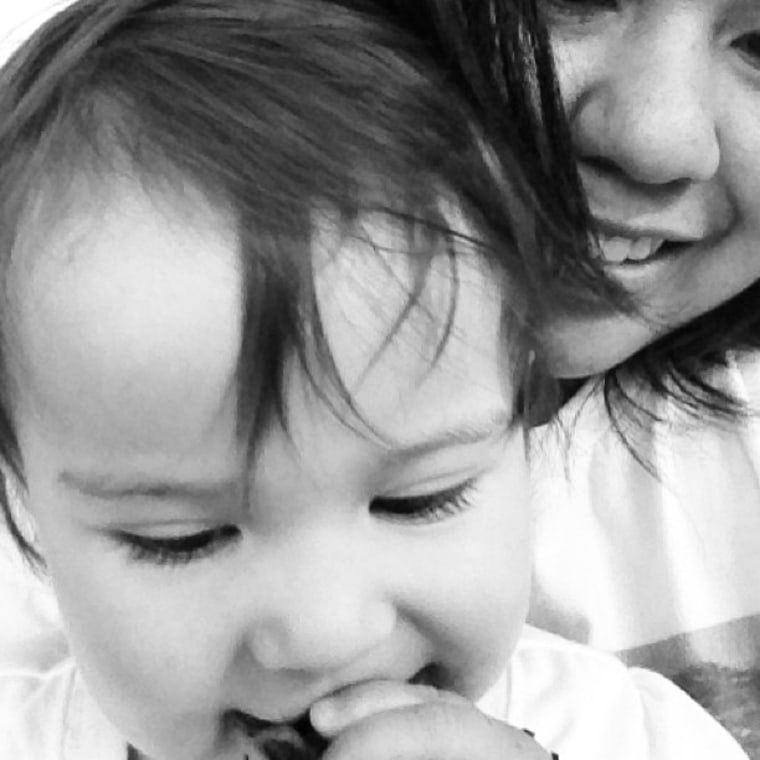 Like Maher, she also gets looks from people who disapprove.
"I just glare right back at them," Komin said. "Having her on a harness definitely outweighs the looks for me because I'm just interested in my child's safety and I'm doing the best that I can."
Parenting experts have mixed opinions about child safety harnesses.
Some children who are incredibly impulsive or have special needs can put themselves in dangerous situations, so using a harness could be a good thing, said Jennifer Hartstein, a New York child psychologist.
"Some parents really do not know what to do, so this is a potentially effective solution," Hartstein said.
But she cautioned the practice could create embarrassment in children that they could carry with them over time. Indeed, many people can't get past the visual—there's even a photo sharing site for those "who laugh when they see children on leashes."
For the general population of kids, a firm stance as a parent should be enough to keep a child from scooting off, said Susan Newman, a New York social psychologist and parenting expert who is a critic of the harnesses.

"To me, it's like treating a child like a dog or an animal when in fact as a parent your job is to make the rules," Newman said.
"The perception is, this is a parent who can't control her toddler."

Parents won't be able to rope in children as they get older, so it's important to set boundaries at an early age and have consequences if kids don't listen, Newman said.
If you do decide to use a harness, it's never acceptable to tug on the tether or drag the child, Hartstein said. As for dealing with sideways glances, she wishes people were more sympathetic.
"Parents are often judging one another rather than supporting one another. It would be so great if parents could use the situation as a discussion point rather than a divisive one," Hartstein said.