It may have been easier to keep up with the Kardashians before Kourtney, Kim, Khloe, Rob and Kylie started families of their own. Today, Kendall Jenner is the only sibling who is not a parent — making matriarch Kris Jenner the grandmother of nine kids, ages 8 to infant.
More often than not, the Kardashian-Jenner clan chooses unique names for their babies — Kim Kardashian and Kanye West's directionally named North, for example. But some members of the eccentric family boast more classic names like Penelope — the daughter of Kourtney Kardashian and Scott Disick.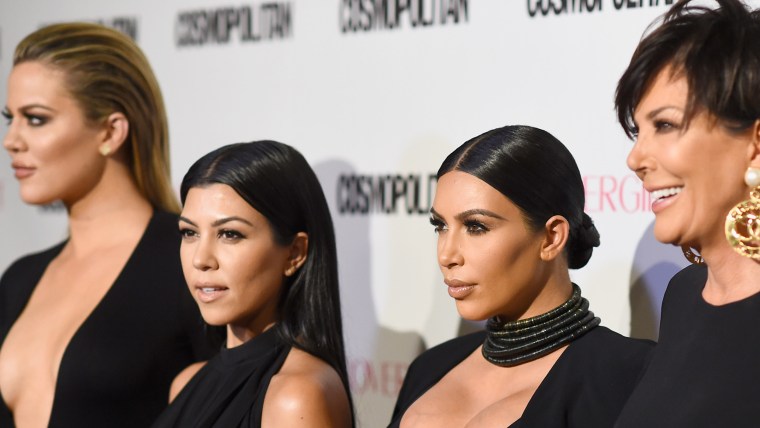 To help you navigate which Kardashian offspring belongs to which parent, we chatted with Nameberry's Pamela Redmond Satran about the influences and meanings behind each child's name.
The children of Kourtney Kardashian and ex-partner Scott Disick:
Mason: English occupational name meaning "worker in stone"
Penelope: Name of Greek origin meaning "weaver"
Reign: A royal word name
"When Kourtney Kardashian was expecting the first Kardashian baby in 2009, the big question was whether she'd use a 'K' name as her mother Kris did for all her sisters," Redmond Satran told TODAY Parents. "But Kourtney broke the pattern by naming her older son Mason Dash."
Penelope, often called "P" on the family's television show, has the travel-themed middle name of Scotland, which Redmond Satran says may be a nod to father Scott Disick's first name.
According to Nameberry, the couple's third child, Reign, goes along with the recent trend of royal-inspired names like Duke, Royal and King.
The children of Kim Kardashian West and Kanye West:
North: A directionally based word name appropriate for either gender
Saint: A descriptive word name often added to lists of "attitude" names
Chicago: The name of a U.S. city, derived from a Native American word for "wild garlic"
"The infamously named North West started a new Kardashian baby name tradition — one that's continued for all six babies that have come after her — word names," said Redmond Satran. "Word names are a new phenomena and have come into usage only in the past 20 years, but the Kardashians have done much to propel the trend upwards."
Never miss a parenting story with the TODAY Parenting newsletter! Sign up here.
While North's name did not grow in popularity after her birth, her younger brother, Saint's, name tripled in usage after he was born.
"Chicago is kind of a different name from the others," added Redmond Satran. " It's a place name rather than strictly a word name, and unlike most of the others has three syllables. Chicago has never been used as a first name for babies of either gender, but the name has personal meaning in that dad Kanye hails from the windy city."
The daughter of Khloe Kardashian and Tristan Thompson:
True: An inspirational, aspirational word name
Redmond Satran says True's name could take off in popularity — in 2017 it was given to 32 baby girls and 60 little boys, but the numbers could change.
"We'd expect the gender balance to shift given that the Kardashian baby True is a girl," said Redmond Satran.
The daughter of Rob Kardashian and ex-fiance Blac Chyna:
Dream: Singular, serene word name
"Probably the most popular and influential word name used by a Kardashian is Dream," said Redmond Satran. "In 2017, over 300 little girls were given the dreamy name."
The daughter of Kylie Jenner and Travis Scott:
Stormi: A word name, variation of stormy and storm
"As word names go, Stormi is kind of a throwback," said Redmond Satran. "It's been used for a long time ala Stormy Daniels."
Redmond Satran says the middle names — or lack thereof — chosen by the Kardashians are also interesting to note.
"Most of the Kardashian kids don't have middle names, bucking the royal-inspired trend to give kids two or three middle names," said Redmond Satran. "But the ones that exist have personal meaning. Mason's middle name — Dash — was the nickname of Robert Kardashian Sr. and Renee, baby Dream's middle name, is also her mother's middle name."