/ Source: TODAY Contributor
The OMI hit "Cheerleader" may be about the relationship between a boyfriend and girlfriend, but in a new parody of the song, the Holderness family is singing about a different kind of relationship — the one kids have with snacking in the backseat of the car.
"How the heck did this all happen? What is stuck here in this napkin?" Penn Holderness sings in the parody. "I remember when we bought that back when Pluto was a planet."
Throughout the video, parents Penn and Kim Holderness inventory the disgusting food items left in the backseat of their car by their children, Lola and Penn Charles. Stale french fries, shriveled hot dogs and moldy sandwiches are on the family's list of finds, along with broccoli spit into a napkin and skillfully hidden away.
RELATED: Summer bucket list: 19 kid photos to take, and how to capture them
"This is dairy, it's from January," Penn sings as Kim empties a cup of curdled milk. "And yeah, it's pretty scary that this apple is all hairy."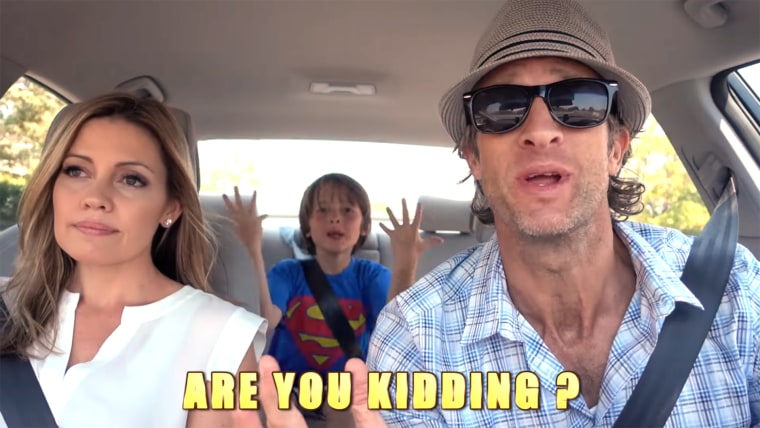 Like all parents, Kim tells TODAY Parents that she is often grossed out by the things she finds tucked away beneath her kids' car seats.
"It's a bit exaggerated," Kim said of the parody, "But it's based in truth. One day we looked back and the kids were eating snacks, but we had not packed snacks! They were eating food that had been there for who knows how long."
RELATED: 5 tips to help you survive and actually enjoy a road trip with kids
So, have Penn and Kim figured out a way to minimize the wear and tear their kids put on the backseat?
"Eating in the car is not ideal," Kim said. "We shouldn't allow them to do it, but it happens, right? Real life is messy. And our car is 'real life' on wheels."
Never miss a parenting story with TODAY's newsletters! Sign up here