Maybe you can't afford an American Girl doll, or don't want to spend upwards of $100 on a children's toy. But what if you could check one out of the library?
That's an option in an East Village branch of the New York City Public Library, where a clever librarian lets young girls borrow the Kirsten American Girl doll, the New York Times reported in a charming story. 
The idea for letting kids adopt the doll for days or weeks at a time came from children's librarian Thea Taube, who found the doll in a library office in 2004. The American Girl company had donated dolls and books to 85 New York City public library branches when it opened its flagship store in New York, says American Girl company spokesperson Stephanie Spanos.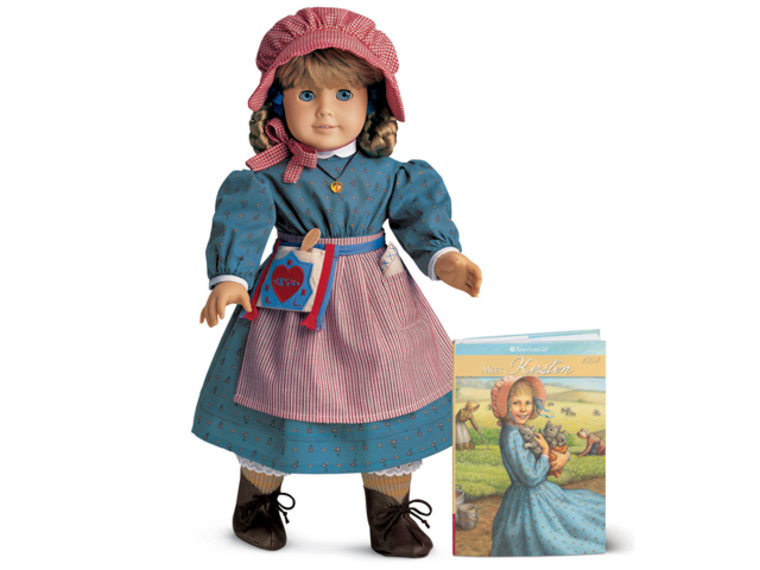 Taube thought loaning the pricey doll – American Girl dolls retail for $110 -- would attract more kids to the library and get them to read the doll books. She told The Times:
"I thought, 'Well, we loan out books that are that expensive, so why can't we lend her out too?'"  
What's happened over the years is that numerous girls have formed bonds and sweet memories with the blonde doll, a pioneer girl from the mid-1800s . As the Times reported:
"Kirsten has adapted to her urban frontier, traveling from one girl's home to another's for two weeks at a time, spending nights inside cramped apartments in public housing projects and inside luxury high-rises with sweeping city views. She also has taken trips out of the neighborhood with her temporary guardians: boat rides on Oyster Bay, and to house parties held by Mexican immigrants in Harlem….For some girls, Kirsten was the only way they could afford such a luxury item in their home. For others, it was the only way their liberal-minded parents would allow any doll into their home, refusing to indulge in gender stereotypes or what they considered to be an elitist hobby."
But all that love from girls has physicallly worn the doll out, and it's now headed to the company's doll hospital in Middleton, Wis., where her arm and leg joints will be fixed and her matted hair replaced. She'll also get a new wardrobe, says Spanos.
The library held a farewell party for the doll, which was attended by many of the girls who have borrowed her over the years.
Spanos says the story has led to a flood of inquiries to the company's call center by customers inspired to donate books to the library. One customer even bought a doll for one of the girls mentioned in the Times story. (The Kirsten doll has been archived by the company, and is no longer available, but you can still get the books.)
Spanos said many libraries offer American Girl books, but this is the first doll-lending program she has heard of and she thinks it's a fantastic idea. She's not surprised to hear of all the girl-doll bonding.
"It speaks to the popularity and the connection girls make with our dolls.  There are lots of girls who think of them as friends, " she said.
 Of Taube's ingenuity, she adds:
"Our dolls are an investment for people. It's cool how [Taube] took it upon herself to put the doll out there after she saw it sitting on shelf, and how it organically grew from there."