You've seen how Harry met Sally — now watch Matt meet Billy.
Matt Lauer sat down with comedy legend Billy Crystal for the first of TODAY's new "Chat with Matt" series on Thursday.
Settled on a bench in Central Park on a beautiful fall day, the two caught up about Crystal's upcoming appearance at the New York Comedy Festival and the legacy of his father, jazz music impresario and promoter Jack Crystal.
"Look at this, we are now two Jews sitting on a bench," joked the "Monsters, Inc." star, who has made a career examining the quirks of New York life.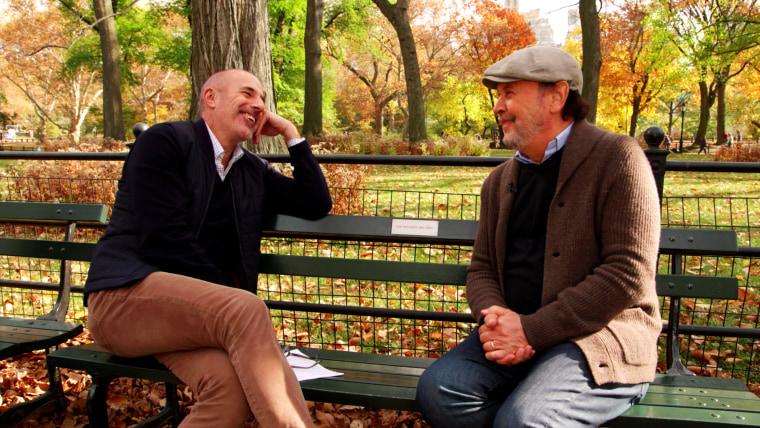 This week marks a few milestones in the 67-year-old actor's life.
On Thursday, he'll be making his first appearance at the New York Comedy Festival in its decade-long history, joining comic and host David Steinberg for a chat in Manhattan.
RELATED: Aziz Ansari's touching tribute to his parents: 'Love these people while you can'
And on Tuesday, NYU's Tisch School of the Arts renamed its theater at 111 Second Ave. the "Jack Crystal Theater," in memory of the "City Slickers" star's dad, who ran the famed Commodore Music Shop and Commodore record label, and held legendary jazz concerts at the address in the '50s and early '60s.
Crystal's one-man play, "700 Sundays," refers to the number of Sundays he shared with his father, who died at 54 in 1963, when Crystal was 15.
"To someone who's never met him or didn't know him. How do you describe your dad?" Laurer asked.
"A humanitarian. He was a very human guy. He was totally self-effacing. He was very shy," Crystal replied.
RELATED: Elizabeth Hurley: My son's sweet now, but teen trouble is on the way
Not surprisingly, though, the reserved elder Crystal felt strangely comfortable emceeing the jazz concerts, which were known as "The Sessions."
They featured jazz luminaries such as Willie "The Lion" Smith, Roy Eldridge and Billie Holiday, according to Tisch.
"It was part of the thing. He loved presenting this music to the world," said the nine-time Oscars host.
"Can you even imagine how he would feel to see his name up on that [theater]?" Lauer asked.
"I think he'd go, "Oh, no, no, no, I don't deserve this. No, no, thanks anyway," Crystal said. "It's amazing to me that, every day, someone will say his name now, or read his name."
"The fact that young artists will be in that same space and will find their own jazz, their own music, with people from all over the world, all different colors, all different kinds of people — that's kinda perfect."