From the British royal family to Hollywood hit-makers, celebrities delivered plenty of "aww"-inspiring baby faces to the world in 2015.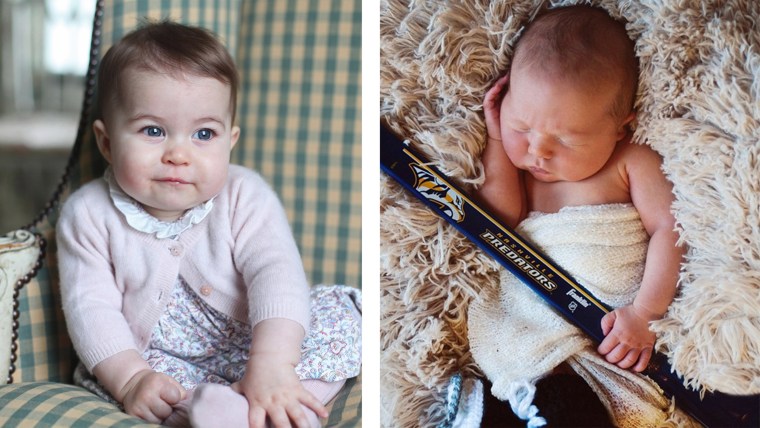 Of course, not every celebrity baby born in 2015 is represented below, but the ones mentioned are listed with first and middle name(s), in rough chronological order of birth date or public birth announcement.
1. Brooklyn Elisabeth (Vanessa Lachey and Nick Lachey)
The "Truth Be Told" star joined the former host of "The Sing Off" in celebrating the birth of Brooklyn on Jan. 5, when the mom raved the daughter "has already won over all of our hearts."
2. Sasha Piqué (Shakira and Gerard Piqué)
A few days after Sasha's Jan. 29 birth, Shakira got a kick out of posting a bilingual caption about the tiny toes of her newborn son. "I have Daddy's feet," reads the English caption of the singer's Instagram photo, which includes a nod to Piqué's profession. "It looks like I've been playing [soccer] my whole life."
3. Lachlyn Hope (Catriona McGinn and Mark-Paul Gosselaar)
A day after the Feb. 17 arrival of little Lachlyn, Gosselaar joked that his younger daughter is "a 'mouth-breather' like her Daddy. My sweet little angel."
4. Isaiah Michael (Carrie Underwood and Mike Fisher)
The country superstar and NHL star scored with an adorable Instagram photo of baby Isaiah a month after the boy's Feb. 27 birth. "The [Nashville] Predators are in the playoffs!" reads the caption accompanying Isaiah clutching a hockey stick. "Just waiting to get called up!"
5. Pauline (Paloma Jiménez and Vin Diesel)
With a March 16 birth announcement, Pauline was named after after Diesel's frequent "Fast and the Furious" co-star, the late Paul Walker. "[Walker] was in the [delivery] room," Diesel told TODAY's Savannah Guthrie a week later. "There's no other person that I was thinking about as I was cutting this umbilical cord. I just … knew he was there."
6. Israel (Jill Duggar Dillard and Derick Dillard)
During an especially turbulent year for "19 Kids and Counting" stars, the reality-TV family grew three times in 2015, starting with Israel on April 6. Other Duggar babies followed: Meredith Grace (Anna Duggar and Josh Duggar) on July 19, and Spurgeon Elliot (Jessa Duggar and Ben Seewald) on Nov. 6.
7. Silas (Jessica Biel and Justin Timberlake)
The actress and singer-actor welcomed Silas in April. Five months later, JT showed off two cute (and rare) photos of their pride and joy to Jimmy Fallon while guesting on "The Tonight Show."
8. Princess Charlotte Elizabeth Diana (Duchess Kate and Prince William)
If you want to get formal about it, you may call Her Royal Highness Princess Charlotte of Cambridge. But no matter what moniker you prefer, the baby girl who arrived May 2 is royally adorable — especially when she's amused by a stuffed animal.
9. Ariah Talea (Tamera Mowry-Housley and Adam Housley)
The "Sister, Sister" star welcomed Ariah to the family July 1, when the actress' husband noted on Twitter that the newborn looked "so much" like the couple's son, Aden.
10. Holt Fisher (Tiffani Thiessen and Brady Smith)
July 1 also marked the debut for baby Holt, whom the "Saved by the Bell" actress described as the couple's "perfect sweet little man."
11. Esther Ballantine (Sophie B. Hawkins)
Using an embryo she'd frozen in 1995, the singer was 50 when she welcomed Esther to the world July 7. "[Hawkins' son] Dashiell and I are ecstatic to finally be with our beautiful girl; our family is now complete!" the Grammy nominee told TODAY in a statement.
12. Jennings Tyler (Emily Maynard and Tyler Johnson)
The "Bachelorette" star beamed while announcing the birth July 16. "God is good," Maynard told a combined 1.2 million social-media followers while sharing an image of Jennings, snuggling up to her face. "My heart can't even handle it."
13. Leo Thames (Jaime King and Kyle Newman)
The younger son of the actress and director, Leo became a social-media sensation within days of his July 16 arrival — in no small part because of sweet photos posted by his famous godmother, Taylor Swift.
14. Elsie Otter (Zooey Deschanel and Jacob Pechenik)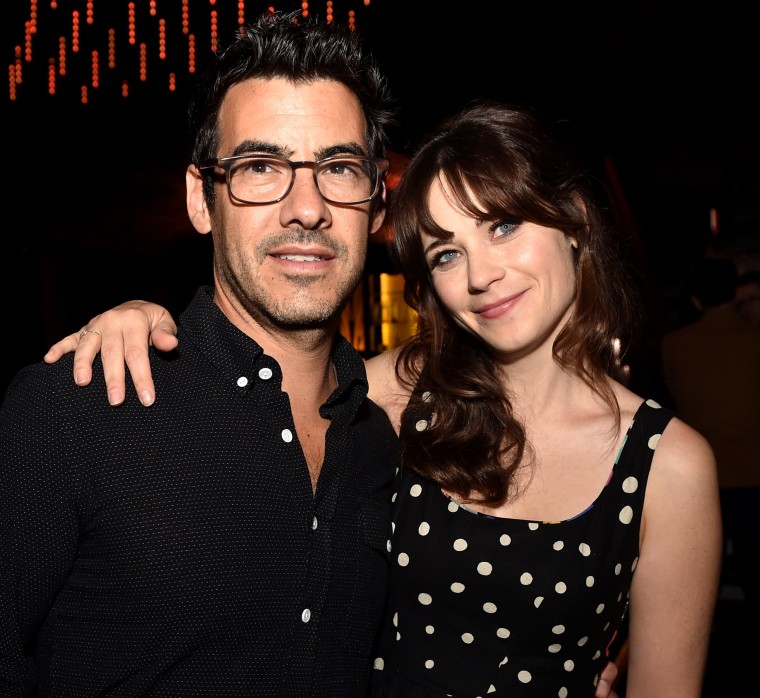 Born in "late July," Elsie got lots of love from fans and family that month, when news also broke that her parents had married. As for the baby's unique middle name, Deschanel told TODAY in October that the couple loves "otters because they're so sweet and also smart [and] hold hands while they sleep."
15. Jagger Snow (Ashlee Simpson and Evan Ross)
The day after the July 30 birth of Jagger, the two singers were "overjoyed" to celebrate their "precious baby girl."
16. Della Rose (Alexis Roderick and Billy Joel)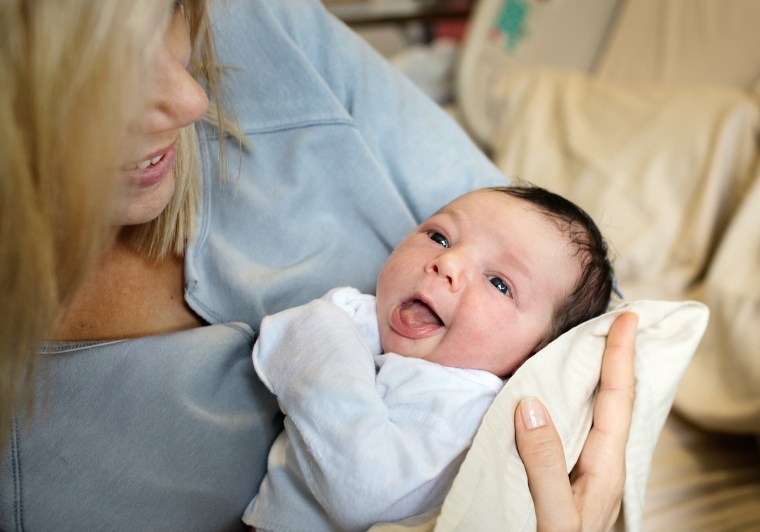 The rock star joined his equestrian wife in welcoming Della Rose to the world Aug. 12. As far as daughters go, it's the second "Uptown Girl" for the 66-year-old Rock and Roll Hall of Fame inductee, whose older daughter, Alexa Ray Joel, turns 30 later this month.
17. Rockwell Lloyd (Lucy Liu)
Liu's cute son arrived Aug. 27 via gestational surrogate, the actress' rep told TODAY. During a November visit to the TODAY set, the actress reveled in her motherhood, saying, "Every day is just a miracle and a dream."
18. Saylor James (Kristin Cavallari and Jay Cutler)
On Nov. 23, the reality-TV star and her NFL quarterback husband welcomed their first daughter and third child. Saylor later gave her mom "so much strength" after the death of Cavallari's 30-year-old brother, Michael.
19. Saint (Kim Kardashian West and Kanye West)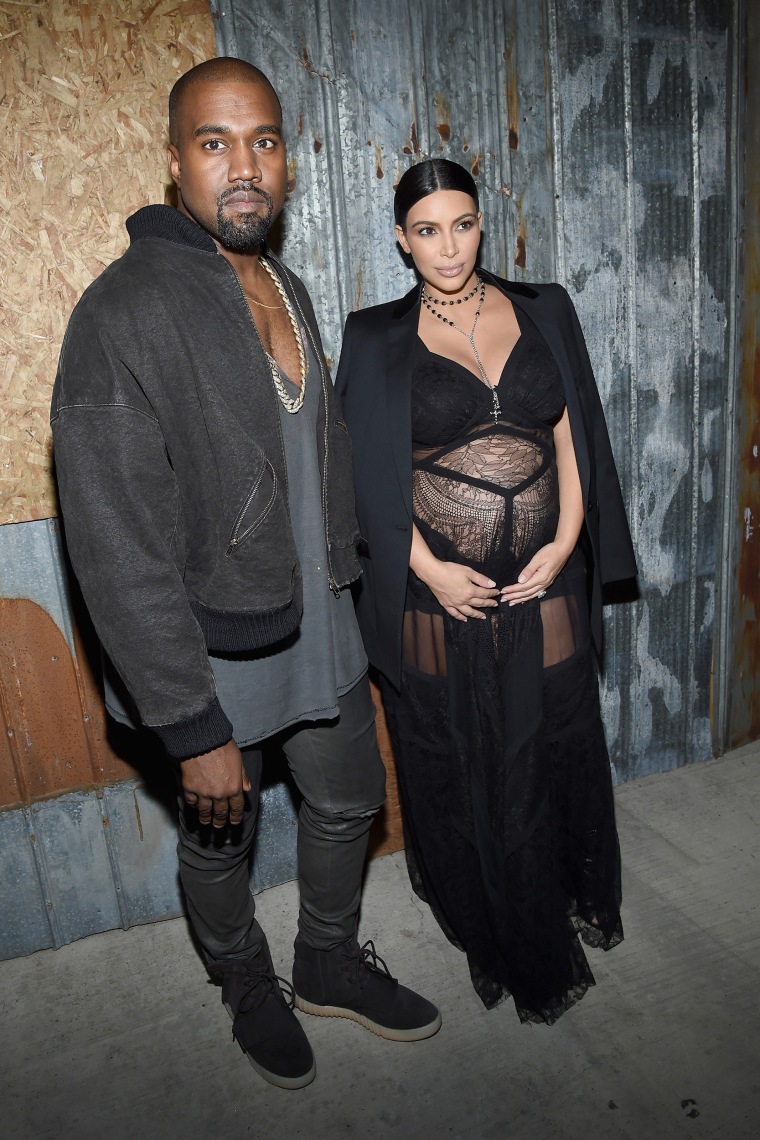 Seemingly never afraid to "Break the Internet," the power couple delivered their second baby Dec. 5 and even more headlines two days later, when Kardashian West announced their son's first name, Saint, in an emoji-happy post that appears to represent the parents, newborn, and Saint's big sister, North.
Follow TODAY.com writer Chris Serico on Twitter.