PepsiCo CEO Indra Nooyi recently described her "mom guilt," continuing the debate about balancing a career and parenting.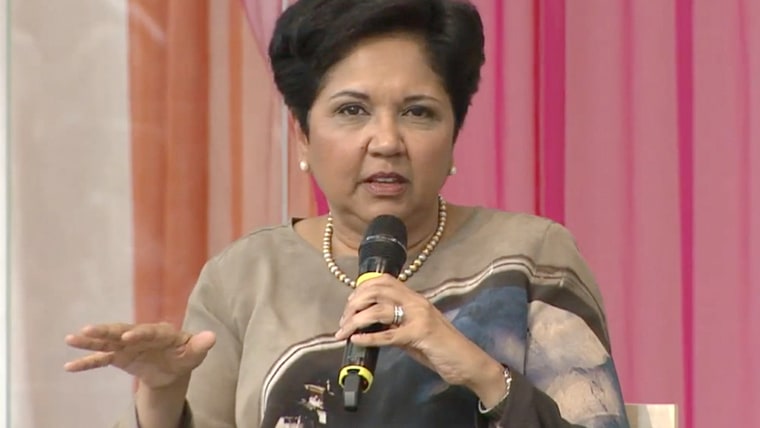 Speaking at the Aspen Ideas Festival on Tuesday, Nooyi, a mother of two daughters, said "I don't think women can have it all," while talking about her struggles to balance her career and family life, including missing her daughters' school events. 
Matt Lauer's question to General Motors CEO Mary Barra in an interview last week about juggling being a good mother with her career after she had spoken about it previously came under fire (his producer, Tammy Fine, wrote this letter about the question). Thursday on TODAY, the anchors and Martha Stewart got candid about the dilemma.  
THE CONVERSATION:

Indra Nooyi: "We plan our lives meticulously so we can be decent parents. But if you ask our daughters, I'm not sure they will say that I've been a good mom."
Matt Lauer: "I've always felt that this is not a gender issue; this is a human issue of work and life balance. It's a parenting issue for men and women, moms and fathers, a question I ask myself every single day, but clearly it still touches a nerve. If a male CEO were to come out and say, 'I am very upset that I missed my son's prom and I think my kids are going to hold me accountable for one job and that is a father,' yes, we'd ask that male CEO that question."
Martha Stewart: "I think Indra is very, very right about you can't have it all. You can try, and I think you really need to have that back-up team at home. If you prepare your children and tell them exactly what you're doing, they will respect you and they will help you get on with your career. After my daughter was grown up, she admitted that, 'Mom you did not have to come home every single night.' She said, 'You didn't have to be. You only had to be there when I needed you.'"
Kathie Lee Gifford: "I think women can have it all. I don't think you can have it all at the same time, but you can definitely learn to balance things."
Dylan Dreyer: "We don't ask men that question, (and) it's always taboo when we ask women that question, but if you ask the kids, I'm sure they would feel the same way like, 'Yeah my dad wasn't there, or my mom wasn't there.'"
Peter Alexander: "I think in each family it has to be a negotiation. In our home, my wife and both work, and there has to be a shared responsibility." 
Tamron Hall: "If we're afraid to have the conversation because we're going to guilt each other, how can we ever have a valid, reasonable exchange of information?"
Follow TODAY.com writer Scott Stump on Twitter and Google+.