Having kids changed the way Zooey Deschanel approached food. It also made her want to get informed.
The "New Girl" star welcomed her first child, daughter Elsie, in 2015, followed by son Charlie in 2017. About six years ago, she and Candle Media's Attn founders Matthew Segal and Jarrett Moreno created the web series "Your Food's Roots," dedicated to being mindful consumers and learning about where the food we eat comes from.
Fast forward to 2023 and Deschanel is debuting "What Am I Eating," a reimagined version with expert interviews to learn more about our food system and smarter approaches towards cooking.
"Having kids made me really curious about food and I was like, we eat to nourish our bodies but also because we like it and brings people together," Deschanel told TODAY.com at a Los Angeles dinner celebrating the premiere of her show. "I realized it was harder to find answers to questions about food that I wanted. You go to a restaurant and say, 'Where's this come from?' They don't always know and so it just came from wanting to get these questions answered for myself."
When it comes to food and trying new experiences, Deschanel doesn't describe herself as a picky eater. "My kids are, unfortunately," she said. "They're picky, but I was not. I was actually the most adventurous eater. I would eat anything growing up. I would try anything."
So at home with her two kids, the actor said you can find her "usually making things that are very simple."
"We go back and forth, we eat fish now, but we were vegetarians for a long time. So I do cook a lot of vegetarian stuff, but I'll cook fish or pasta," she shared. "I love making simple vegetable dishes, roasted vegetables. I make a lot of salads and soups. I love to cook."
And when it comes to her boyfriend, "Property Brother" Jonathan Scott, who was on hand to celebrate "What Am I Eating," she's "mainly the cook."
"He likes to eat. But he can cook," she quickly noted. "It's just I'm the one with the excitement for it and he's very neat and clean. So he'll always help, you know, he'll do the dishes."
"Normally, I'll do the cooking and then he will clean up," she continued. "He's really much better than I am at cleaning up, so we're a good team."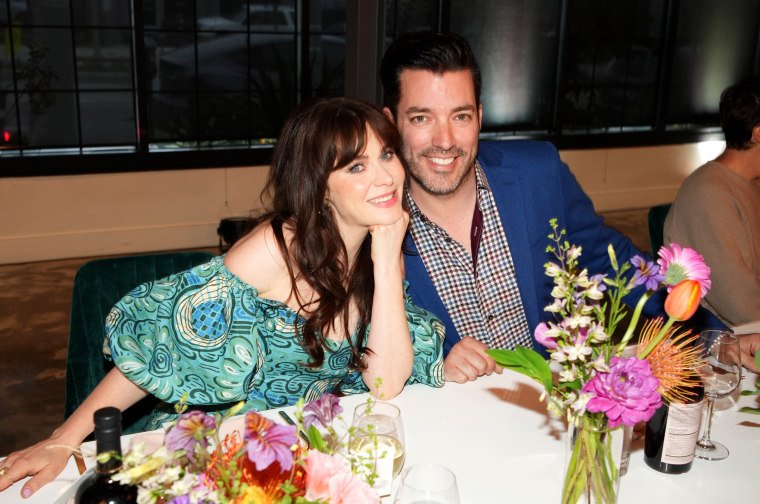 "What Am I Eating" is a culinary journey that's fun and informative — "And something you can watch with your kids, with your whole family and everybody," Deschanel said.
Each of the six episodes centers around one topic, with the first one "Big, Fat Lies" looking at the best fats and oils people should be having. There's also episodes about whether to buy organic or not, greens, cereal, grains and chocolate.
"Mainly it's really about our curiosity about food, trying things, going places, exploring those places, asking questions, and having a good time and not scaring people," Deschanel said, explaining that it's not about shaming others about what they consume. "No, the point is to make people inspired and excited and like, 'Oh, I want to try that.' Or, maybe, 'I don't want to eat that anymore.' Give you more information in a fun way about your food."
"What Am I Eating" is now streaming on Max.