Sylvester Stallone's daughters turn to Rocky Balboa himself when it's time to throw a knockout punch of a breakup text to the guys they're dating.
Sistine Stallone, 24, and her sister, Sophia Stallone, 26, spoke on the "Giggly Squad" podcast in a May 22 episode with Hannah Berner and Paige DeSorbo about how their famous father often helps them end relationships.
"My dad is a savant when it comes to our dating lives in so many areas," Sistine Stallone said. "I would say one area — he writes most of our breakup texts."
"I highly suggest girls should go up to their dad and have their dad write a breakup text because men known men," Sophia Stallone added. "I'm telling you."
The carefully crafted messages over text usually get the job done — without hurting feelings, too.
"They never get mad," Sistine Stallone said of former love interests. "They go, 'Thank you.'"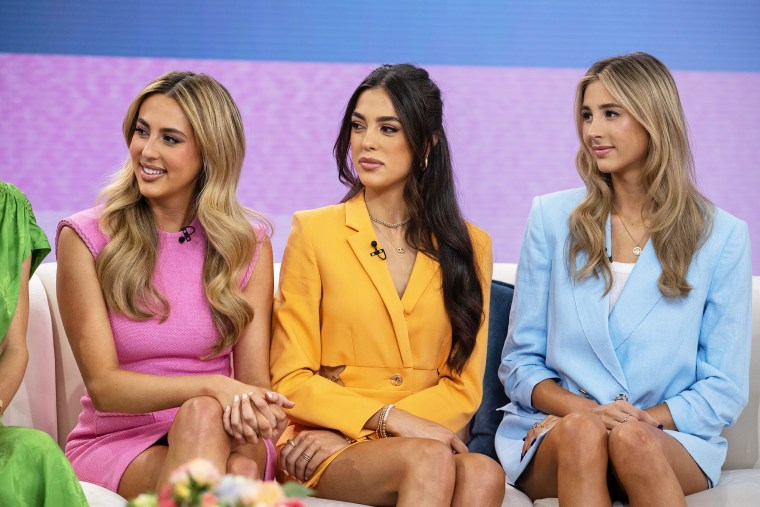 Meeting the "Rambo" star in person may have some guys wishing they just got the breakup text.
"In another realm, he's very standoffish when we first bring (guys) home," Sophia Stallone said.
"We rarely do," Sistine Stallone said. "We're like, 'Oh this is a good egg, we're going to bring him home.' And (Sylvester Stallone) is always standoffish. He stands in the corner, doesn't say anything. We're like 'Dad, come on.'''
Sophia Stallone said her dad, 76, often smokes a cigar when prospective boyfriends come over as an "intimidation factor."
"I asked him, I go, 'Why do you do that?'" Sistine Stallone said. "And he goes, 'I can tell within the first four minutes of meeting (a guy) if he's going to last or not, and so I'm not going to waste my time.' And he's right every time."
"I go, 'You don't know, he's a good guy.' And he's right every time," she added.
The sisters revealed one boyfriend has made it through the gauntlet: skier Louis Masquelier-Page, a University of Miami student dating their 20-year-old sister, Scarlet Stallone.
"He only likes my sister's boyfriend," Sophia Stallone said of her father's feelings toward Masquelier-Page. "He's awesome. We can tell already that they're bonding."
"They haven't already broken up like we have normally after six months," Sistine Stallone joked.
During a visit to TODAY earlier this month, the sisters revealed the legendary action hero is "so scary" that a lot of guys don't return after meeting the parents, which is just how Sylvester Stallone likes it.
"I don't trust their intentions," he said on TODAY. "Because I know men."
On "The Family Stallone," the family's new reality show on Paramount+, the sisters also share their obstacles with having Balboa as a dad while trying to date.
At least their mother, Jennifer Flavin, is pretty much the opposite of their father, which the sisters revealed during the May 22 podcast episode.
"My mom thinks everyone is an angel on earth and she's like, 'Forgive, forgive, forgive,'" Sophia Stallone said. "She's from the Midwest, she's so sweet. She cries when we end things with guys."