Sofia Richie Grainge and Nicole Richie are big supporters of their dad.
The sisters attended the final stop on Lionel Richie and Earth, Wind & Fire's "Sing A Song All Night Long Tour" at the Kia Forum in Los Angeles Sept. 15 and documented the concert on Instagram.
Grainge and Nicole Richie shared a series of photos and videos to capture the festivities as well as several moments of Lionel Richie performing. And based on the sound of their enthusiastic cheers and shouts of "Lionel!" — they are big fans of their dad and his music.
In one video shared on Grainge's Instagram story, the two sisters stood next to the stage in eyeshot of their father.
They could be heard screaming their dad's name in the video before jumping up and down and waving their arms to get his attention. Lionel Richie made his way to the edge of the stage at one point to look at his daughters and point in their direction — which made them scream even more.
"I think we're his biggest fans @nicolerichie," Grainge wrote over the video.
Lionel Richie re-shared the video on his Instagram story as well. He tagged both of his daughters and added, "I'm your biggest fan!"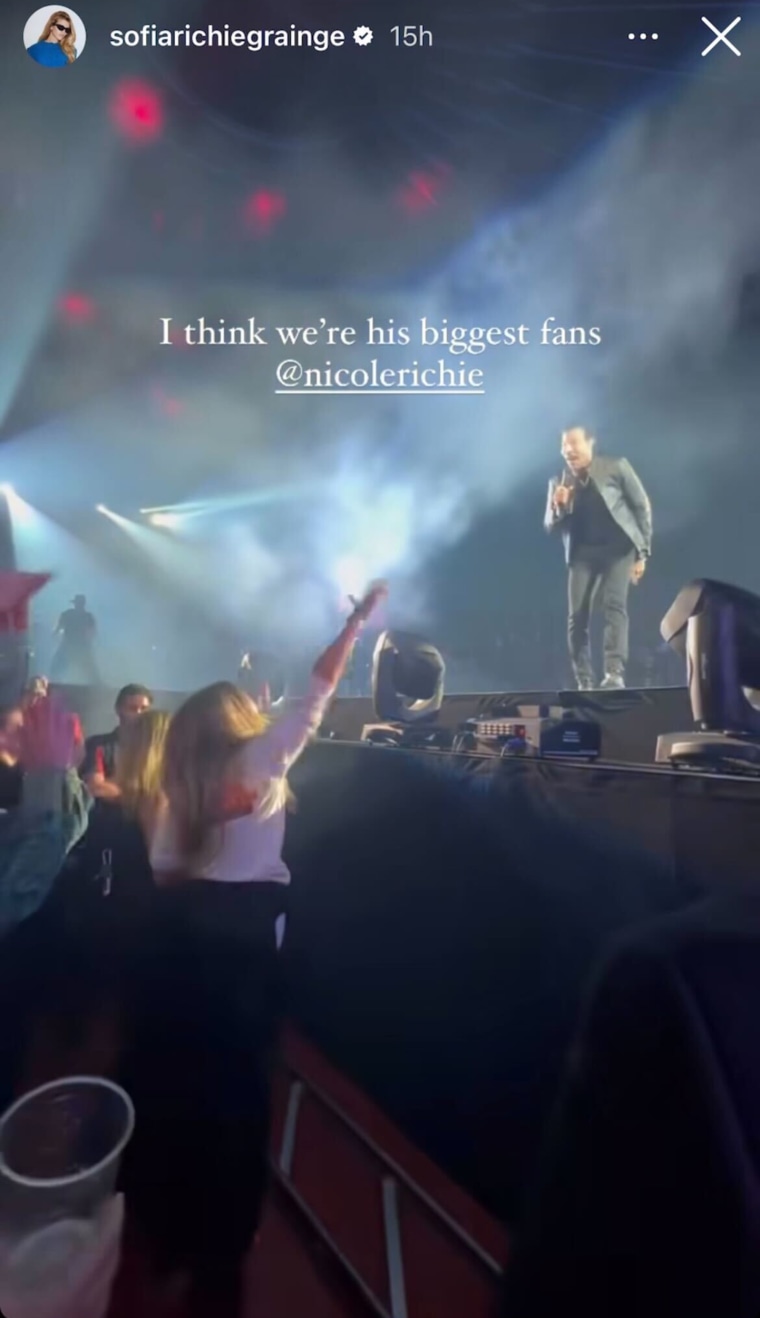 Nicole Richie shared another perspective of the two sisters celebrating their father onstage.
In the video shared on her Instagram story, Grainge and Nicole Richie stood side-by-side next to the stage as they danced along to one of their dad's songs, before they alternated repeatedly screaming "Lionel!" in his direction.
"The ladies were loving lionel so we decided to join in," Nicole Richie wrote on the post.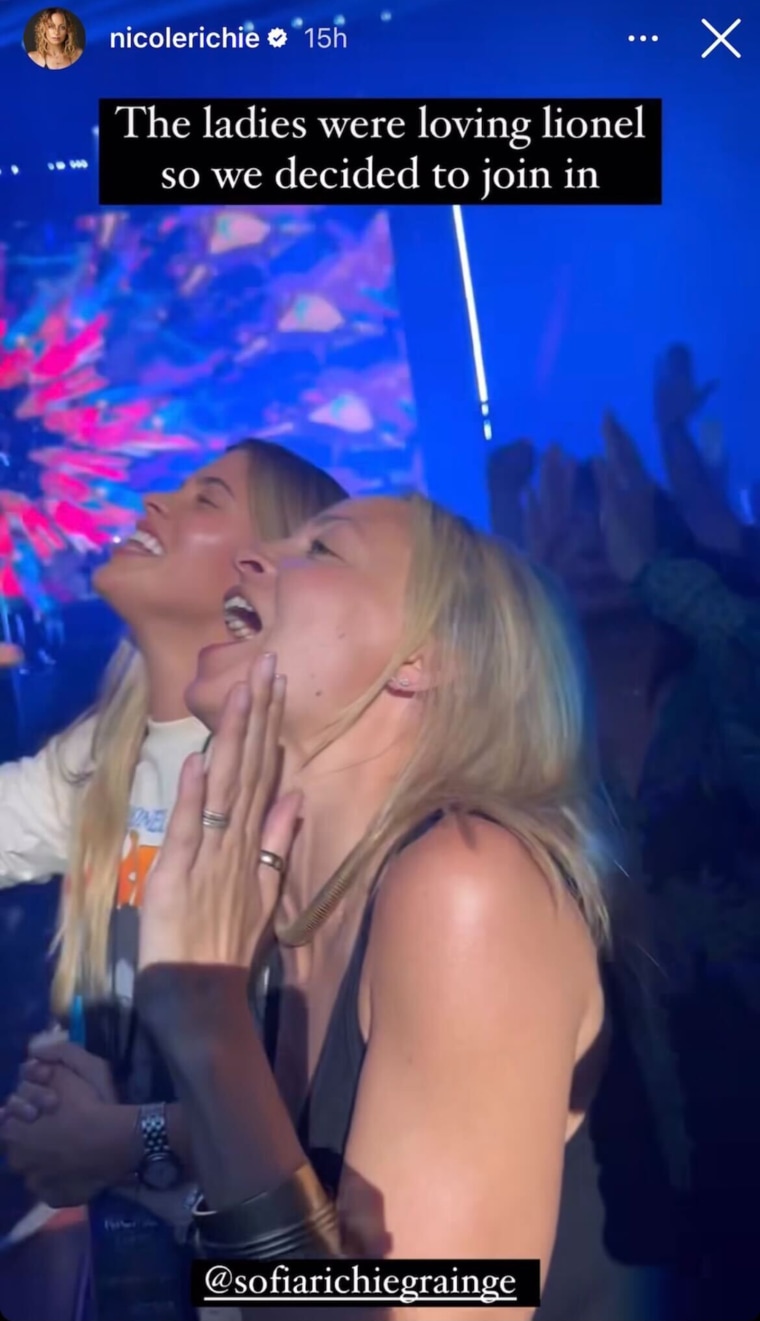 They shared several more snaps throughout the evening, including a photo of their father sitting behind the piano. On the image, Grainge wrote, "I love you @lionelrichie." 
Lionel Richie re-shared her post, adding his own message, "I love you more," with a chick emoji.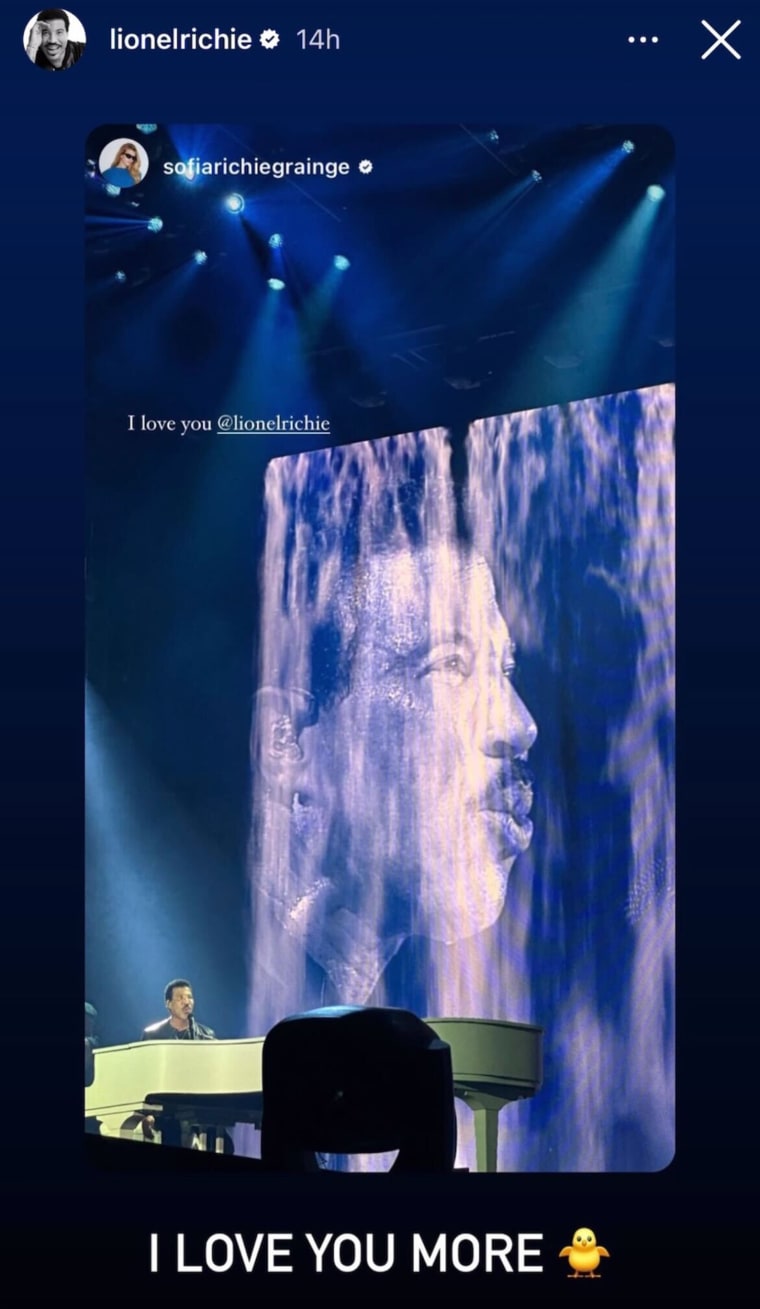 Nicole Richie also shared a video of her dad on stage, simply writing, "Slay queen," on the post.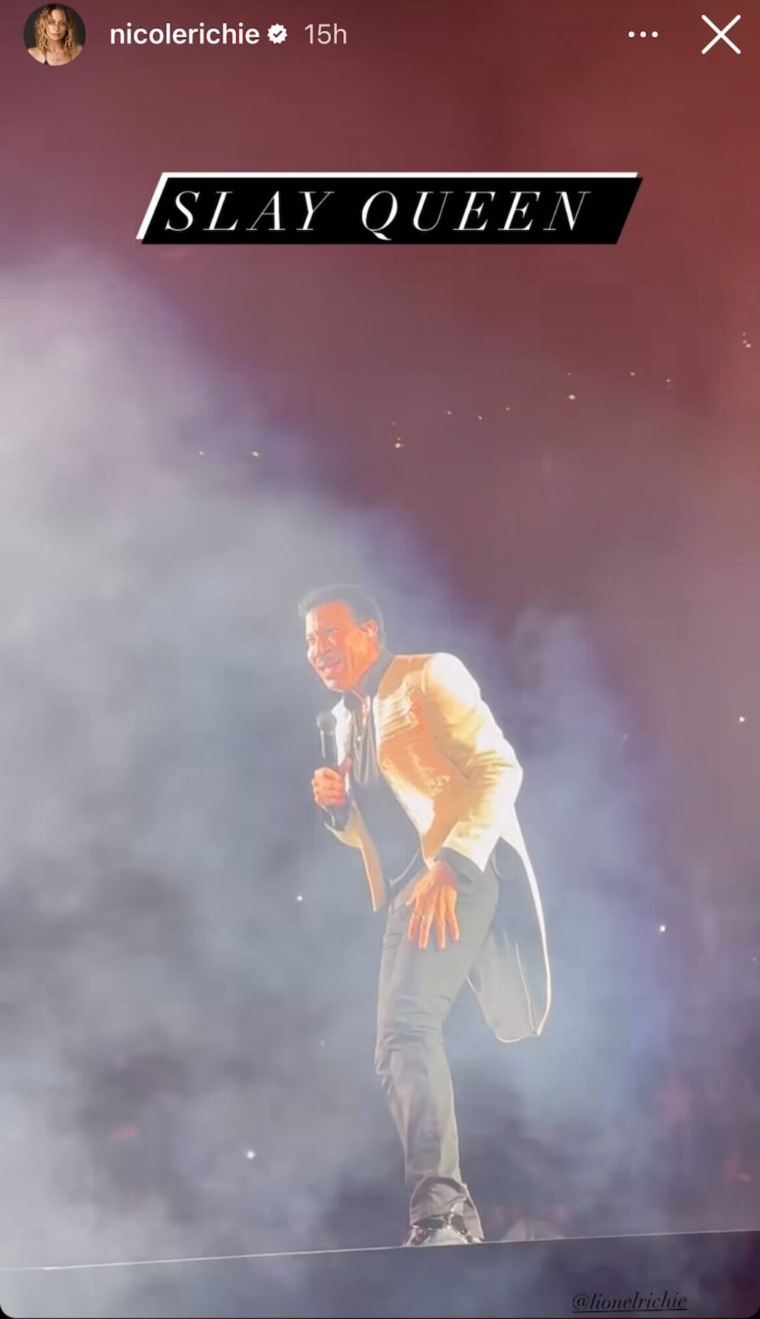 Lionel has three children: Nicole, 41, Miles, 29, and Sofia, 25.
The singer adopted Nicole when she was 9 years old with his first wife, Brenda Harvey, who he was married to from 1975 to 1993. He shares Miles and Sofia with his second wife, Diane Alexander, who he was married to from 1995 to 2004.
Here's everything to know about Sofia Richie Grainge's parents.
Lionel Richie
Lionel Richie is a famed musician, producer and television personality.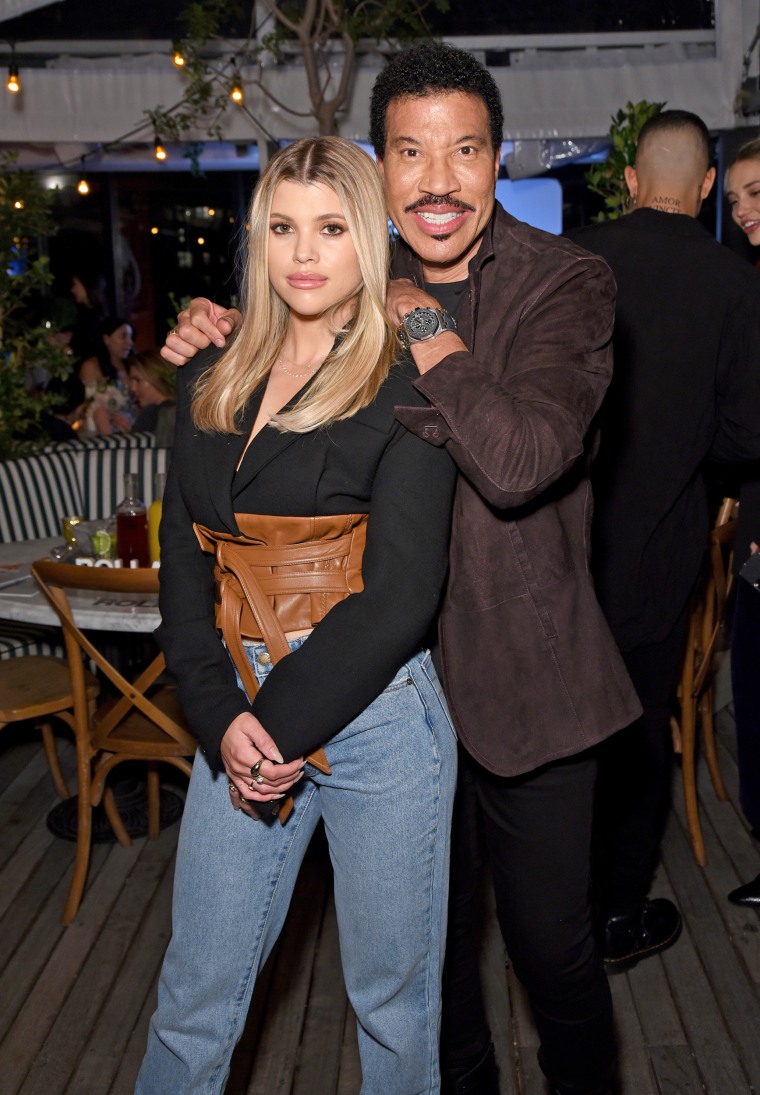 He joined the Commodores in the '60s as a singer and saxophonist and wrote hits including "Easy" and "Three Times a Lady." Lionel Richie left the group in 1982 to embark on a successful solo career. His extensive solo catalogue included hits such as "All Night Long," "Hello," "Endless Love" and "Say You, Say Me."
He has been nominated for 32 Grammy Awards and has won four.
The singer has also served as a judge on "American Idol" since Season 16 of the show, which aired in 2018. He will be returning for Season 22, along with fellow judges Katy Perry and Luke Bryan.
Lionel Richie is a loving father to his three children. When Sofia wed Elliot Grainge in April, Lionel Richie shared a touching post on Instagram alongside a carousel of images from the ceremony.
"My little girl is all grown up and starting her own journey with the love of her life," he wrote in the caption. "You'll always be my little bird, but I'm so proud of the woman you've become. Endless Love to you and Elliot."
He's also been open about the struggles of raising two girls. Earlier this year, he told Drew Barrymore that her and Nicole Richie's "wild days" took a toll on him.
"If I lived through that, I can live through anything," he said of the girls constantly getting into trouble.
Then in May, when asked if he'd ever appear in a reality TV series alongside Nicole Richie and Grainge, he said he's "more reserved" than his daughters, who grew up in the spotlight.
"Let me say this to you: Living with my kids has been a reality series that I've been trying to forget for a long time," he joked. "So, to bring it to the public right now would be something called, post-traumatic syndrome."
Diane Alexander
Lionel Richie and Alexander tied the knot in 1995, after it was reported he had split from his first wife after he was caught with Alexander.
The couple went on to welcome two children, son Miles, and daughter, Sofia. He was married to the dancer and fashion designer until their divorce in 2004.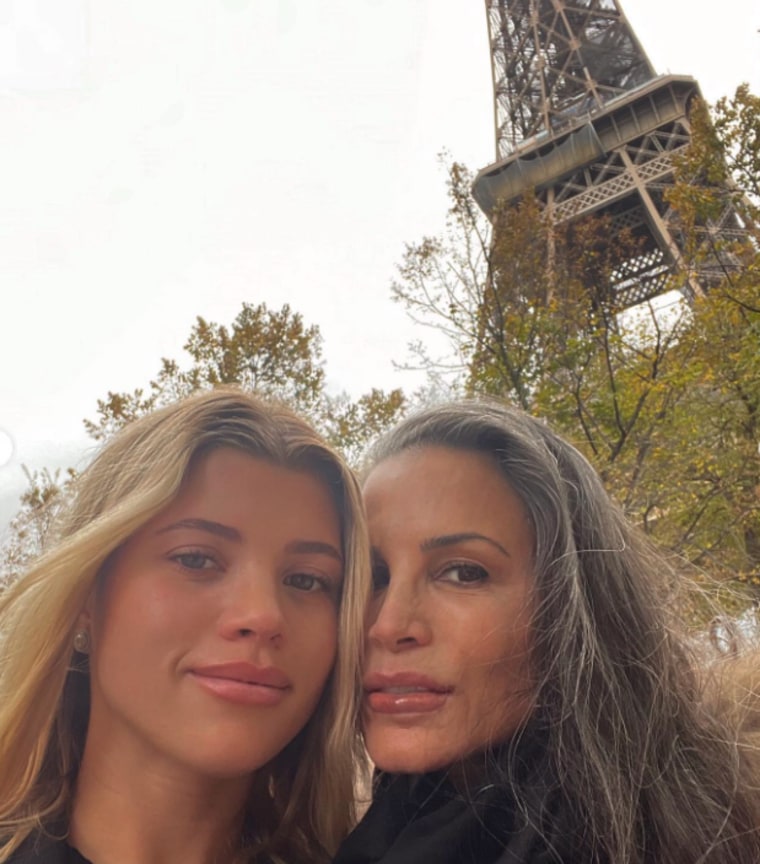 Alexander attended Grainge's bachelorette trip in Paris in October 2022, posing for a selfie in front of the Eiffel Tower with her daughter.
She also stood side-by-side with Lionel Richie at their daughter's wedding, showing support for Grainge on her special day.
Over the years, Alexander has retained a low profile. However, she has shared several sweet tributes to her children on social media, including an August 2020 post for her daughter's 22nd birthday.
"She woke up everyday joyful and spread that sunshine to everyone she saw," Alexander wrote in part. "She's that same person today."
In May 2017, Grainge shared a black-and-white throwback picture with her mom to mark Mother's Day. In the caption, she wrote, "The best mom in the world. I love you."