Rob Lowe and his youngest son, John Owen Lowe, are taking their relationship to the small screen.
The two are set to star in a Netflix series, "Unstable," which follows a son (John Owen Lowe) forced to work for his father's (Rob Lowe) company.
Low shares John Owen Lowe, 26, and his older son, Matthew Lowe, 30, with his wife, Sheryl Berkoff. The two have been married since 1991.
The "St. Elmo's Fire" actor told TODAY in 2018 that his sons are his "proudest achievement."
"No matter how many movies or books or TV shows I do, raising those guys has been my favorite thing I've ever done," he said. "They're just great kids. Sheryl and I were both lucky that we had the wherewithal to spend a lot of time with them and be really involved and it's paid off."
Maybe that's why he struggled to adjust to being an empty nester while his sons were studying at Duke and Stanford. Lowe told TODAY in 2016 he was "emotionally blindsided" by having his sons leave home.
Read on to learn more about Rob Lowe's two kids.
Matthew Edward Lowe
In 1993, Rob Lowe and Berkoff welcomed their first child, Matthew, together.
Unlike John, Matthew Lowe doesn't work in entertainment. After he graduated from Duke University, he went to Loyola Law School to further his education, according to LinkedIn.
In 2019, Matthew Lowe confirmed that he graduated with a law degree. "Let the legal advice commence," he captioned a photo of him and and his dad.
According to his LinkedIn, he now works as a venture capital investor.
Matthew Lowe told People in January 2022 his dad is a source of support. "(Whether it's) me going off to college, or to law school, he's always the cheerleader. He's the first one to do absolutely anything to help you succeed," he siaid.
On Instagram, Matthew Lowe wrote that his dad "inspires (him) to be a better man."
John Owen Lowe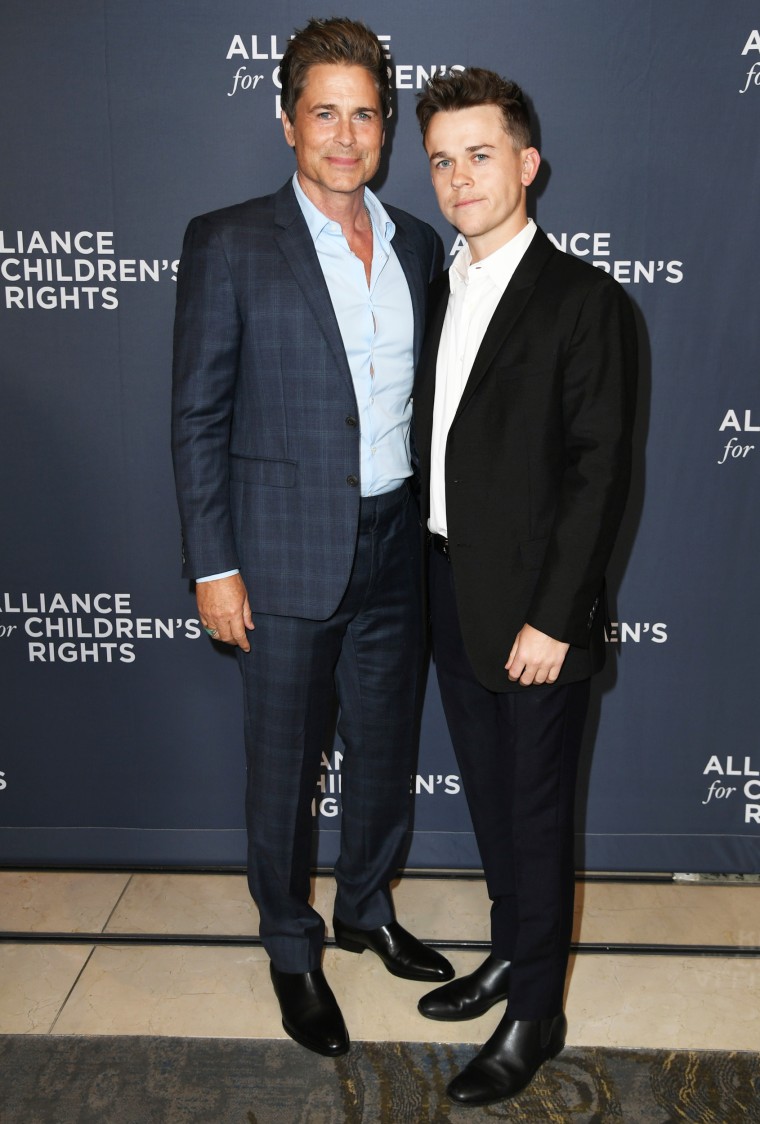 In 1995, Lowe and Berkoff welcomed their second child, John Owen Lowe.
Like his dad, who got sober when he was 26, John Owen Lowe has been open about his journey with addiction.
In an interview with Men's Health, the 27-year-old opened up about getting sober in his early 20s. He said his previous substance abuse stemmed from insecurity, partially related to having a famous dad.
John Owen Lowe said his growing insecurities caused him to self-medicate and "numb out" the pain as much as possible. He ended up in the hospital "many times" and was "lucky" to be alive.
Though he eventually came to acting, John Owen Lowe said he tried to avoid the family business at first, trying out finance and science.
"The number of times I got compared to my dad, and the number of times he was brought up in conversation, made me so uncomfortable that I wanted to move as far away from that as possible," John Owen told Men's Health.
Prior to their collaboration in "Unstable," the Stanford grad worked with his dad in the Fox show "The Grinder."
He is in a relationship with model Olivia Rodriguez. In May 2022, he wished her a happy birthday on Instagram.
"Happy birthday to this perfect human and partner. So proud of the person you continue to be always … love you," he wrote.